News - Minding the mind
by Life Positive
All of us carry the emotions of guilt, heartbreak, disappointment, anger, violence, or pain in various degrees which eventually affect our mental equilibrium.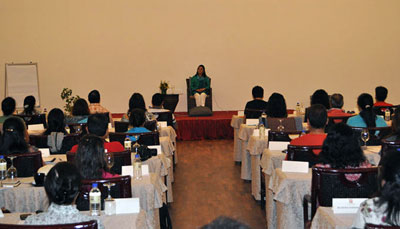 Corporates learning to unload their mental debris at MindstituteThe challenge is, how to tranquilise this unsteady mind which works, sleeps, wakes, walks, talks, thinks in a cluttered state?

At Mindstitute, which aims at corporate wellness, some of the most powerful and unique tools are shared, to release the amassed debris from the nerve channels. Diamler, Chrysler, Nokia and HSBC are some beneficiaries of this programme. Mindstitute's approach to the human mind is through a simple and practical system of scientific healing that focuses on the central nervous system.

CNS is the channel through which thoughts and emotions flow. Therefore, the debris of the mind such as greed, lust, envy, anger also get deposited in the CNS thereby blocking the nerve channels, and not allowing blissful and pure energies to flow.

In the programme, 'Are You Out Of Your Mind?' Mindstitute provides simple tools to grasp and implement with ease. The Lotus Empowerment Series by Mindstitute has been created to provide spiritual resources, which enhance the human potential through meditation. Overwhelming competition for survival generates a high degree of stress and the possibility of potential burn-outs among people today. If ignorance and frustration fester, sooner or later they give rise to disease and suffering. Empowerment is an advanced transmission of evolutionary cosmic energy, which activates the mind, thereby helping it to transcend all aspects that arise from the ego. It also helps to remove toxins and debris that corrupt our emotions and block our free flowing energy. Empowerment helps the mind transcend lust, greed, envy, anxiety and oher negative emotions .

Lotus meditation reaches out to the subconscious state that is at the root of thoughts and makes you aware of yourself by channellising thoughts even on the go.