News - Move over dophins....
by Life Positive
Move over dophins....
Dolphins have been the darlings of the New Age scene, and considered to be mystical and evolved beings with tremendous intelligence possessing all the secrets of the universe. However, there is now a contender for the sea animal mascot now that Paul the Octopus has brought attention to the divination powers of octopuses.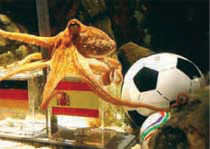 Psychic Paul picking Spain as the champions Belonging to the species, Octopus Vulgaris, Paul proved he was by no means vulgar as he indicated with unerring accuracy Germany's fate in all seven of the matches it played in the 2010 World Cup as well as the final between Spain and Netherlands. Paul lives in a tank in a Sea Life Centre in Oberhausen, Germany. His modus operandi was to select the winning box out of two boxes containing a mussel each draped with a flag of the contending countries. In each case he picked the box that had the winning country's flag on it.

Paul is now an international icon and has probably in the process dealt a death blow to the large mass of sceptics and cynics who have hitherto dismissed divination as quackery. Paul had only 1/256th chance of getting eight correct answers in a row. How did he beat the odds? A question worth pondering over.