News - Mumbai eats out of their hands
by Life Positive
Arvind Gangaram Talekar, a representative of the Nutan Mumbai Tiffin Box Suppliers Charity Trust of Mumbai, better known as the dabbawalas of Mumbai, set the stage on fire at TEDX Gateway in Mumbai recently.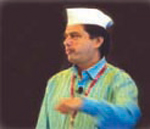 Out of the box: Arvind Talekar
shares his secrets Beginning rather haltingly in laboured English, Talekar, who has worked as a dabbawala for two years, had the audience eating out of his hands as he spoke in a style that was true blue Marathi in its flavour but universal in its appeal. He explained how the dabbawalas of Mumbai, while employing 5,000 people, deliver and collect 200,000 tiffin boxes across the metropolis. While they undertake 400,000 transactions a day, they have an error rate of one in 16 million transactions. For a service that has a 99.99 per cent accuracy rate, all patrons have to pay is Rs 350-400 a month – a small price to pay for unfailingly accurate delivery of meals cooked at your home day after day. "Educated people begin their day by referring to-do lists.

The illiterate dabbawala has no choice so his head turns into a computer and when he wears this (putting on the dabbawala's trademark Gandhi topi), he does not need a USB or a hi-fi connection, his mind becomes a computer," said Talekar, as the audience roared in appreciation.

"We have our own numbering system and it never goes wrong. Imagine what would happen if we deliver Shaikh-bhai's tiffin to Jain bhai! We rely on our workers who do not fail us unlike the Internet that has been failing us during these presentations," said Talekar.