News - Nature of the mind
by Life Positive
Delhiites were in for an unexpected treat recently when the world-renowned Sogyal Rinpoche, author of the highly acclaimed The Tibetan Book of Living and Dying, spoke about the profound nature of the mind and other aspects of Buddhist philosophy at a session organised by Deer Park at the India Islamic Cultural Centre.


Rinpoche began by distinguishing between material or physical happiness and mental or inner peace. "Everybody wants to be happy," he said, but went on to explain how only the achievement of inner peace and contentment could provide the necessary grounding that keeps one unaffected by external problems or situations.

He summed up the essence of Buddhism into three simple points:

• Commit not a single unwholesome action
• Cultivate virtue
• Tame the mind

The basic Buddhist philosophy, said Sogyal Rinpoche, was that everything is interdependent, and the basic practice was that of non-violence. He described the essence of meditation as a state of non-distraction. He illustrated the immense power and potential of our minds by observing that our "mind creates happiness and suffering. It creates samsara (the mind turned outward) and also nirvana (the mind turned inward)".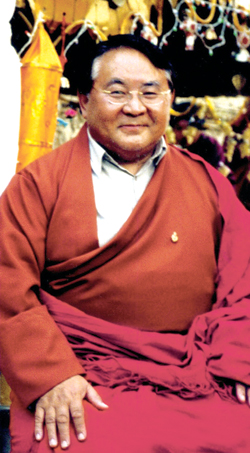 Sogyal Rinpoche He explained that the problem arose when the ordinary took over and captured the true nature of the individual. In order to rediscover the true nature of the mind, we had to take three steps: 1. Find the root of the mind 2. Discover the faults of the mind which are our beliefs that we are permanent, singular and independent 3. Transform or change the mind back to its true nature.

One of the most wonderful qualities of our mind is that it can be transformed or changed, said Sogyal Rinpoche. This transformation would be easily achieved if we only allowed our mind to remain unaltered, in its natural state, thereby discovering our Nature Mind. Towards the end of the session, he reflected on death, considered one of the most fearful human experiences. However, he pointed out that "death is like a mirror reflecting the true nature of life. The good news about death is that when we die, the mind, with its perceptions, dies along with the physical body. So, for a moment, your true nature is revealed!"

Sogyal Rinpoche concluded the highly absorbing session with a suggestion to visit the National Museum in Delhi and pray to the relics of the Buddha. Even being in the physical presence of the relics of the Buddha would be an experience powerful enough to bestow some of his blessings on us, he said. Sogyal Rinpoche is known to have a gift for presenting the heart essence, spirit and flavour of Tibetan Buddhism powerfully. Certainly the wisdom of his words will linger long in our minds.

June 2009