News - Painting for self discovery
by Life Positive
Ask anyone to list their own ten weaknesses and it would be promptly done.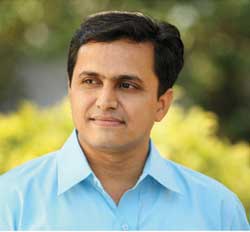 But ask them to list ten of their strengths and after a lot of introspection they would probably come out with five, maybe seven of their strengths. Finding any more would require some more introspection. "This was my experience with children and adults alike at my art workshops," says Milind Deshpande, artist and art teacher.

These experiences set him thinking and now he has come up with a unique methodology to not only impart art education but make it an introspective journey – by getting the students to do a bit of soul-searching and come up with their own unique ideas of what their final painting should look like.

"For this, I first ask them to list one positive trait of theirs. We use that trait as a point of reference to expand and come up with ten more positive traits. If the student says that observation is his strength, then we probe further: Would he recognise the model of a car on the streets, the costumes of the actors, or the sets of the drama...what exactly is he good at observing?" explains Milind, who now calls these workshops Be +.

"At the end of the session the student will have not just five positive traits but each of them would soon be multiplied ten times over, to give him at least 50 positive traits to work with. We then choose three most dominant of them and the process of translating them into a painting takes shape," adds the earnest artist.


So convinced is he of his methodology that he says, "Most of the students, children and adults alike are not good artists to begin with, nor are they trained to use the colours, but once they adopt this approach of digging deep into their psyche to come up with what is it that they need to focus on, then the work of art that emerges is phenomenal...because then it is not art for art's sake, but an expression of their deepest self."

He adds, "My students hang their paintings in a prominent place in their house. They see it every day, discuss it with family and guests and the positivity expands. After three years, the student is then asked to take a fresh look at the painting and from that vantage point of enhanced positivity, is asked to paint a fresh painting."

Doctors, architects, scientists, IT professionals, actors/directors, besides school students, have all trusted Milind to guide them on their journey to discover their self. "They all find a reservoir of goodness in themselves, which they did not even know existed and they realise how foolish it was to look outside. The challenge is then to hold on this goodness, build on it by further introspection and then convert it into a work of art...anything that emerges out of the goodness of your heart will then most definitely be good."