News - Raising mass consciousness
by Life Positive
The concept of the hundredth monkey phenomenon is well-known among New Age circles. In effect the story goes that if a certain percentage of humanity raises its consciousness levels, all of humanity will find itself more evolved, therefore making the New Age a reality.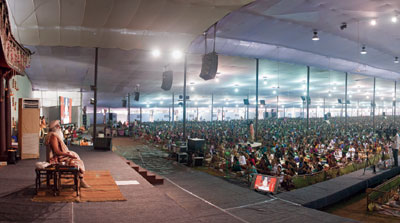 Sadhguru: Enlightening the masses With December 2012, considered in popular culture to be the time for the Big Shift, almost upon us, spiritual organisations across the globe are pulling out the stops and pulling in the numbers.

Isha Foundation founded by the charismatic Sadhguru Jaggi Vasudev, is also venturing into mass level initiatives. The group is planning to hold its flagship programme, "Inner Engineering with Sadhguru" personally conducted by Sadhguru from December 16-18 at MMRDA Grounds, Bandra Kurla complex, Mumbai. They hope to attract at least one lakh participants to this event where Sadhguru will initiate participants into the ancient yogic technique of Shambhavi Mahamudra. For those seeking professional and personal excellence, this programme is a modern antidote to stress, and offers keys for meaningful and fulfilling relationships at work, home and community. Participants are empowered to find the necessary balance between the challenges of a hectic career and the inner longing for peace and well-being. It helps you recognise that spiritual life does not deny worldly, social, and family responsibilities, but rather uses them as vehicles for personal growth and self-realisation.

For further details,
contact: 8080345000 or mumbai@ishafoundation.org.