News - Resolving to spread light
by Life Positive
Over 100 spiritual leaders from Hindu, Jain, Buddhist, Sikh and other traditions congregated on a common platform created by the leading spiritual gurus of India at Guru Sangamam in New Delhi recently.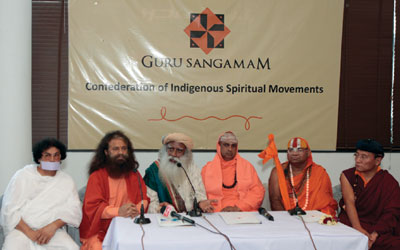 Spiritual leaders, Lokesh Muni, Chidananda Saraswati,
Jaggi Vasudeva, Shivarathri Mahaswami, Ramanandacharya
and Gyalwang Drukpa at the Guru Sangamam Guru Sangamam, a confederation of indigenous spiritual movements, was formed to discuss, nurture, promote and propagate Indian spirituality in the world.

Chairperson of Guru Sangamam, Jagadguru Sri Shivarathri Deshikendra Mahaswami said, "The spiritual potential of the country must be recognised and acknowledged internally before expecting other nations to do it. The leaders of spiritual traditions have an onerous responsibility as the torch-bearers of these indigenous movements that have evolved in this land for thousands of years."

President and spiritual head of Pramarth Niketan, Rishikesh, Swami Chidanand Sarawati said, "We all have our own ways of seeking. This is a nonsectarian place where anybody can join hands with us to bring spiritual awareness in the world."

The founder of Isha Foundation, Sadguru Jaggi Vasudev said, "Spirituality means boundlessness. We do not espouse any particular philosophy. Guru Sangamam will act as a lifeline for the world where we as gurus will offer contemporary methods that have always been neither modern nor ancient."

The event also saw the release of seven new books: The Hanuman factor by Guruji Anand Krishna, Everyday Enlightenment by Gyalwang Drukpa and A Project Report on restoring Ganga by Sadhvi Bhagawati to name a few.