News - Return to compassion
by Life Positive
Worried with the spurt in violence and negativity in American society as a result of negative news being focussed upon and circulated by the media, a clutch of journalists have come together to create and spread good, positive news.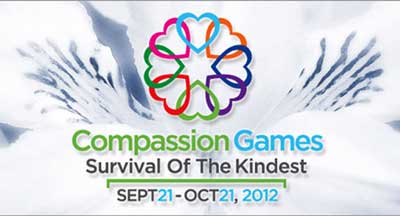 Hearts entwined in compassion: the evocative
emblem of Compassion Games in USA Stories of Compassion is part of an umbrella effort called Compassion Games: Survival of the kindest which started from September 21, 2012 in greater Seattle in USA.

Four years ago, the Dalai Lama and South African Archbishop, Desmond Tutu visited Seattle to talk about the need for a more compassionate world. Inspired by their message against a backdrop of deeply partisan political and economic scenario, local organisations, Compassionate Seattle and Compassionate Action Network International gelled around the message that compassion can bridge the differences, create understanding and foster peace. In 2012 Seattle became the first city in the world to affirm the charter for compassion, a document supporting compassion as the central tenet. Under Compassion games, citizens are urged to come together to perform either random or organised acts of compassion. They have to later write about these activities in a story-telling competition by registering in compassiongames. org. The games are intended as both a fun and serious way to renew regional dialogue about the value of compassionate action in personal lives and in communities.

"If we can give some attention to stories that matter, stories that bridge the divides between us and show us everyday solutions and pathways to alleviating suffering in our own community, then we can strengthen our communities." says Rita Hibbard, executive director of Compassionate Action Network International and founder of InvestigateWest.