News - SPIRITUALITY IN STYLE
by Life Positive
Super rich Indians, riding the crest of spirituality and holistic living, splurged their millions on a luxury cruise down the South China Sea. On board Superstar Virgo, one of the world's biggest luxury cruise liners, 1,062 Indians prayed to the Almighty to redeem their sins, practised Vedic yoga, vegetarianism, pledged clean lifestyles, and waged an intense inner war to fend off the temptations that money can buy.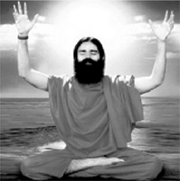 At sea with Swami Ramdev The five-day cruise was organised by the Kolkata-based Vishwa Jagriti Mission, a spiritual organisation promoting Hindu faith, and the Patanjali Yogpeeth, co-founded by the Vedic lifestyle guru, Swami Ramdev. The crowd was a curious mix of the country's top business families, rich farmers who have amassed enormous wealth from the fertile bowels of the country, a bunch of NRIs who swore by the Hindu way of life, socialites with a conscience, retired government servants, neo-spiritualists, and lastly, a bunch of reporters.

The day began with a gruelling two-and-a-half hours of yoga and prayers at sunrise. Guru Ramdev presided over the ceremony, teaching the cruisers, most of them grossly overweight, simple breathing and stretching exercises to stay fighting fit and contribute to society with muscle and money. "As God's children, you must work for the uplift of humanity, stay away from all that is artificial, synthetic and contaminating," said the guru, in the rumble of rain and stormy winds that lashed the upper deck of the 13-storey liner.

"We have all the money to spend. Our fathers and uncles could not have imagined spending their hard-earned money on a cruise. They would rather have bankrolled it," said an exporter from Kolkata, looking out at the vast expanse of the Gulf of Tonkin, off northern Vietnam. At sundown, it was time to return to the sea. Night on the ship had an ethereal quality – when nothing seemed real. The guru's sage advice, "Stay off booze and gambling" was followed by most, who came back after this five-day stylish spiritual stint better, purer and definitely lighter!