News - Sathya Sai forever
by Life Positive
On April 24, Easter Sunday, while Christians across the globe were celebrating the miracle of the risen Christ, Sri Sathya Sai Baba, considered to be an avatar and a living God for millions, quietly slipped away from the mortal firmament at the age of 85.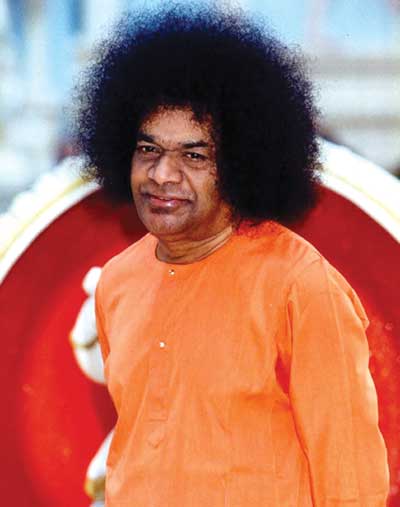 Lakhs of devotees, ranging from the rich, powerful and famous as well as the utterly obscure from all over the globe, converged at Puttaparthi to bid farewell to one of India's most towering contemporary spiritual figures.

The trajectory of Sai Baba's life has been quite extraordinary. He was born Sathyanarayana Raju on 23 November, 1926, in the remote village of Puttaparthi in Andhra Pradesh. Signs of his trademark capacity to manifest something out of nothing emerged early as he produced sweets and toys for his playmates. At age 13, after being bitten by a snake, he began to speak in Sanskrit and after a couple of months, he announced to his stunned family that he was an incarnation of Shirdi Sai Baba, the 19th century Maharashtrian saint loved equally by Hindus and Muslims. Shortly thereafter he left home and began his ministry. By 1950, he was popular enough to build Prashanta Nilayam in his home town which over time became the foundation for a flourishing city with its own railway station, airport, schools, colleges and hotels.

Controversy has dogged his footsteps right through, mostly for his miracles which include the manifestation of vibhuti, jewellery and so on, which rationalists maintain are nothing more than magic tricks. Sai Baba's answer to this was: "Science must confine its inquiry only to things belonging to the human senses, while spirituality transcends the senses. If you want to understand the nature of spiritual power you can do so only through the path of spirituality and not science."

His real miracle, he has often maintained, is his capacity for love. During his visit to Nairobi in 1968, Baba described the essence of his mission: "I have come to light the lamp of love in your hearts, to see that it shines day by day with added lustre. I have not come on behalf of any exclusive religion. I have not come on a mission of publicity for a sect or creed or cause, nor have I come to collect followers for a doctrine. I have no plans to attract disciples or devotees to my fold or any fold. I have come to tell you of this unitary faith, this spiritual principle, this path of love, this virtue of love, this duty of love, this obligation of love." It is perhaps this outpouring of love that is the motivation for the many humanitarian activities run by Sathya Sai Baba including a giant water project benefitting some of the most barren and arid of Andhra villages, medical care, education and various other initiatives.

Devotees talk of the amazing healings and transformations they experienced in his presence. John S. Hislop, a famous foreign devotee whose books have contributed to Sai Baba's popularity, writes in his book, My Baba and I, of his first meeting with him: "My entire being was profoundly affected and changed. Baba immediately became the centre of my life and has remained so ever since. In his presence, at that first meeting, the world fell away from me, my entire consciousness was drawn inward and, at a most subtle level of awareness, Baba appeared in my heart as love. Love was unmistakable and that Baba was this Love was equally unmistakable."

Despite the anguish of the followers, many of them eagerly await his third avatar, Prema Sai. The avatar is predicted to take birth in 2030, as an abandoned baby found in Mandya district of Karnataka.

In a rare interview with Blitz editor, RK Karanjia, Sathya Sai Baba outlined the roles of the triple avatars: "The previous avatar, Shirdi Baba, laid the base for secular integration and gave mankind the message of duty as work. The mission of the present avatar is to make everybody realise that the same God or divinity resides in everyone. People should respect, love, and help each other, irrespective of colour or creed. Thus, all work can become a way of worship. Finally, Prema Sai, the third avatar, will promote the view that not only does God reside in everybody but also everybody is God. That will be the final wisdom that will enable every man and woman to go to God."

Sai Baba is gone. Long live Sai Baba!