News - The Buddha visits the UN
by Life Positive
It is appropriate that the enlightenment of Gautama Buddha 2,600 years ago, a teacher who preached non-violence, tolerance, understanding and self-realisation, should be celebrated by the UN.

This organisation was created on the smouldering embers of global war and the resulting death, destruction and massive displacement, to maintain international peace and security. Against this background, the Buddha's message remains ever relevant," said Dr Palitha Kohona, Permanent Representative of Sri Lanka to the UN.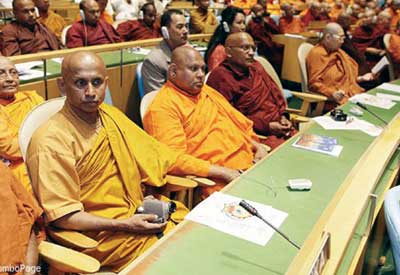 Saffron day at the UN Led by the Sri Lanka permanent mission to the UN, and supported by other permanent missions from the South-Asian, South-East-Asian and East-Asian regions, the UN and the Buddhist community of the tri-state area celebrated the Sambuddhatva Jayanthiya (2600 Years of Buddhism) in exceptional style on May 16, 2011.

The morning saw Pindapatha Charikave (alms round) in front of the UN complex, where despite a thin drizzle, 198 monks, mainly in saffron robes, from different countries and races, some female, and many from the Mahayana tradition, holding begging bowls, serenely walked along 1st Avenue into the Dag Hammarskjold Park and were served packets of food by the national committees from Sri Lanka, Thai, Myanmar, Cambodia, Laotia and Bangladesh. They then walked in single file to the sky lounge of the Dag Hammarskjold building (the residence of the Sri Lankan permanent representative) to quietly eat the food. New York had never witnessed such a spectacle before.

After the meal, the monks walked to the general assembly chamber to participate in the UN special event to commemorate the Sambuddhatva Jayanthiya. The opening statement by Dr Kohona, session chair, was followed by chanting of seth pirith by the monks – a first at the UN. The day's formal events culminated with an exhibition of photographs and artifacts from Buddhist countries at the Buddhist Heritage Exhibition.