News - The Vaastu way to TRPs
by Life Positive
If a TV show or serial is getting on your nerves consider the possibility that the culprit is not the script, cast or director.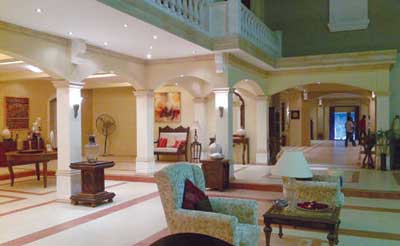 A Vaastu-corrected set leads to happiness, health and trps!
( inset: Neesha Thakkar ) Chances are that the improper vaastu of its sets is bringing down the TRPs. In today's highly competitive scenario, producers are going beyond mahurat-puja to gain divine blessings for success, by turning to vaastu remedies and other New Age methods. Neesha Thakkar a well known tarot reader, feng shui consultant and a vaastu expert is the inhouse vaastu consultant for Cinevista film company. Currently managing the vaastu of serials like Ek Hazaron mein meri Behna hai of Star TV and Dil, Dosti Dance (V channel) she says, "These days a serial stays on the floor for years together, and the set become a virtual second home for the actors and the crew. Hence people want the atmosphere to be harmonious and homelike. Therefore, producers prefer vaastu remedies to free the sets of any negative energy."

"There was a serial which was not doing well despite all efforts by the producer. Then I detected a vaastu defect and took measures to correct it. After the correction, the ratings soared and the serial was in the top 10 TRP charts within two months. After this, I was offered Dil, Dosti, Dance by its producers," she adds.

Neesha says that she also does crystal therapies on the floor of the set, chooses the colour scheme of the set in accordance with the date of birth of producer and director and uses elements like bamboos for facilitating a tension-free shoot.

Sidhharth Malhotra, creative producer, Cinevista, says, "Vaastu is known to bring harmony and we all want peace and happiness. A film or a TV set is like a second home where we have to spend long hours. If vaastu remedies can create good energy then why not have it?" Why not indeed?