News - The corporate sufi
by Life Positive
Azim Jamal, international inspirational speaker and bestselling author of books like Seven Steps to Lasting Happiness and The Corporate Sufi, was in India recently.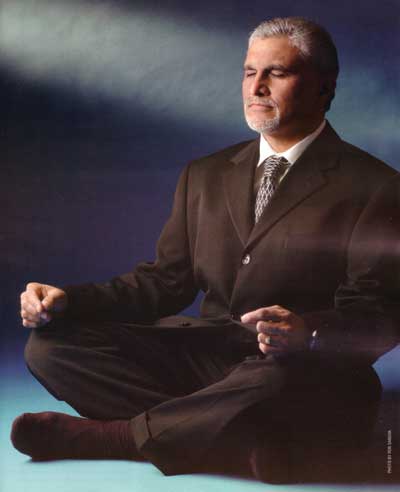 Azim Jamal in Corporate Sufi mode He came to promote the idea of infusing spiritual values in business models among corporate honchos – to create what he calls a 'Corporate Sufi.' According to him, in today's greed-driven corporate world, the Corporate Sufi is the answer to all the damage that is being caused by multinational companies in the name of progress and profit.

"A Corporate Sufi wants to pursue excellence, profits and material abundance through business, but achieves it by imbibing the spiritual values of giving, and holistic growth than by focussing solely on monetary gains," he said.

"Sufis believed in renouncing the world to uphold the values of loving and giving. Corporates, on the other hand, have exploited the world to make profits. It's about time we blended the two streams to achieve a better, more balanced world," he added.

Replying to a question on whether it was possible to make monetary gains by keeping spirituality and inner growth at the core of the business philosophy, he said, "Long-term profits can only be achieved through trust. Trust is built among your customers by focussing on their good rather than your own narrow interests. When trust is built, brand loyalty is the natural outcome, and profits follow."

He added, "Money is like happiness...the more you chase it the more it eludes you. The moment you start focussing on giving rather than receiving,it starts flowin back."

He concluded that it was a long-term yet payable planning.

Azim was born in Tanzania to parents of Indian origin and is settled in Canada. He started his career as an accountant in 1979 in UK with a huge accountancy firm. It was this job that took him to Karachi in 1997 where he was deeply moved by the plight of immigrant Afghans holed up in the camps meant for war refugees.

This compelled him to look for a higher meaning in life and from there he switched over from 'accounting for business' to 'accounting for life' as he puts it. He founded his company 'Corporate Sufi Worldwide Inc' in the year 2007 to propagate the message of wholistic business ideals.