News - The kitchen of Lord Ram
A true seeker shuns publicity, but like the bees following the fragrance of a flower, word gets around of acts of beauty.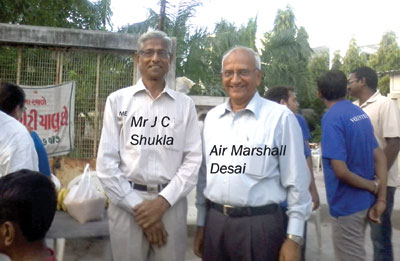 The Ram Roti volunteers: Banishing hunger Recognising that service to man is service to God, Vadodara-based Vijay, who wishes to remain anonymous, provides food to around 80 to 100 people everyday. Started in May 2012, he calls his initiative Ram Roti. For this, he thanks his gurus Swami Sampoornanand, Baba Shivanand and Swami Bhumanand. They not only showed him the value of ensuring that no person goes to sleep without food, but also inspired him to implement the idea. He recounts a story Swami Sampoornanand had told him about Saint Kabir, who had an associate called Kamal. Once Kamal asked Kabir how it was that while so many people, good and bad, who visited Kabir got salvation, he himself, although living always with the great saint, had never even got a glimpse of salvation. Kabir replied, "Kar Saheb ki bandagi, de bhukhe ko anna." (Keep worshipping God and feeding the hungry.) That, Vijay says, was his moment of epiphany.

For 10-15 days, he and his friends went to a centre in Vadodara and employed a cook to make and serve food every evening. The centre is opposite a temple, and soon the message of feeding the poor spread. In time, many others joined in. Some brought food and some contributed money to keep the kitchen running. Since then Ram Roti has been totally successful in the endeavour of feeding the hungry every day. The only thing the organisers do is to be present every day at the centre and ensure everyone is fed. They are sure this effort, if sincere, can break even in a month, and are willing to help and guide others.

Now, the organisers have many more ideas. Some are thinking of starting their own kitchen. Some are talking of making available best bargains to both farmers and the middle class consumers by establishing a direct link between them. Some consider replicating a successful model in Mumbai, where surplus food anywhere (hotels, restaurants, marriages, parties) is collected and distributed to the needy. Others are thinking of starting a website, kaamwalli.com, where demand and supply of household servants is matched to mutual satisfaction. Still others want that instead of giving free food, the one lakh needy citizens of the city should be provided with food for work under a social business model. The movement is snowballing!

Ram Roti people do not hanker after publicity. There is no trust or formal organisation, pamphlet or a receipt book. The whole initiative runs only on trust. To be part of this venture, call J N Mamtora at 98982 66504 or email at mamtorajn@yahoo.co.in, or call Mr J C Shukla at 98250 63236 or email at jcshukla.com.