News - The old are our gold
by Life Positive
Delhi Chief Minister Sheila Dikshit stated during her inaugural address at the Elders' Day Celebration

organised by Age Care India on December 1 that it is in the interest of society to learn from the vast experience of senior citizens. She added that her government is committed to making Delhi a role model in old age care.

"Delhi is striving to become a model city where aged persons are given due care and respect and they are treated as true guides, friends and philosophers. The aged persons are facing more challenges in today's society as the number of joint families is fast dwindling," she observed at the event organised at the India International Centre. The CM added that her government has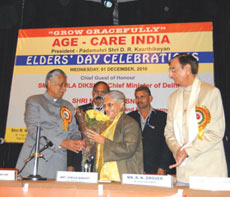 DR Karthikeyan welcomes CM Sheila Dikshit given instructions to hospitals to provide all possible treatments to aged persons. They are not to stand in queue and wait for their turn.

Padmashri DR Karthikeyan, the chairman of Age Care India, and the chairman of Life Positive Foundation, also addressed the gathering. "The comforts that we enjoy today are a result of the efforts, sacrifice and service of those referred to as senior citizens," he said.

The CM felicitated senior citizens who have crossed 80 years of age, including senior journalist Shri Kuldeep Nayyar. Professor Muni Shri Mahendra Kumarji was also present. "Senior citizens are contributing to every department of life and they deserve to be commended for it," he said.