News - The parent trap
by Life Positive
The challenges of modern-day parenting is giving rise to introspection among parents like never before. No wonder many are taking it as an exercise in self-improvement, in order to be the change they want to see in their children. The recently held parenting seminar in New Delhi brought to fore the same issue.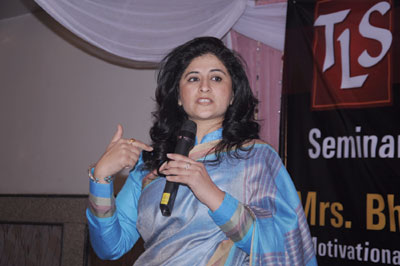 Bhavna Khanna: Addressing the challenges of
modern-day parenting "Every parent has only the best intentions for his/her child. But, good intentions do not necessarily convert into good parenting," said Ms Bhavna Khanna, motivational teacher and counsellor, while speaking in the 'Parenting Seminar' organised by The Life Sagas group in Delhi.

The seminar focussed on providing handy tips to parents for developing a bond of love and faith with their child. "People think they don't need to learn the skills of parenting; they think of it as an inherent skill which they pick up from their parents. But they forget that a considerable time period has elapsed since they were children. Today is a completely different scenario, hence the challenges before parents are different too," she explained.

The seminar touched upon a range of challenges faced by parents these days like sibling rivalry, fussy eating, back talking, and teenage rebellion. Khanna emphasised that creating a beautiful relationship with the child is much more important than shaping him into a 'yes ma'am' adult. "After all, you wouldn't want to raise a robot," she quipped. Further, she insisted that the parent be a good model to the child, rather than asking him or her to be one. "Children watch you more than they listen to you hence it is necessary to lead by example. Parents must not instruct, but suggest," Khanna added.

The session was an engaging one where parents, mostly of young kids, raised a multitude of questions, seeking aid and solutions to their problems. The emphasis was upon treating the underlying problem, rather than finding a solution for the symptoms. "Special care should be taken to maintain relationship with teenagers. Parents should admit their mistakes and apologise. This makes them more relatable to their teenage children, opening avenues of better communication and hence, better understanding of their child," Bhavna stressed.