News - The winning sage
by Life Positive
Helene Hadsell doesnít believe in luck, chance or accidents. Itís all about the right thought.

By correctly conditioning her thoughts, Helene has won numerous prizes over more than five decades. From refrigerators to a trip to Disneyland, from trips to Europe to a luxury home, she has won it all.

It started after she read Norman Vincent Pealeís The Power of Positive Thinking and applied it to winning contests. The first prize she won was an outboard motor for her husbandís boat after which she didnít look back. She has a four-step method called S-P-E-C, which is Select It, Project It, Expect It, and Collect It. Her entire family is involved in this fantastically creative phenomenon.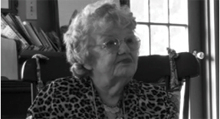 From thoughts to things She has authored three books, Contesting: The Name It & Claim It Game, Confessions of an 83-Year Old Sage, and A Man Called Friday. Her secret lies in knowing that she has what she desires and not to dwell on the desiring bit. Before she won her house, she had designed the interiors, drawn up plans and even selected a plot on which it would be built.

She founded a retreat known as Delta Sciences where she taught meditation, telepathy and self-awareness. For clients, she writes out personal insights, called Blueprints, about your personality, horoscope, destiny, karmic ties, and a lot more. She believes that each one has a mission for which they have come to Earth.
www.deltasciences.com

September 2009