News - Towards peace, love and harmony
by Life Positive
At a time when major religions of the world are still tussling for superiority and authority over others, the Global Foundation for Civilisational Harmony in Noida has taken up the onerous task of bringing diverse communities together.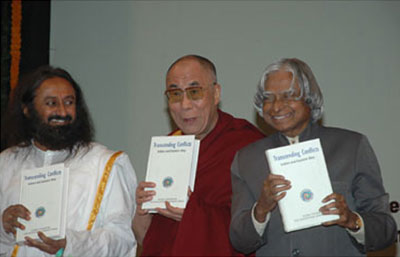 Sri Sri Ravi Shankar, the
Dalai Lama and Dr. APJ Abdul
Kalam at the launch of GFCH GFCH is an initiative for conflict avoidance among all religious faiths and puts forward the Eastern perspective of lasting peace and harmony in the world.

K G Suresh, Director of GFCH, says, "Presently tolerance of other faiths is considered the ideal, but this definition needs to be more inclusive. People must move towards accepting all faiths as valid. Lasting peace and harmony can be achieved only through this mindset. By organising inter-faith dialogue, CFCH wishes to shed the stereotypes shrouding all religions such as the assumption that Islam is a patron of terrorism and Hinduism's significant feature is only a multitude of gods and goddesses.

"GFCH believes that all religions lead to one God and complement each other in maintaining global harmony and peace,"says Suresh.

"This harmony can be achieved only through free and frank dialogue between communities. The inter-faith prayer meetings will help in resolving as well as avoiding conflicts," he adds.

GFCH was launched by His Holiness the Dalai Lama, former President Dr A P J Abdul Kalam, founder of Hindu Dharma Acharya Sabha, Swami Dayanand Saraswati, Sri Sri Ravi Shankar, founder of the Art of Living Foundation as well as other heads of religious sects. In a span of four years, the United Nations Alliance of Civilisations (UNAOC), has made it a partner organisation in recognition of its services. The future plans of GFCH India include hosting the first-ever 'Islam in the Service of the Nation' fair to encourage moderate elements and showcase the philanthropic activities carried out by Muslim organisations and preparing a docu-drama on North-East India in partnership with UNAOC under its intra-country migration video project.