News - Utopia in the making
by Nipun A Jacob
A weeklong festival on Auroville in the capital city celebrated the Utopian ideal of unity and holistic thought that make it the prototype of the New World, says Nipun Augustin Jacob

Download PDF Format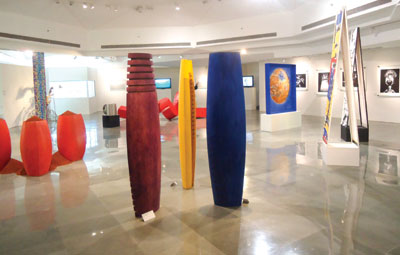 The fascinating artwork on display at the
Auroville Fest in India International Centre According to Irish writer and poet, Oscar Wilde, a map of the world that does not include Utopia is not worth glancing at, for it leaves out the one country at which humanity is always landing. Recently, Utopia dropped in at the capital city through a week-long, first ever, Auroville Festival at the India International Centre. The lively and stimulating programmes included talks, arts and other exhibitions and movies, celebrating Auroville's role as the prototype of a holistic, spiritually intelligent future city.

Auroville, popularly known as the 'City of Dawn' or 'A universal city in the making in South India' was established over 40 years ago, in collaboration with 124 countries supported by the Government of India and endorsed by UNESCO. Auroville is based on the philosophy and ideals of Sri Aurobindo, a freedom fighter turned spiritual giant and visionary. People from 48 nationalities converge at Auroville, envisioned by the Mother as a multi-religious, multi-cultural, multi-ethnic and multi-lingual city with the sole purpose of developing the consciousness of people.

Auroville is founded on the principles of shared leadership, sustainable development and new consciousness. This intentional community was created to be a living embodiment of human unity, a laboratory for the future that is looking for innovative ways to coexist that benefits all. The Mother called Auroville a laboratory to accellerated evolution.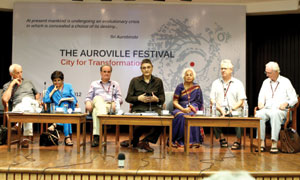 Dr Vishakha Desai, Mark Tully, Dr Karan Singh,
Dr Aster Patel, Julian Lines and Marc Luycks at the festival Speaking on the opening day of the festival, Dr Karan Singh, chairman, Auroville Foundation, said, "The world is passing through turbulent times. There is deprivation and fanaticism all over. Our old patterns of rigid consciousness are not serving us well. We have not developed our inner capacity the way great creative thinkers like Aurobindo did in his lifetime. We need to be one with the cosmic consciousness so that in all the negativity, we can find a positive force."

Educationist Dr Aster Patel, who is deeply involved in the creation of Auroville, said, "Inspite of all the challenges and difficulties the Mother faced in 1966, It was her inner wisdom, foresight, and courage that enabled her to dream of a place for a heterogeneous community. The work is still in progress."

Dr Vishakha Desai, president and CEO of the Asia Society, spoke on the transformative power of art. She said, "Art has the power to transcend thoughts. The essential nature of the human being can be revealed through art. Sri Aurobindo talked about art as a means of interconnectedness because art has the power of connecting and representing an individual. It has the power to reduce the tension between cultures, communities and religion. Art can bring in the consciousness which is missing in the society."

Anu Majumdar, a writer-poet-dancer from Calcutta and author of Parallel Journeys published by Life Positive, has lived in Auroville for 30 years. She said that Auroville served as a training ground to develop her inner consciousness. "Being an Aurovillian, I believe, is like conquering my inner territory every day. We make a lot of mistakes but Auroville is the place which allows you to experiment and help traverse them bit by bit."

Aurovilian Deepti Tewari spoke about the interesting possibilities of self-discovery at Auroville. "The age of ego is over. To be an Aurovillian means transcending your morals, culture and religion. It's about giving up and being born into a truer path," she said. Joss Brooks grew up in the Australian state of Tasmania, a place full of wild natural beauty and came to Auroville in 1970 to join the early pioneering efforts in land restoration. He says, "Auroville has become a place for education and upliftment. We try to work with the local communities and train women to form their own sustainable living."

Renowned scientist and architect of the Green Revolution, MS Swaminathan, spoke about Auroville where democracy is an open opportunity for expression, "Once you have choices you can make the decisions appropriately. If there is violence in your heart then how can you be non-violent with nature? What has happened in our country that Green Revolution has become Greed Revolution and the concept of trusteeship has gone away?"

Mark Tully, well-known writer and chairman, International Advisory Council, Auroville Foundation, talked about the aspect of transition which Auroville embodies and what Auroville stands for him. "Science has led us to believe and behave as though everything can be subject to reason. We have allowed economics to dominate our thinking. All problems will be solved if we attempt to understand ourselves. The quality of our life will be improved and we will become super-rational. All we need is to inject higher reasoning in our lives."

The key attraction at the Auroville Festival was the art and photography exhibition, Transformation, which was a group show exploring the theme of the festival. A unique art and culture event that brought a selection of contemporary art by established and emerging Indian and international artists including Adil Writer, Aurelio, Cecilia Cortés, Chantal Gowa, Henk van Putten, Ireno Guerci, Michel Nicolet, Nele Martens, Pierre Legrand, Priya Sundaravalli, Sebastian Cortés, and Véronique Nicolet amongst many others. The various works of these prominent artists included photography, paintings, sculptures and pottery.

Born in New York, Sebastian Cortes moved together with his family to India in 2004. He said that the camera has taught him to see the world in its metaphoric, symbolic and subtle state. His Infinite series at the exhibition in the festival was composed of 12 individual images and is available as a limited edition of digital prints on Hahnemuhle archival fine art paper. Priya Sundaravalli, a medical doctor and biomedical engineer, moved to Auroville in 2002. Her work, Towards 108 and Beyond_ Meditation on 9 and 12 was over two m long and inspired by the Aboriginal concept of altjeringa or dreamtime, where the past and the future co-exist in the present moment. Nature, life forms and our common ancestors from the ancient past guide the texture and imagery.

Also, part of the festival was a set of movies showing the life at Auroville from vivid angles. For instance, Svaram: The Visceral Sound. Svaram is one of the few places on the Indian subcontinent creating new musical instruments accessible to everybody, independent of talent or predisposition, directly bringing the joy of music into one's hands and heart. The film illustrates the journey of the founder of Svaram, Aurelio, and his experiences in building an international music research station in Auroville, Pondicherry.

Another documentary, Auroville 'Esquisse d'Un Monde (Auroville, the Outline of a World) documented the journey of a handful of pioneers, mostly Europeans disappointed by Western society, who began the construction of Auroville. Forty years later, what was a desert plateau lost in Tamil Nadu, India, has been transformed into a verdant jungle. Under its nurturing canopy, 2000 Aurovilians try every day to realise the ideals of Mirra Alfassa, called the Mother. This documentary captures the lives of Aurovilians, the paradoxes the city faces, and explains the reasons that led them to start afresh and to reject a system which currently dominates all continents.