News - Wiccan wisdom
by Life Positive
If you've ever been in a crowded train or a party, and came back home feeling sick, angry, cranky, or depressed for no good reason, you were probably subjected to negative attack from your environment." says Sangeeta Krishnan, a Wiccan who also works as a part-time editor of a scientific firm.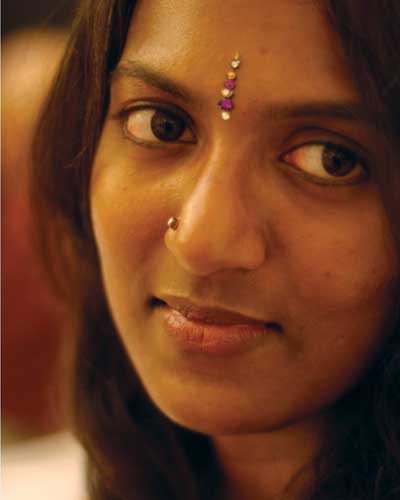 Wicca woman Sangeeta Krishnan Emphasising that such negativity can be overcome, she avers, "If your 'spiritual immunity' is high, you will be protected from all kinds of psychic attacks. If you can identify a place, thing or a person that drains your energy, then you must avoid being near them." She also suggests visualising a bright, golden sphere around one's body that diverts all negative energy. She recommends the use of salt for its strong anti-psychic properties. She says, "Salt crystals are powerful protectors of energy and by putting a fistful of pure, uniodised sea salt in one's bath water, one can protect oneself."

Sangeeta had numerous spiritual experiences all throughout her growing years. In her early teens, she picked up several spiritual, healing tools such as graphology, reiki, and aura reading. She then read Ipsita Roy Choudhury's book, Beloved Witch and started practising Wicca.

She also conducts classes for people who want to learn Wicca. According to her, Wicca is a lifelong study. The practices are simple, short and serve to improve one's health, quality of life, and outlook.

Contact: Sangeeta@astralhub.com.