News - Work, pray, love
by Life Positive
God, please make us beautiful, holy, pure, and successful. Oh God, please bless all the souls. God, please help us walk on the path of truth.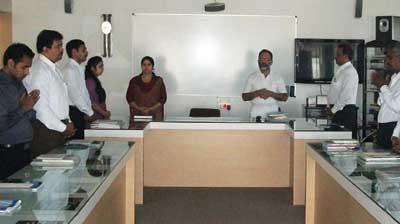 Employees of Mission Happiness begin their day with a prayer Let us all be happy, contented and blissful. This is an excerpt of the prayer that is recited every morning at Mission Happiness in Bareilly, Uttar Pradesh.

Mission Happiness is actually the name of a pharmaceutical company founded by KB Soorie, that operates on the concept of merging spiritual practices with business modules. Invocation of the Almighty, chanting the holy name, reading religious scriptures along with Life Positive magazine, playing devotional music and being punctual, is a daily ritual here. Mission Happiness came into existence under the name of Divine Pharma in 2002 and began to initiate a novel body-mind-spirit equation in the pharmaceutical industry.

Mission Happiness is setting a live example of merging business practices with spiritual awakening at a time when material gains are the highest priority. The organisation promotes spiritual bonding, equality and unbiased attitude in order to bring spiritual realisation to the world.

All the employees are given unique names such as Divine Light, Divine Glory, Divine Practical, Divine Strictness. KB Soorie was once arrogant and quarrelsome. To mellow him down, he was named Divine Server. "Naming spreads equality and a sense of belonging among the staff. It also helps to remind us of the hidden potential or quality that one lacks," says Soorie.

Neeta Sahani, also known as Divine Energy, says "The morning's prayer and meditation stays with us throughout the day. It helps me imbibe divine virtues in life."

A senior staff member, Shalu Nanda also called Divine Control, looks after the finances of the company. She says, "When my brother met with an accident, I lost all hope but Mr Soorie and fellow staff members supported me financially and psychologically. We are a family here."

K B Soorie believes that earning material wealth is just not enough, securing a place in heaven is equally important. "We all are children of God and the executors of the task assigned by God," he emphasises.

Reader's Comments


Subject: praising - 1 July 2013
Its simply beautiful &inspiring
by: Maqsud ali