News - Yoga rules, ok!
by Life Positive
If there is any doubt that consciousness levels are rising, one only has to look at the enormous popularity yoga is enjoying all over the world.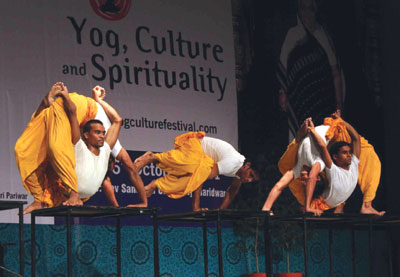 Yoga meets culture Yoga festivals therefore are enjoying a booming popularity. The country was recently witness to The 2nd International Festival of Yoga, Culture & Spirituality held in Hardwar by the highly respected and humongous spiritual organisation, the All World Gayatri Parivar

"Yoga has become synonymous to making our body supple and enhancing certain worldly aspects. However, in reality, yoga is something very unique – it makes one perfect," observed Dr Pranav Pandya, the Chancellor of Dev Sanskriti Vishwavidyalay (DSVV), the educational wing of the Gayatri Parivar. Elaborating on the theme of the event, he stated that all of life was yoga, while spirituality empowers an individual to realise his potential, and culture refines and distils character. All three, he concluded, were essential for holistic personality development.

The festival was organised jointly by Dev Sanskriti Vishwavidyalaya, Haridwar (D.S.V.V.), All World Gayatri Pariwar, Shantikunj, Haridwar, and Uttarakhand Tourism Development Board.

Drawing 118 delegates from 22 countries and 1000 participants, the festival began with yoga, and yagya in the morning. Participants were introduced to techniques such as pragya pranic healing, acupressure, naturopathy, yog nidra and yagya therapy. There were also scientific sessions where research findings on yoga and spirituality were shared. Scintillating cultural events such as a traditional Indian folk dance, yoga dance and other artistic expressions, brought an end to each day.