News - A meeting of minds, hearts and souls
by Life Positive
Driven by the success of the Global Congress of Spiritual Scientists (GCSS) last year, Pyramid Valley International is organising the same this year from September 30 to October 3.

This four-day residential conference will be held at the picturesque Pyramid Valley, near Bangalore. Jointly organised by The Pyramid Spiritual Trust (India) and Life Research Academy, the event's theme is 'Co-creating Paradise on Earth'.

Guruji Krishnananda who has developed the distinct 'Sapta Rishis Path' and established the 'Manasa Foundation' in 1988 will be inaugurating the congress. He is the author of the many books, including the famous Doorways to light. Conference highlights include the following:

Brahmarshi Patriji, founder of the Pyramid Spiritual Societies Movement (PSSM), will discuss the science of meditation.

Singer and spiritual teacher, Erik Berglund will be conducting a seminar on birthing light. The President of GCSS, Jasmuheen, will be presenting a workshop called Harmonics of the Heavenly Heart. Barbara Hand Clow will be speaking on the subject, Alchemy of Nine Dimensions and the Mayan Code.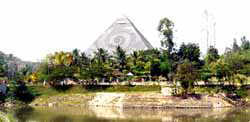 Vibing in the Valley During their one-day class, Barbara Hand Clow and Gerry Clow will take participants on a journey into the nine dimensions of consciousness. Dr Newton Kondaveti, a past-life regression and holistic therapist will present a workshop on time travel. Sources of ancient wisdom have always known that time travel is possible, not physically, but by journeying into the depths of our own consciousness, for it exists simultaneously in all the frames of reality in the Universe.

Jacqueline Maria Longstaff from Denmark will present a workshop titled The cosmic airport: A vision whose time has come. She will address inspiration for conscious birthing, cosmic sexuality and conception, the role played by the devic kingdom during pregnancy and birth, the death process and enlightenment, alchemy of the heart, global awakening and blueprints for future society. Jill Mara from USA will speak on Creating a New World. Keiko Anaguchi, a master from Japan, will be speaking on Live Channeling.

With an exciting programme planned out, the congress will be a real treat, pushing one on in the path of spiritual growth.
www.spiritualcongress.org

See more news at: http://www.lifepositive.com/articles/news