News - The wisdom of the ages
by Life Positive
On April 3, at the Maha Kumbh in Haridwar, a grand event took place in one of the camps– the preview and blessings ceremony for the Encyclopedia of Hinduism.

The first three of 11 volumes were ready in print for preview. This monumental project had been initiated by Swami Chidananda Saraswati of Parmarth Ashram, Rishikesh, and his India Heritage Research Foundation. Over 1000 scholars have worked for 15 years to make the depth and breadth of Hindu history, civilisation, culture, art/architecture, spirituality and much more, easily accessible in an encyclopedia.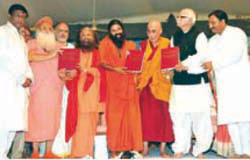 Dignitaries unveiling the book In tune with the magnitude and historical importance of the project, an assembly of spiritual personalities had gathered for the ceremony, probably the biggest gathering of this kind in history. The Dalai Lama, the heads of the 12 Akharas, Shankaracharayas, Mahamandaleshwars, well-known swamis, Jain munis, Sikhs even from America, Father Dominique Emanuel, a spokesperson for the Catholic diocese, representatives of spiritual institutions, dignitaries from politics and art – the list is too long to mention all of them. Baba Ramdev came rushing in late, straight from Nepal, and received a thunderous applause from the audience. Actor Vivek Oberoi, too, got high decibels of applause. He expressed the opinion that the youth of India did not know what Hinduism was and hoped that the encyclopedia would help them to do so.

One theme reiterated by several speakers was that this vast, valuable wisdom was not only for Indians but for all of humanity. One swami summed it up succintly: "In the west, the attitude is: pura sansaar – ek bazaar. In India: pura sansaar – ek parivaar!"

The Dalai Lama declared. "I am a son of India," and added, "I am proud to say so." When he came to India, he was deeply moved, he said, that for thousands of years, different traditions had lived harmoniously together. "My philosophy comes from India. Now the time has come that this tradition should be shown to the rest of the world. India has great potential to help humanity," he opined. Swami Chidananda and the India Heritage Research Foundation deserve to be commended for this historical project.