Parenting - Bringing up baby
by Ayesha Chopra
Ayesha Chopra writes a letter to her children offering invaluable parenting tips on their becoming first-time parents

Download PDF Format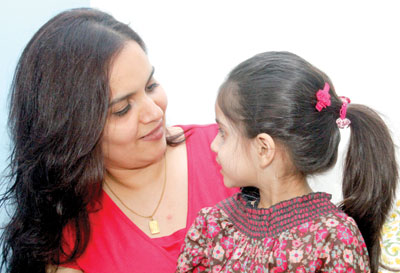 My daughter and daughter-in-law had their first child – both girls – three months apart. Around the time their babies were born, I wrote the following letter to them, as well as to my son and son-in-law. I am sharing it here (with a few minor changes to make it more appropriate for public reading), with the hope that it might benefit other young and expectant parents. For ease of reference I have used 'she' most of the time, but my intention is not to exclude the male child.

My dearest children:

As you assume the next significant role in your life – that of first-time parents – I would like to share with you some thoughts and tips, which I have learnt over the years that I believe might be useful to you in bringing up your own children. Of course, much of the time, you will be guided by your own parental instincts, and my hope is that the following tips would support and reinforce your own judgment.

1. First of all, genuinely and truly accept and love your child exactly as she is. She is beautiful just as she is.

Do not wish her to be any different. Her looks, her temperament, the way she expresses herself are all her own. She is an individual in her own right, and will have her own likes and dislikes, her own talents and interests, which may or may not correlate with what you might want for her. One of the greatest gifts you can give her is the space to be herself in every way.

2. Do not compare her with anyone else

Do not think of her as superior or inferior to anyone else in any way whatsoever. Each person is unique, and she comes with her own personality. In appreciating who she is, you would help her develop a healthy self-esteem and encourage her special talents to blossom in their own special way. Avoid comparisons with other children's talents and capabilities in her presence. Also, avoid discussing her traits and personality with other people in front of her, unless it is to compliment and praise her.

3. When she learns to assert her individuality

If at times, her behaviour happens to be undesirable, then guide her gently to the desired behaviour, without letting her feel that she is a 'bad' child. Remember that it is her behaviour that is undesirable, not she herself. Therefore, it is the behaviour that you would focus on, not her. For example, instead of saying something like 'you are a bad girl for doing that' you would say, 'that was not a nice thing to do.' Then, as soon as it is appropriate, tell her that you love her no matter what. Do not let her feel rejected or small, just because she did something that is unacceptable.

4. Telling your child what to do is more effective than telling her what not to do

When instructing her against doing something, it is important to tell her what to do instead. Energy flows constantly, and telling her not to do something, would be like trying to stop its flow. What is required is to redirect it in the desired channel, not to stop it. Therefore, as you tell her what not to do, immediately follow that up with what you would like her to do instead. Then, in a way that she is able to understand, tell her why. For example, "Don't draw on the wall. It will spoil the wall. Take this paper here and draw on that. Then we can hang your pretty drawing on the board."

When children understand the reason behind a parental directive and when it begins to make sense to them, they learn to respect and not rebel against reasonable authority. Of course, the only times that you would want to stop her from doing something would be when her actions are harmful in some way. Otherwise, try to keep your don'ts to the bare minimum.

5. Be consistent

Your child needs to know that when you say something you mean it. If you stop her from doing something once, but ignore it the next time she does the same thing, then she will not take your directives seriously. Children are clever. They test their limits with parents. They see how far they can push you. Do not say 'no' unless you mean it, and don't make threats unless you are willing to follow through with them.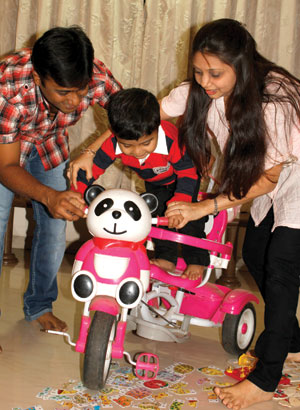 For example, if she continues to bang the spoon on the plate, despite your telling her not to, say something like, "If you keep banging the spoon then I will have to take it away from you." Then be ready and willing to follow through with it even if she starts to cry.

Avoid comparisons with other children's talents and capabilities in her presence. At the end of every admonishment, however, be sure to show her verbally and non-verbally that you love her.

It is worth remembering here that consistency is not the same thing as rigidity. Rigidity means stubbornly sticking to your original stand, even if new information warrants otherwise. Be willing to look at all the facts and act accordingly in the best interest of your child. By being consistent, you would provide a structure and set reasonable limits that your child can understand, and which can instill a sense of comfort and safety in her.

6. Present a united front when guiding your child

Children see parents as a team, so if you have disagreements air them away from the children. If one parent says 'no' to something, the other must not over-rule that. Children can be very manipulative. If they sense a division between you, they will use it to their full advantage.

7. Never ask her to take sides

To your child you are one unit. Do not drive a wedge by asking her whether she loves mommy or daddy more. She will mistakenly learn that love is a limited commodity. Teach her by example that love is not something you need to take away from one person, in order to give to another. Teach her that love is available in abundance in our hearts, and the more we give, the more there is to give.

8. Never criticise the other parent in front of your child

It would unsettle and disturb her. You are a family and a team. By standing together and supporting one another, you instill a greater sense of security and confidence in your child. You are her role model and she will learn how to relate to people by observing your behaviour. Set an example by interacting with each other with tolerance, patience, understanding, and empathy.

9. Guide your child to strive for excellence rather than perfection

There is no such thing as absolute perfection. If that is what you are striving for, then you are already setting yourself up for failure right from the start. It is far better to aim for excellence instead.



Ayesha Chopra is writer and
life skills coach based in New York
and India who bases her practice on
the principles of NLP, transactional
analysis and natural laws gleaned from
personal experience. Have you noticed that the drive for perfection and the tendency to criticise often go hand in hand? Your child will thrive on praise, and shrivel under criticism. So allow room for imperfections in her life. If her shoelace is not perfectly tied, or if she spills milk on the new tablecloth, or if she does not eat or walk fast enough when you are in a hurry, or if she does not colour the pictures perfectly within the lines, tell her that it really does not matter. What matters is that she learns joyfully and develops new skills with enthusiasm and confidence. She will feel good about herself when her efforts are recognised, acknowledged, and appreciated by you. Shower her with well-deserved praise and watch her grow in confidence.

10. Be openly affectionate

Children thrive on love and affection. Be generous with hugs and cuddles. Help your child be comfortable with expressions of affection and not be afraid to hug, kiss, and demonstrate their love for family and friends. (When they are older, you can then teach them to discriminate between safe, unsafe, appropriate, and inappropriate expressions of love.)

11. Never laugh at your child, not even in jest

Always validate her feelings. This is a two-in-one tip. Often, her earnest initial attempts to talk, walk, or try something new will amuse you, but if you laugh or chuckle at that moment, she, with her limited understanding, may mistake it for ridicule. Always show sincere regard for her fledgling attempts, and match her earnestness with as much seriousness as you can muster. Whenever you laugh at something in her presence, let her feel that you are laughing with her, and not at her.

12. If she is crying, fearful or angry, acknowledge her feelings

Encourage her to talk to you about them. "I can see that you are angry. Do you want to tell me what happened?" Avoid conveying that she must not feel what she is feeling. To her, the feelings are real, however baseless they may appear to you. If you ignore them, she will think that you do not understand her, and start withdrawing from you.

13. Your child trusts you and wants to measure up to your expectations

If you tell her that you think – or better yet, know that she is beautiful, smart, intelligent, talented, and a caring individual, then she will believe you, and act in ways that prove you right. However, know that it works both ways; if you convey to her in any way that she is not good enough, then that is what she will believe subconsciously, and act accordingly. So watch what you say or do in front of her. Be aware of the messages you convey to her consciously or unconsciously.

14. Encourage your child to discover and appreciate the wonders of nature

Take her outdoors and draw her attention to the wonders of nature: flowers, trees, leaves, blossoms, dewdrops on grass, animals, rocks, water, raindrops, snowflakes, birds, clouds, stars, the moon, and the sun. Help her to experience nature's abundance, and delight in it. As she grows older, she will learn to appreciate it as a source of calmness and peace.

As a last point, I want to share with you, the poem by Dorothy Law Nolte, which is an all-time favourite:

"If a child lives with criticism, she learns to condemn
If a child lives with hostility, she learns to fight
If a child lives with ridicule, she learns to be shy
If a child lives with fear, she learns to be apprehensive
If a child lives with shame, she learns to feel guilty
If a child lives with tolerance, she learns to be patient
If a child lives with encouragement, she learns to be confident
If a child lives with praise, she learns to appreciate
If a child lives with acceptance, she learns to love
If a child lives with approval, she learns to like herself
If a child lives with recognition, she learns to have a goal
If a child lives with honesty, she learns what truth is
If a child lives with sharing, she learns to be generous
If a child lives with fairness, she learns justice
If a child lives with security, she learns to have faith in herself and those around her
If a child lives with serenity, she learns to have peace of mind."

The above ideas and tips are just pointers. Follow your instincts in each case, do what in your judgment is best for your child, and leave the rest up to life. Each child brings their own karma into the world. Each lives out his or her own destiny. All that we as caregivers can do is to provide the support and the nurturing she needs, to grow up into an independent, responsible individual. She is her own person, and will live her life in her own way.

As Kahlil Gibran said, "Your children are not your children. They are the sons and daughters of life's longing for itself. They come through you, not from you. And though they are with you, they belong not to you. You may give them your love but not your thoughts, for they will have their own thoughts..."

There will be times when you would want to throw up your hands in sheer frustration, for children are not always angelic creatures! They can test your patience and exact a heavy toll both physically and emotionally. At those times, you would do well to take a break to regain your composure, and return with renewed energy. Be sure to make it guilt-free and forgive yourself if you get impatient, frustrated or angry from time to time. Remember that you are only human, and there is absolutely no need to try to be supermen and superwomen. Also, remember that it is always okay to ask for help when you need it.

With love and blessings for an enriching and rewarding experience of parenthood, Ma.

See more articles on Parenting : http://www.lifepositive.com/Articles/Parenting

Reader's Comments


Subject: Bringing up Baby - 1 September 2012
Excellent piece! Worth sharing with all new couples.
by: HQ Chowdhury