Parenting - Handling the terrible teens
Deep listening, mutual respect and clear communication go a long way in helping adolescents deal with teenage stress, says Jamuna Rangachari

Download PDF Format
A TEEN SPEAKS
Teenagers face stress and it is usually about things that may not really bother adults. Other than our studies, we worry about how popular we are, issues with our parents and siblings, making sense
More >>
---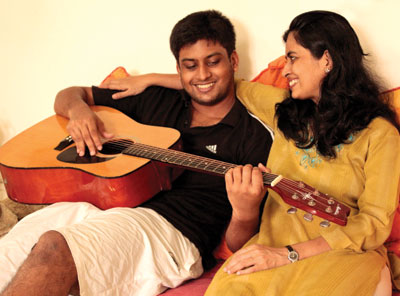 In tune with each other: Jamuna Rangachari with her son, Siddart When my son Siddart, now 19, was in the Std X, he was given 'study leave'. He said, "Amma, I was just waiting for this day to do something I have wanted to for a long time." I wondered what that could possibly be. "I want an earring," he said. "The school won't allow me to wear one, but now I can wear what I want. Please, Ma."

I quickly considered how to respond. I did not want him to buy an earring which may cause an infection and affect his focus on studies. After all, his exams were approaching. At the same time, I did not want to come in the way of what was clearly an important desire. Eventually, I decided that his earring fixation was either a passing phase or something both he and I would not waste too much time on. I agreed to his request and even accompanied him to the shop to select the earring. He wore the earring for a while, and found it uncomfortable. A few days later, he quietly discarded it. My husband and I were relieved but decided not to comment.

Supriya (name changed) wanted to be given money for a field trip to London with a group of friends. Her parents sat with her and explained how much more fun it would be if they went together as a family. They suggested that if they went as a family they could try to include other European cities in their itinerary as well. Supriya thought about the idea and eventually decided that she would rather do the trip with her parents.

Devinder Anand, a holistic trainer, says, "When my son was in his teens, he had a raging argument with his father. It was almost midnight when he walked out of the house in a huff. While my husband wanted to follow him, I suggested that he be left alone for a while to sort out his feelings. Shortly afterwards,
 
 
Life is simple. Everything happens for you, not to you. Everything happens at exactly the right moment, neither too soon nor too late. You don't have to like it. It's just easier if you do.
-Byron Katie
 
 
he called up crying and told us that he had gone to sit on a bench in the park when a cop came up to him and questioned him. As he was feeling rather brash, he had replied in the same tone he had used with his father. The enraged cop wanted to throw him in the lockup for the night. Now suddenly back to his senses he realised his mistake. In panic, he called up his father who then came to his rescue and pacified the cop."
While it is true that every adult was once a teenager, and is thus no stranger to teenage stress, Ameeta Sanghvi Shah, a psychiatrist, says teenage stress has grown to be a more serious issue in today's world than it has ever been. Advancements in technology, improved connectivity, and factors like a keener sense of values like equality, universal human rights and individualism have had a role to play in making this happen. These factors make teenagers experience multiple needs and demands within themselves that are unique to this time and age.
Walk in their shoes
Dayal Mirchandani, a psychiatrist, says all one needs to do to deal better with teens is to develop a clearer understanding of where they are coming from. "Teenagers are brand-conscious, and peer pressure makes them compare and compete, adding to their stresses. One has to be both understanding and flexible if one wants to deal with teens. I have helped many families deal with their teens by doing exactly that."
Peer pressure, in short, when it is allowed free run can deepen anxiety and create conflicts with parents as well as within the teens. This usually happens when kids place demands that are out of their parents' reach making it difficult for them to afford it. Technology has multiplied the must-have gadgets that teenagers covet. These include cell phones with the latest applications that promise uninterrupted connectivity. The desire for, and even possession of, these gadgets add to teen stress and lead inevitably to conflicts with parents. It also spells breakdowns in relations with the family as teenagers get increasingly connected to more people than they have time.
Says Rina Tripathi, a writer from Delhi, "Peer pressure causes children to divide time between studies, online distractions, socialising and coping with new feelings. This is something all teenagers face."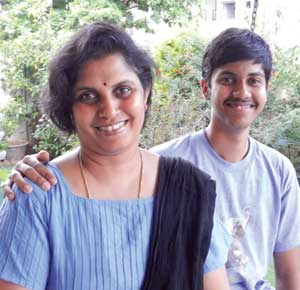 Sometimes, a soothing spiritual influence can be all a teen needs in order to resolve his inner angst. Anuradha Kurpad, a Bangalore-based housewife, sent her 19-year-old son to do a one-month residential programme called YIC (Yoga Instructor Course) at the S. Vyasa institute near Bangalore. Happily for her, the course helped her son.
"I chose the S. Vyasa campus because it is established with the aim of creating better human beings through unlearning of old unhealthy lifestyle choices. Its green environs soothe students and allow them to focus on holistic learning. The campus helps youngsters follow a healthy holistic routine and change for the better," she says. After he attended the YIC course, Anuradha's son is considering pursuing yoga as a career.
Mumbai-based architect Sonia Mehta, a mother of two, aged 26 and 17, and a co-author of the book,
Can Moms Take a Chill Pill?
points out, "Childhood spans have shrunk. Children become 'teenagers' at the age of 10. Parental pressure for performing well in all fields, be it academics, sports or extra-curricular activities like public speaking, is increasing. Peer pressure demands that teenagers adhere to a lifestyle that is cool or chilled-out. It dictates that they smoke, take drugs, drink, sport the latest gadgets, have a girlfriend/boyfriend and even lose their virginity as early as possible."
Since peer pressure can often tilt the teen towards unhealthy and unwise choices, it is all the more important that the parent-child relationship be such that it will positively influence the teen. One way to do this is to moderate the way one speaks to them.
Says Devinder Anand, "One can have disagreements but one should work at more constructive ways of reasoning with each other. Shouting and bickering do more harm than they help."
Untenable demands
Ameeta Shah, a therapist and counsellor, talks about her experience with one of her clients, Priya, who tended to be irritable and angry in general. She believed she did not compare well with her peers despite being pretty and possessing an impressive personality. Priya felt she was not as popular as she would have liked to be, and was having a tough time focusing on her studies. She was convinced that she would lose friends if she was not on the phone at all hours.
The demands Priya made on her parents so she could sustain her lifestyle, overwhelmed them and challenged their values about money and bringing up children. They felt they were already spending more on her than was appropriate, and were in no mood to concede to her ever increasing demands.
Ameeta, who worked with Priya's parents, decided to help them keep their channels of communication open irrespective of how Priya took it. When she worked with Priya, the focus was on helping her build her
| | | |
| --- | --- | --- |
|   | |   |
| | He wore the earring for a while, and found it uncomfortable. A few days later, he quietly discarded it, much to my relief. | |
|   | |   |
self-esteem and prioritising her life. She was made to work towards healthier emotional management and acquire communication tools that helped her keep balance within peer relationships. Priya was equipped to choose to conform when she wished to, and to say no in a peaceful way when she did not. She also learnt to choose more appropriate friends.
Essentially, Priya as well as her parents realised that though there was much that one could do with one's time and resources, it was not possible to do it all. Her parents also realised that their daughter faced considerable pressure to pay attention to grooming, looks, and ownership of status-based possessions. This made them face the situation with a more compassionate and less angry frame of mind.
Teenagers feel anxious to grow up to be rich and successful enough to afford all they see their friends possessing. What is required of the parents in such a situation is to set boundaries in relation to choices, wishes and demands that the world throws at their sons/daughters. It is about accepting the realities that confront their teen and making intelligent choices.
| | | |
| --- | --- | --- |
|   | |   |
| | Anuradha Kurpad sent her 19-year-old son, Smaran, to a yoga training programme where he unlearned unhealthy lifestyle choices. | |
|   | |   |
I used to feel that my son Siddart, was too laidback for his own good. "Chill Ma/Pa. Relax," was his standard response to all my advice. I decided to let him work at his own pace. Thankfully, he became more stable with time and is now better at his studies than he used to be. My daughter, Samyukta, now 15, on the other hand is hard working, but has a tendency to worry. My husband and I are the ones who have to tell her to "chill and relax." (see box).
Rangashree, a Chennai-based writer, suggests encouraging teens to pursue their interests as a way of healthily diverting energy. It could be cooking or even counselling friends, "I believe parents should relax a bit on the 'future tense' and be more focussed on the present. They should also let go of the past, and be more accepting of their children. Be firm but kind and preach by example."
Golden rules
From the ideas shared with me by parents, counsellors, trainers and experts in the course of writing this article, I have arrived at some golden rules of handling teenage stress.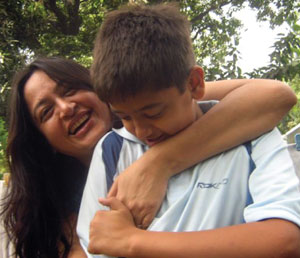 Rina Tripathi with her 16-year-old son, Animesh: The dangers of
peer pressure
The first thing to do is to recognise the problem. Every situation is different as is every teen. Do you really know what is happening there? The second is to listen deeply and summon all one's attention to the job so that no nuance of what the teen is communicating either through words or otherwise is left unheard. Thirdly, it is important to realise that comparisons with other 'good sons/daughters' and one-pill-for-all prescriptions will often do more damage than they will help. Fourthly, communication is the key, so it is important to keep all the lines open and active. Getting into yelling matches and sinking into sullen silences are unhealthy.
Fifthly, one should ensure that no matter what, children are encouraged to eat right, get enough sleep, avoid drugs, alcohol, tobacco, and excessive caffeine. Sixthly, one must encourage teenagers to spend time in activities which they enjoy, whether it's reading, writing, music, or sports. This helps them to be keep a safe distance from sources of stress, like cell phones, email, IM, texting, and social media.
The more teenagers realise that there is a support network to help them with their problems, the easier it is for them to learn how to cope. When teens feel secure enough to talk openly it is easier to zero in on the causes for their stress. This often paves the way to unique solutions that work for them. In conclusion, it is clear communication which is the basis for all inter-personal harmony between parents and teens. While it is important to be watchful and even firm when the situation demands, it is as important to give the teenager room to blossom.
That is perhaps all it takes.
See more articles on Parenting :
http://www.lifepositive.com/Articles/Parenting