Parenting - Mother nature's parenting school
by Sanjiv Ranjan
The grand wisdom and love of Mother Nature will teach our children everything they need to grow up into loving, harmonious, sensitive and successful adults, says Sanjiv Ranjan.

Download PDF Format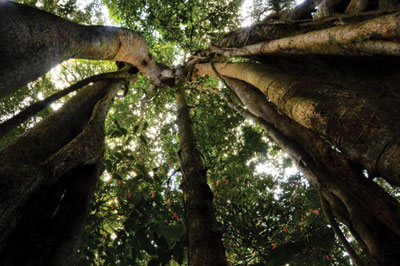 We all love our children. We all want our children to be successful in life. We all try to do our best for our children. Yet, each one of us has known the heartache we go through in the process of bringing up our children.

Each one of us has suffered from the enormity of the task, the colossal responsibility of being a parent, the endless, thankless round of duties, and the feelings of guilt, confusion, and bewilderment that assail those who deeply care. The irony is that most of us embark upon the crucial journey of parenting clueless, at an age when we ourselves are floundering and searching for roots.

Even the simplest jobs require some sort of a basic training, a base-line know-how, which gives us a sense of action that has direction, so that we can begin and complete it, with some assurance that we will not go off track.

From where do we take direction?

Who will teach us how to bring up our children, so that they can grow up to be positive individuals, with character and integrity, proficient in the art of living life with grace, joy and dignity?

The answer is simple – Mother Nature.

We are all children of a potent God, who bestowed upon his consort, Mother Nature, the task of giving birth to us, and nurturing us into maturity. Maturity in its deepest sense is a coming together of the
| | | |
| --- | --- | --- |
| | | |
| | The river does not stop you from putting your feet in it, if you have not had a bath for two days | |
| | | |
four basic types of intelligence found everywhere in the universe. Everything in the universe, whether living or non-living, is bound together by a common law, the law of feelings, the law of rationale, the laws of energy and spirit, and the law of a knowing that comes from deep within.
The laws of the world of feelings give rise to – Emotional Intelligence
The laws governing cause and effect, give rise to –
Logical/Rational Intelligence
The laws that integrate matter, energy and spirit, give rise to – Spiritual Intelligence
The knowing that comes from deep within, gives rise to – Intuition/Intuitive Intelligence.
When all four types of intelligence are in harmony with each other, the child matures smoothly. Essentially, the nature of life is such that we can only bestow what we have.
Nature is where all these types of intelligences thrive and grow, a fact which can be emphatically proven through empirical, non-conjectural validation. We have to turn to science, which at the peak of its maturity, and open-mindedness, makes a movement into truths which poets and mystics have always known.
Mother Nature is sensitive
According to the eminent Indian plant physiologist, Dr. Jagadish Chandra Bose, plants have a sensitive nervous system and a varied emotional life. Everything in nature has feelings. At any given point, in any natural habitat, tremendous emotional information is being passed around, through energy fields that connect all living systems.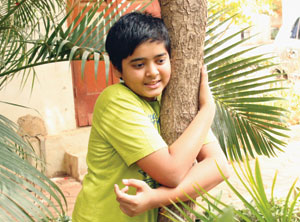 Teach your child to love nature
If one tree in a particular eco-system is infected with a particular type of fungus, it will instantly relay the information to all the other trees in its vicinity, and within fractions of a second, they will all start secreting an anti-fungal resin to protect themselves. The information travels so fast, that it compels one to think that they are all connected, in some unfathomable mysterious way.
The animal and plant kingdom are high on empathy and emotional intelligence, and all living systems seem to care for each other deeply. Elephants, one of the most empathetic animals in the forest, will never pass by a dead carcass, without covering it with leaves. It could be a dead dog, a cat, or a bird, they will not move unless they have buried it properly. At times the entire herd stops for a while, if the carcass belongs to an elephant, even though it may not belong to the same herd. They have extensive mourning rituals, and grieve over their dead, even for weeks.
In an experiment, where scientists were trying to analyse plant feelings, and how it governed their behaviour, they noticed that if they poured boiling water down the kitchen drain, the plants in the vicinity became agitated, perhaps due to the pain or death experienced by the microorganisms whose natural habitat was the sink. They knew about the event through a mysterious connection, and expressed their distress.
Everything in nature is connected through energy fields. The whole of nature is an integrated web of powerful energy and information. We know for sure that Mother Nature is high on emotional intelligence. She has the quality, and she can, likewise bestow.
World over, emotional intelligence is being valued as a highly desirable core trait. Effective leadership arises out of a highly developed emotional intelligence.
Mother Nature allows you to 'be'
The compulsion to be 'good,' to be perceived as nice, an attribute that we all try to forcibly foster in our child, is the root cause of all societal evils. It creates wounds within the psyche which fester and grow, because it takes away from the child, his or her, free will. We were all born free, and yet our minds are put in chains by society.
Being 'good' is doing what 80 per cent of the people like to see you doing. It has nothing to do with what brings you joy and what you wish to do. It destroys the spirit, and turns children into machines, programmed to socially acceptable automated behaviour. This creates tremendous rage within their unconscious mind, which destroys the harmony in their intelligence and in later years manifests as a mindless addiction to, or expression of, violence.
It is the highest and most subtle form of emotional abuse, to be trapped in a life and behaviour, which is dictated by how others wish to see you. It is no wonder then, that the world's most popular video game is about a bodyguard turned into an assassin. The abuse could be as innocuous as – thou shalt not do things that make thy mother unhappy. Why can't the mother be responsible for her own sorrow and joy? Why does she need to coerce it out of her child by repressing his or her joy?
Nature does not burden you with dictats. The river does not stop you from putting your feet in it, if you have not had a bath for two days. The flowers do not hold back their fragrance from you because you did a poor score in maths.
Nature allows you to 'be'; that is why nature heals. It allows you to love yourself, which is the first pre-requisite for any kind of spirituality. Nature is accepting and non-judgmental, both of which attributes are the basic pillars of spirituality. Nature understands the oneness of all beings. Mother Nature is high on spiritual intelligence, and likewise, she can bestow spiritual intelligence.
Nature, like a wise mother, supports non-conformism
Nature allows each one born to her, to express the individuality inherent within them. There are animals who eat meat and those who eat grass. To those who eat meat, she has given sharper teeth and strong jaws. To those who eat grass, and are preyed upon, she has gifted speed.
To the snake, which has neither hands or feet, and a sensitive vulnerable back, she has given venom, so that it can live. The early bird gets the worm. The owl, the bat, and the rat hunt at night. There are flowers that bloom only when the sun rises, and there are some which respond only to moonlight.
In nature, every element is just the way it is meant to be. No plant has to follow another plant, no animal has to follow another animal, every river can choose her own path to the sea. There is no one telling anyone what to do, and yet all are intensely focussed on what they were meant to do.
It thrives on the spirit of non-conformism. That is why in nature there is so much harmony, because Mother Nature allows everything to be itself.
| | | |
| --- | --- | --- |
| | | |
| | Most of us embark upon the crucial journey of parenting clueless, at an age when we ourselves are fl oundering and searching for roots. | |
| | | |
Everything, allows everything, to be itself. There are no control or dominion dramas. Everything exists in harmony just the way it is.
In nature, you will never get to see life's struggle. You will only see freedom and ethical individualism, the freedom to be and express as one is. Nature like a wise mother will never compare or judge her children. Nor will she set standards for them.
Her love knows no conditions. For her the dove, the eagle, and the snake are all dearly loved. To one she has gifted trees and alcoves among rocks, to the other the vast empty spaces above the sky, and to the third, moss-covered forest floors.
Nature has character, integrity and an ethical individualism, and likewise she can bestow them.


Nature is intuitive
In the experiment, stated earlier, the fact that the plants knew about the pouring of boiling water and the fate of the microorganisms, who perished in the kitchen sink, amply gives evidence to the intuitive ability that is an inherent part of nature. In nature, there are no newspapers and news channels, yet information gets around with surprising ease.
In the same experiment, when those conducting the research, thought about doing the same to the plants (pouring boiling water), the plants once again set off their alarm bells and started secreting moisture to counteract the heat. The plants had somehow picked up the thought forms of those conducting the experiment and had responded in self-preservation, even before the action took place.
Intuition is natural. Every child is born with the gift. Nature is high on intuitive intelligence and likewise she can bestow it.
Nature is logical
This attribute of nature does not need any elaboration. We all understand logic, a faculty that our education system heavily relies upon. Almost all of the training we receive in the first 25 years of our life is based upon honing the skill of gathering information and applying it logically, a faculty that is almost beaten into us by a pre-dominantly left brained culture.
In fact, logical intelligence has received too much attention, a phenomenon that has led to the suppression of the other three intelligences, creating disharmony, stress and misery in our lives.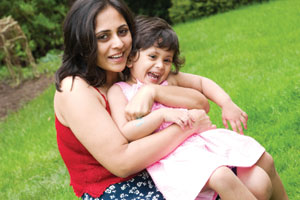 How can the current conditioning be reversed?
All reversals of deeply ingrained, habits in society need a revolution. Our education system is in dire need of introspection and change. Our parenting needs to be more sensitive and insightful. Both need to make a movement towards Mother Nature to learn and imbibe from her.
As parents, we need to be –
1. More sensitive to the child's individuality. We need to go deeper into the child's world, understand its colourful depth, honour its uniqueness with an open mind (it takes tremendous courage and dedication, but we owe it to the future of this planet to do so), rather than burden him or her with our notions of behaviour or success.
2. Take effective measures to enhance the child's connection to nature. Between the age of 0-8, the child's destiny is forged within his or her mind. Take your child to the garden or park as often as you can, instead of malls. Allow the child to be with the plants, trees, and lie down upon the grass. Encourage mud play. Show them pictures of animals and birds, tell them stories about the same, travel to natural eco-systems, and allow your child to learn and absorb from Mother Nature. It is the easiest thing to do, for children are inherently programmed to learn from nature.
3. Nurture the spirit of non-conformism. Do not force social etiquette on your children; with time they will learn on their own the delicate balance of loving and honouring the self, while respecting the other. Allow the child to make choices. Having a choice empowers them, and helps them to learn the art of being responsible.
4. Never judge or compare, even within your own mind. Always feel proud of your child. Children are highly intuitive. They absorb energy and emotional information. No matter how the child performs, assure your child that you believe in his greatness, that he or she has a special purpose on earth, a beautiful role which is uniquely theirs.
5. Allow them to express their emotions – Especially the not so acceptable or pleasant ones. Let them cry it out when they are hurt, let them scream it out if they are angry; give them the space to feel sad or upset. Teach them to be emotionally honest.
6. Have a vision for your child, but do not enforce it. Have a vision for your child, which is grand, but let him chart his own way. Focus more on powerful core traits. You can engage in creative visualisation where you imagine your child growing up into a mature, stable, intelligent adult, wise, compassionate and successful, loved and respected by all, or whatever you may wish to imagine as an ethical blueprint for your child. Avoid being specific, like wanting to choose professions for them.
7. Feed them with love. Cook with dedication and love, ensure a balanced diet, high on natural/organic food, serve it on time, avoid going high on junk food to save your time. Give them food that they will love to eat. Do not force anything on them.
8. Last, but not the least, teach them to listen to their inner voice. Let them take decisions, trust their decisions, ask them for advice, you will be surprised how wise and intelligent your children are. Instead of focusing on teaching them, try instead to learn from them, for they belong to times ahead of you. Teach them to sit silently with themselves each night before they sleep and reflect upon the day that went by and what life had to teach. Start this at a very young age; by the time a child is five years old she has all the cognitive and intuitive faculties that favour introspection. It will be a habit that will stay with them for a lifetime, and empower them.
Don't be daunted by everything you have read. All this lies naturally within you too. Just begin small baby steps, taken one at a time, and you will be surprised by how conscious parenting will heal your own life.
See more articles on Parenting :
http://www.lifepositive.com/Articles/Parenting