Personal Growth - A New Beginning
by Life Positive
A transformational workshop takes participants to the next level.

Download PDF Format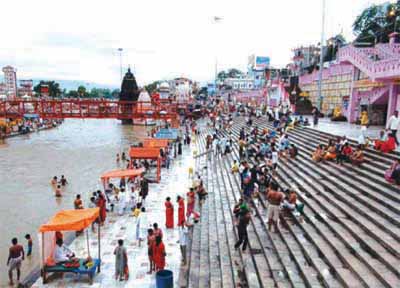 On the banks of the Ganga, participants script a new life It's not often that one comes across a workshop that enables one to, experientially as well as conceptually, transcend the past and look at life with new eyes, new hope and new intention. However, in the case of the workshop, A New Beginning, organised by Life Positive Foundation, this was overwhelmingly the case. The facilitator was powerful, resonating with a wonderful capacity for empathy and for deep thinking. The material was refreshingly original, the insights offered were thought-provoking and the processes were transformative. At the end of the deeply satisfying five-day programme, none of us participants were the same. One or the other of the processes and insights had shifted us, healed us and moved us to the next level.

The retreat, held in the verdant environs of Swami Rama Sadhak Gram, Rishikesh, was steered by Samadarshniji, and Prahasithaji, of the One World Academy, Chennai. The participants included a holistic healer, a homemaker-cum-counsellor, a management trainer, a documentary film-maker, a retired principal-turned-Osho disciple, two former army officers, an industrialist, and an investment banker.

Day One of the retreat commenced with introductions, followed by brief self-enquiry via four questions: What is spirituality? What part of life is spiritual and what is not? What are the parameters of spirituality? What would it take to make the 'shift' happen? Through simple, yet profoundly revealing stories and processes, Samadarshniji sought to shift collective perceptions and emotions, to a higher plane, to a place of wisdom. It was clarified that a major shift is the transition from 'blame' to taking 'responsibility.' This enabled the practitioners to move from compulsive habitual blaming, to caring and intelligent responses.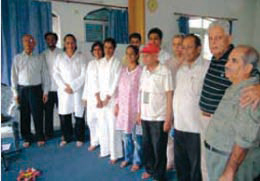 The participants with Samadarshiniji and Prahasithaji Day Two started with the 'Thought – Destiny flow chart.' Repeated thoughts become emotions, which, in turn, become stepping-stones to moods, temperaments, impulses, actions, and finally destiny. Right thoughts and right actions lead to a great destiny. The seekers were guided through a powerful process involving parental relationships. The day wound up with grant of the first 'deeksha' (direct transfer of divine grace) to participants.

Day Three began with insights into the nature of suffering, which is never caused by experience, but only by conditioning. Our beliefs bind us to suffering, never the situation. Responses born of awareness lead to cessation of suffering. A five-step method to achieve this involves:

• Deep breathing

• Self-enquiry: what am I feeling now?

• Do I want freedom, happiness, or justice?

• What perception/idea/belief is making me suffer thus?

• Dispassionate self-enquiry into facts of the issue/situation.

every stage of instruction, Samadarshniji emphasised the relevance of the "Presence or Divine," the incomparably powerful universal energy that can shift patterns, offer awareness, release emotional blocks, alter perceptions and consciousness itself. Healing past relationships allows one to fully experience, and enjoy the present. One must accept oneself the way one is, to attain peace and comfort. With shift in perceptions and emotions, it is possible to experience connectedness with all life.

Day Four was devoted to marital relationships.

A questionnaire was given as a checklist.

Rate your marriage on a scale of 1 (ideal) to 7 (searching for other partners).

• What level do you think your spouse is on this scale?

• Why are you not able to take this relationship to a higher level?

• Does your relationship really matter to you?

• Are you prepared to do anything to take it to a higher level of perfection?

• What is the most important basis of your relationship?

Relationships deteriorate when their foundation is weak due to the nature of the mind, or when problems are not shared. Mainly, relationships deteriorate when they function from a position of hurt. The day ended with a 'chakra meditation,' followed by another 'deeksha,' steered by Prahasithaji.

Day Five was a review of the learning of the previous four days, laced with an overview of the aim, organisation, and objectives of the One World Academy at Chennai.

This is what some participants had to say about 'A New Beginning' at Rishikesh:

• "I have found the greatest gift in my life."

• "I experienced serenity and liberation in awareness."

• "I experienced emotional cleansing, with new insight into human relationships and life itself." The retreat wound up with Samadarshniji's message "You are now instruments of the Divine."

See more articles on Personal Growth at : http://www.lifepositive.com/articles/personalgrowth