Personal Growth - A perfect 10
by Aparna Sharma
A pilgrimage to Dharamkot changes Aparna Sharma's relationship with life, inspiring her to live mindfully and deliberately

Download PDF Format
Tushita fact file
Tushita Meditation Centre was founded by Lama Thubten Yeshe. Born in Tibet in 1935, Lama Yeshe entered Sera Monastic University in Tibet at the age of six, where he studied until the Chinese
More >>
---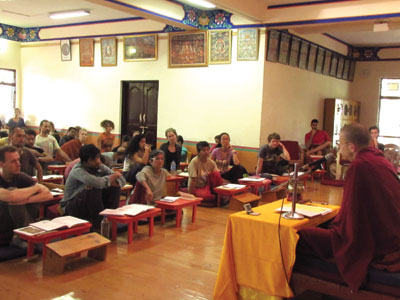 The age of adventures is over," declared Satprem, a French sailor, explorer and, most important, disciple of the Mother. "There is no more room on the teeming beaches, no more room on the bustling roads, and no more room in the ever-growing anthills of our cities. The way out is elsewhere."

However, where is elsewhere?

Once again, in the summer of 2012, I stood on the crossroads of life, not too sure of myself, not too sure of where my life was going and why, and not too sure if this was just a step I was about to take, or a leap from the edge. That was when I undertook a pilgrimage, elsewhere.

The setting: Tushita Meditation Centre, Dharamkot. The event: 'Introduction to Buddhism' course. The motivation: Ten days of pure silence.

In the lap of the Buddha

Dharamkot is a place charged with intense spiritual energy. Ten minutes down the hill (yes, in the mountains, distance is measured in terms of time and altitude) lies McLeod Ganj, the site of His Holiness Dalai Lama's temple where thousands of monks and nuns are chanting 'Om mani padme hum,' night and day. Another half an hour below McLeod is Dharamshala. Right next door to Tushita is the Goenka Vipassana Center, where people on retreat do an average of 10 hours of meditation everyday. Somewhere in the middle of this, where you find the sunshine smile, you will find a picturesque campus, inhabited by silent practitioners and noisy monkeys. This is the Tushita Meditation Centre.

My first introduction on that crisp sunny morning was to a spider beside the washbasin. The guy made it clear that the place belonged to him. After all, he was there before me. A short jaunt to the village and a heavenly breakfast later, I joined some 80 other participants to check in formally.
| | | |
| --- | --- | --- |
|   | |   |
| | The next 10 days were to be an expedition to myself, to the hitherto uncharted continents within. | |
|   | |   |
We locked up our mobile phones, laptops, cameras, music systems, and all our contact with the outside world for the next 10 days. Surprisingly, instead of feeling scared, I felt liberated. The next 10 days were to be an expedition to myself, to the hitherto uncharted continents within. We were allotted our volunteer work, the 'karma yoga' jobs, and re-assembled for the orientation in the afternoon.
The main temple, 'Gompa' is dominated by a huge golden statue of Lama Yeshe, the founder of Tushita, along with the pictures of other teachers in the lineage. The large hall exudes an aura of reverence accumulated by the presence of thousands of seekers from every corner of the world, who sat here seeking the message of the Buddha, for answers, like me.
Love at first sight
Five minutes inside the 'Gompa' and I was already in love with the place. Somehow, just being away from everything else and all my life stories, suddenly made every atom of the place come alive. I loved my seat in the first row, I loved the beautiful, beatific face of Tara facing me, and I loved the frail little spunky nun with a distinct Spanish accent who managed our check-in programme. We were told about the background of Tushita, the course discipline and 'Gompa etiquette.' I checked my impulse to stretch out my legs and the course formally began.
Over the next few days, I learnt that the basic Buddhist precepts like 'respecting all life', 'being alert and mindful,' are not mere theory, but a natural and effortless way of living, automatically imbibed at Tushita. Reminders were scattered throughout the place. Walking to my dormitory, I stumbled upon a small granite slab painted with a ladybird saying 'Hi, I'm sentient. Please don't step on me.' Early next morning, splashing my sleepy face with water, I noticed a moth stuck in the damp basin. I paused and gently scooped it out before brushing my teeth, which was the equivalent of a short and quick mental note to respect all life. Throughout the campus were gentle reminders of what Thich Nhat Hanh said,
'Walk as if you are kissing the Earth with your feet.'
Living at Tushita was a long lesson in mindfulness. They say that as we learn to be mindful, we continuously open up to the truth of our experience, and in that moment change our relationship to life. I did not know back then that my relationship to my life was about to change forever.
The daily schedule included classes on Tibetan Buddhism, sandwiched between meditation sessions, and a group discussion once a day. Venerable Tony, our teacher, was an Australian by birth, who has been practising Tibetan Buddhism for nearly 35 years, including 20 years as an ordained monk. Jonas Anderson, the meditation instructor, is a 30-something Swede, delving into Tibetan Buddhism for the past few years. Within a short period, he has already done a long solitary retreat in the mountains, and has some amazing stories to share. During the class, Venerable Tony would introduce concepts like karma, rebirth, and emptiness, which were immediately followed up by a guided meditation on the same concepts by Jonas. The afternoon discussion session would further assist in assimilating the concept, translated into our real-life scenarios. How easily the Buddhist principles assimilated into our lives. One unforgettable incident was when Ven. Tony gave us a question, 'What makes you happy and why?' I was about to write a thesis on this when he continued, "Does it last?"
Suddenly my cloud burst. Gently, silently, like a burst parachute, the realisation set in, that 'it never does last' – just a subtle realisation of one of the essential doctrines of Buddhism – 'impermanence of all phenomena.'
No escapism here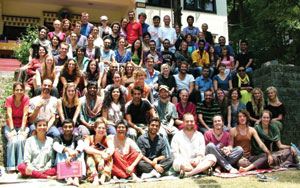 United colours of humanity: the class of Tushita
The most beautiful aspect of the course was that it was very grounded – down-to-earth teaching, dealing with facts of life, and not an attempt to take us to an escape route of esoteric teachings or scriptural debates. Buddhism teaches you to face life head-on. There is no speculation, no theological debates, and no rituals (in contrast to my initial impression of Tibetan Buddhism). We did not debate esoteric concepts but simply looked into our own lives. The teachers uninhibitedly discussed the usual problems of human life – relationships, emotions, sex, drugs, ambition, and career – nothing was left out. It was an opportunity for us to face life as it is, because it is only through facing the sufferings of human life, that there is a possibility of transcending them.
"The most fundamental aggression to ourselves, the most fundamental harm we can do to ourselves," says the Buddhist teacher Pema Chodron, "Is to remain ignorant, by not having the courage, and the respect, to look at ourselves honestly and gently."
The entire schedule is geared towards harmonising something within, by means of 'without,' once you silence your lips, and the mind quietens down by itself. You do not have to think or plan anything, because every little aspect of the day, down to where you sit, is pre-decided. We were to sit in the same place everyday. (takes away the thought of which seat has a better view or more sunlight). The discussion groups were split through a series of numbers, so the idea of choosing group mates was ruled out. The entire timetable, when to eat, when to sleep, when to rise, and when to assemble, was all declared by the ring of the gong. The foremost effect is that the mind stops its incessant chattering. Within the silence, even if some thoughts appear, they are just tiny fireflies on the surface of a lake, not really pulling you apart with their intensity. In the silence, the mind automatically turns within. By and by, one starts to dissolve into peace, beauty, fullness, and completion, something that can be called bliss
. "You are the sky. Everything else – it's just the weather." -Pema Chödrön
Sounds of silence
The most evident element of the silence was that in the absence of words, we start connecting with people through their sheer energy. It was amazing how transparent every person becomes. I could almost see through their aura, and visualise their nature, their attitude, and even their next gesture. It was amazing how many channels, how many faculties of perception opened up in me, simply by shutting my mouth.
Having been an education overseas consultant, I had hitherto used words like global, multicultural, and transcending borders, almost daily. Tushita was where I first saw it come alive. The class of around 85 persons represented every continent, and almost every country, race and religion. My discussion group had people from Canada, Israel, Germany, South Africa, England, Belgium, and India. it included our Filipino yoga teacher Shantidevi with her Australian husband; Tammy, a Canadian with her Japanese husband, Lise, a Belgian with her Chilean boyfriend, the Spanish nun Khun pen, the Australian teacher, and the Swedish meditation instructor – all delving into the words of the Prince of the Shakyas, from the heart of ancient India, I have been to the middle of a shrunken world, a shrunken time.
On the seventh day, Jonas took us hiking to the nearby stupas of Geshe Rabten (1920-1986) and the great practitioner Geshe Wongdu. It is said that when he heard of Lama Yeshe's death, he said, "Lama Yeshe was my friend. He goes, so I go." Saying this, he sat in the meditative posture – his body staying upright for three days. When his body was carried to the cremation site, the pallbearers reported that it smelt sweet, like candy. After cremation, pure white ash remained of the body. These relics are kept in stupas. Sometimes, when advanced practitioners or great masters die, their body fluids turn into crystals or pearls upon cremating the body. These relics are carefully extracted, and preserved in a stupa along with other sacred objects and symbols.
On the last night of our course, there was a light offering. Three butter lamps were lit, symbolising an enlightened body, speech, and mind. It was a breathtaking ceremony, sitting in the Gompa, lit by nothing but the three lamps. We were guided through contemplative meditations for all sentient beings, and most overwhelming of all, a prayer for all the beings in the 'bardo,' between death and next life."
We finished the course with a picnic lunch on the tenth day. No one wanted to go home. So even after checking out, we met again that evening. This time for a nightlong wild party, the craziest, wackiest, and loveliest I have ever attended.
I am sure I am going back again, once again, to experience myself. Sitting peacefully in the balcony, watching the orange sun go down behind the mountains, audience to the endless pines whispering their ancient secrets in silent tones, completely in the presence of my own self, aware of every vibration touching me, the resting on the pores on my skin, the vibration of someone's energy as they come, and sit close by, the vibration of a thought as it arises intending to demand attention. I become pure awareness, witnessing every nuance of thought, energy, or physical movement, yet not getting drawn into it.
There is little else that I can do to make myself available to the mystery and adventure.
In the meantime, maybe chuckle a bit, skip over a rainbow or two, and largely, lie on the grass, looking up at the sky, plucking the weeds, and dreaming. I am no one to know, but maybe, just for a few days, to live as the flowers live.
See more articles on Personal Growth :
http://www.lifepositive.com/Articles/PersonalGrowth