Personal Growth - A song for life
by Deepti R Paikray
A personal anthem is a powerful statement of our values, beliefs and philosophy. In moments of doubt, fear or temptation, we can invoke its grace to shield and strengthen us, says Deepti R Paikray

Download PDF Format
We are not required to deferentially stand while singing our own personal anthem, but the anthem itself helps us stand up to the trials and tribulations of our lives. It is our song or poem of inspiration that helps smoothen the rough passages of life. Our anthem may be a nursery rhyme that resonated with us since infancy, a high octane self-empowering credo, a fragment of a poem that explains us even to ourselves, or an uplifting bhajan. When we sing it aloud or hum it beneath our breath, it becomes our sacred sanctuary.

Knock, knock

A song becomes an anthem when we identify with it; when it sums up our dreams, goals, ideals, worldview and the deepest part of who we are. Poems like Rudyard Kilpling's If, William Earnest Henley's Invictus, Rabindranath Tagore's, Akla Chalo Re, or the song, To Dream the Impossible Dream from the movie, Man of La Mancha are some classic anthems that have inspired and motivated thousands to keep their tryst with destiny.

In her pioneering book, Saved by a Poem: the Transformative Power of Words, Kim Rosen writes that as we take the poem in, it can become our teacher and guide, changing us from the inside out.
| | | |
| --- | --- | --- |
|   | |   |
| | Sing to your heart a battle song: Though hidden foeman lie in wait, Something is in you that can smile at Fate | |
|   | |   |
She ventures, "A poem, like a prayer, can return you to a seamless place within that has never been broken." A journalist friend of mine, Archna Shukla, knew her anthem the moment she laid her eyes upon it. The words leapt into her heart.
Serene, I fold my hands and wait,
Nor care for wind, or tide, or sea;
I rave no more against Time or Fate,
For lo, my own shall come to me.
Meditating on the poem has led Archna to the path of awakening. 'My own' manifests for her in myriad ways, in varied time zones along her life, but always tinged with the humble sweetness of honest work and unwearied waiting. For me, my anthem adopted a circuitous route and was bestowed upon me amidst a medical emergency.
Walking towards the surgery room, my legs felt stone-heavy, and my head giddy. I was about to pass out when I shut my eyes and upon the groping ears of my mind fell the strains of Das Ganu Maharaj's song of plea, "Sai rahama najara karana,bacchon ka palana karana" (Sai, look at us mercifully, and take care of your children).
Like sunlight warming a grateful earth, the song beamed through my cold veins to remind me of the compassion of my guru, Shirdi Sai Baba. In that moment of dissolving fear, as I felt the cold trickle of anesthesia shoot up my arm, the song transformed into the chant of my soul for keeps.
The soul's song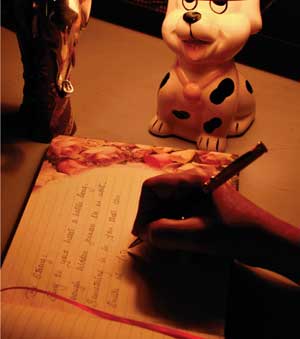 In certain cultures, anthems are the hub of human life. Dean Ornish in his book, Love and Survival: 8 Pathways to Intimacy and Health, writes about a tribe from Africa where a woman waits for the song of the child that she will conceive to come to her. Once she has intuitively heard the song, she returns to her village and teaches it to the father. The song is sung to the child by village members when in the womb, at the time of birth and during other rituals marking the child's life including marriage. At the end of life, his or her loved ones gather around the deathbed and sing this song for the last time. Thus for every member, the song is a cyclic prayer of earthly and spiritual evolution from before conception to beyond death. Through continued association personal anthems become self-reflecting tools, no less than a song of the soul.
Recently, the sister of a dear friend of mine was struck with cancer. My devastated friend is holding fort tending to her ailing sister and her children. Like a guiding star, the following verse from Edwin Markham's poem Rules for the Road helps her stay steady in the terrain of grief.
Be strong:
Sing to your heart a battle song:
Though hidden foeman lie in wait,
Something is in you that can smile at Fate
The verse is her anthem since schooldays and is her place to go back to in order to move forward, a day at a time.
A paediatric oncologist and hematologist in New York has a selfless anthem that fuels her to become the change she wants to see in this world. Her anthem is the famous hindi song – Kisiki muskarahaton pe ho nisar, Kisika dard mil sake to le udhar, Kisiki vaste ho tere dil me pyar, Jeena isika nam hain
| | | |
| --- | --- | --- |
|   | |   |
| | Buddham saranam gacchami, Dhammam saranam gacchami, Sangham saranam gacchami. | |
|   | |   |
(Life is about making a difference in someone's life by giving joy, alleviating pain and offering heartfelt love). It inspires her to embrace a cause bigger than herself and beyond her ordained duties as wife, mother and doctor. Like a commando declaiming an oath of duty, she recites her anthem every morning before heading out to meet her busy day.
Sougato Shome from Mumbai is a successful corporate executive and an accomplished singer. His hymn of life is the untainted song of Mohammad. Rafi – Main zindagi ka saath nibhaata chala gayaa … Gham aur khushi mein fark na mehsoos ho jahaan, Main khud ko us makaam pe laata chala gaya, (I remained true to life and strove towards that place where I felt no difference between sadness and happiness).
Out of the night that covers me Black as a pit from pole to pole, I thank whatever gods may be For my unconquerable soul... It matters not how strait the gate, How charged with punishments the scroll. I am the master of my fate: I am the captain of my soul.
- William Earnest Henley
The message is to be emotionally stable in all situations. Shome says it's not something that he tries to invoke or connect to but it is a philosophy he identifies with and tries to abide by. Relaxing in his balcony with the din of Mumbai city far beneath him, the song helps him to reflect on what could have been, to accept what has been and more importantly, look forward to what can be.
Manish Srivastav, MIT graduate, now a financial consultant, finds that his personal anthem anchors him in the midst of his stress-ridden life. His song is the mind-cleansing Tisarana or three refuges: Buddham saranam gacchami, Dhammam saranam gacchami, Sangham saranam gacchami. It came upon him as a child. Manish says, "Whenever I hear this, I find myself peaceful and calm, as if this recitation was a part of every particle of my mind and matter. The more I listen to it, the more I want to listen to it."
The recitation continues to lead him to a place of strength, calmness and ineffable energy.
How anthems work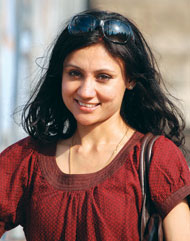 Deepti is a homemaker, yoga
teacher and writer residing in USA.
Writing for her signifies life
which include the swells of joy,
lows of retreats and plateaus
of acceptance
Therapists suggest anthems work the way affirmations do, and powerfully mould or remould the subconscious. Our mind is constantly programmed by information we feed it – visual and aural. Like a transmitter what we input is the resultant output.
Many embrace a song in praise of God as their anthem. While singing, the phonetic vibrations emanated strengthen the neuron chips of the brain causing pure energy to vibrate within one's body and mind. Our brain has grooves or samskaras. These are created as a result of previous births and are the cause of our present thoughts (positive or negative) that give rise to actions and thereby mould our character and destiny. A devotional song begins to fill these grooves and powerfully alters our thought pattern and the course of our destiny.
For anthems to be truly effective, we must adopt a three-pronged step suggested by gurus. First, have one that meets our needs, second, comprehend its meaning fully and dwell upon it, third, visualise its meaning, and feel in the present moment the positive results the anthem will lead us to in the future.
Anthems are not only about the spoken word but also about the silence that follows. Kim refers to anthems as a physical event. She says for her the healing came when she discovered that taking a poem she loved deeply into her life and speaking it aloud caused a profound integration of every aspect of her –physical, mental, emotional and spiritual. In her words, "I was speaking the truth and the truth was setting me free."
Within the pages of a book, the reels of a film, the whirl of a CD lies a poem or song waiting to be discovered, to reveal its story of truth, a song waiting for us to give it life and to lead us in our journey ahead.
See more articles on Personal Growth :
http://www.lifepositive.com/Articles/PersonalGrowth