Personal Growth - Adventures of a marriage missionary
by Desiree Punwani
How a mother healed herself of the all-consuming desire to get her daughter married off by Desiree Punwani

Download PDF Format
When my daughter turned 23, I became a missionary. My conditioning whispered in my ear that the time had finally come for me to 'go out' and find a groom for my daughter. Becoming a missionary is no easy task! There were shocked responses from my inner circle of friends because they believed me to be like them – modern and liberated.

My perplexed husband questioned my motives. Wasn't she still too young? Didn't girls these days find their own partners, especially those who had the kind of cosmopolitan education we had given our daughter?
| | | |
| --- | --- | --- |
|   | |   |
| | Had I suddenly developed body odour, I asked my husband. No, he said. People were avoiding the 'marriage missionary'. | |
|   | |   |
I reminded him that, at the end of the day, we were an Indian family, and it is the God-given role of the Indian mother to find a suitable boy for her daughter. He shook his head sadly, and went quiet. I refused to be discouraged. My eyes acquired a steely glint. It mattered little, I thought, that he would not help. I could and would go it alone.
At first, my daughter was infected by my fervour. She agreed to cooperate with me. She would uncomplainingly dress in uncomfortable glittering ensembles and accompany me to the countless weddings that crowd the months between November and March in India. I do not think I enjoyed even one of those weddings, nor I think did she. My eyes, tired from looking for eligible bachelors, needed cooling eye packs at night. I suddenly found people smiling at me from afar and moving away quickly before I could approach them. Had I suddenly developed body odour, I asked my husband. No, he sighed, pityingly. I was questioning people so aggressively about their social and family contacts, they were avoiding the 'marriage missionary'.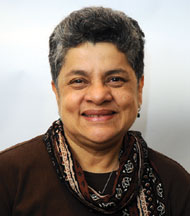 Desiree Punwani is a workshop leader
and author of two books,Being Happy and,
The Wolf I Feed, The Happiness I Do
I started noticing that the easy friendship I had with my daughter had well nigh disappeared. We very rarely laughed and chatted as we did earlier. We spent so much of our energy making sure we were seen at the right places, there was nothing left over for an impromptu evening at the movies or dinner with friends. At home, she spent most of her time locked up in her room surfing the net. A few people commented on the dark circles under her eyes. I felt mine were darker. Others asked her where she had lost her smile. I had not seen mine in days! What was happening to us? What was I doing wrong?
When a friend suggested that I join her for a weekend workshop on goal-setting, I readily agreed. That is what I need, I thought, a proper way to go about achieving my goal of finding a boy for my now 24-year-old daughter. I hoped the workshop would help fine-tune my efforts. I cannot say when exactly I saw the light. All I can tell you is that at the end of the workshop, my personal goals did not include 'daughter's marriage'. It was replaced by 'facilitating self-actualisation for self and family'. If my daughter does a goal-setting exercise, she may, if she wishes, include 'marriage' in her list. I will joyfully support her choice. Meanwhile, we are busy planning our next holiday. together.
See more articles on Personal Growth :
http://www.lifepositive.com/Articles/PersonalGrowth