Personal Growth - Are You Happy At Work
by Anil Bhatnagar
Take this quiz to find out how fulfilled you are at work.

Download PDF Format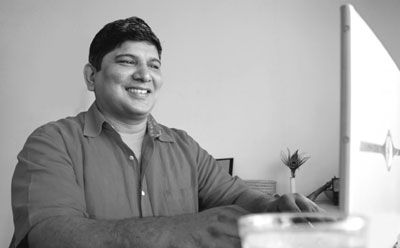 This quiz will help you discover how predisposed your habits and attitude already are towards having a fulfilling work-life. It could also predict your professional success in the future. Use it to draw a customised step-by-step action plan to bring about the desired changes to enhance your work fulfillment.

A. This is what you have to do:

1. Read the following 14 parameters and review the possible responses 'A' and 'B' that follow each of these situations.

2. Depending on the extent to which you fit the descriptions as outlined in the responses 'A' or 'B', distribute 5 marks under the respective columns 'A' and 'B'. For example, if you think that you are likely to follow the 'A' approach 80 per cent of time for a particular situation, then you will give yourself '4' under the column 'A' and '1' under the column 'B'.


Depending on the extent A and B may be true for you, share 5 marks among them for the following sets of options:

Marks (A+B=5)
1.

Relationship with work
A. Work is a means to express myself. Through my work I serve and through service I find meaning in my life. The best reward of doing good work is the joy and fulfillment that accompanies it.

B. Work is a means to earn money and is a necessary evil to survive in this world. Despite not enjoying it, I have no option but to drag myself to work.

A=
B=
2.

Learning & inner growth:
A.  I see my growth by how much confidence I feel at my work owing to the growth in my competence; so far I am dissatisfied with my growth.

B. I am always reviewing my mistakes, introspecting and self-coaching myself to improve my performance for my own satisfaction and thrill. I regularly spend time to update my knowledge of best practices and new developments in my area of work so as to upgrade my knowledge and skills.  As a result of this I experience ceaseless growth.

A=
B=
3.

Ambition and  external growth:
A. When I view my growth by the promotions, perks or salary hikes I receive I find that my growth so far has given me reasons to be happy with it.

B. When I view my growth by the promotions, perks or salary hikes I receive I find that my growth so far has given me reasons to be unhappy with it.

A=
B=
4.

Planning
A. I plan my work the evening before and look forward to accomplish the identified most important things the next day.

B. I generally do not have the time to plan my day. I do what I am reminded of. Even if I plan I won't be able to spend my day according to it. So I do not plan at least not in writing. I may have a vague idea of what I should be doing during the day.

A=
B=
5.

Problem-solving
A. I express my honest opinions about their work only to my juniors, not to my seniors.

B. I freely and fearlessly contribute my sincere suggestions relating to the work to seniors and everyone else. I often do this despite the uncertainty of receiving a favorable response from them, and continue to discuss them till the time I am convinced that irrespective of whether it is my suggestion or someone else, the team is nevertheless, going with the best decision.

A=
B=
6.

Creativity
A. I do not see any reason to do things in a different way when what I am already doing is good enough. I secretly dislike the way creative people unnecessarily challenge the established systems and cause avoidable delays.

B. I always look for new and creative ways for achieving better results through my work. Always doing the things the same way kills our growth.

A=
B=
7.

Self-esteem
A. I fear asking for a raise in case it annoys my seniors. I know they can always get someone like me or even better at my present price. I often talk of leaving my present organisation but lack courage to do so. I know I need them more than they need me.

B. I know those who are not prepared to pay the price my work deserves or to value what I have to offer, do not deserve me. I know I will always get the price that I deserve.

A=
B=
8.

Choice of work
A. If I had no compulsion to earn money I would still continue to do the same work that I am presently doing. I love it so much.

B. If I had no compulsion to earn money I would never think of doing the same work that I am doing presently. I hate it so much.

A=
B=
9.

Sense of freedom
A. I am always fire-fighting and under constant threat of committing some mistake or receiving a reprimand from my seniors.

B. I feel I am well in control when at work. Being so competent at my work, I know that people listen when I speak.

 

A=
B=
10.

Communication
A. I pay attention and ask relevant questions to understand from my boss what is required to be accomplished and for what deeper reasons. Similarly, I explain the job well to my juniors and seek feedback from them at regular intervals.

B. The face that I want to see the least in my life is that of my boss. I want every encounter with him to be as short as possible; I obviously do not prolong these by asking clarifications. I do what I understand and let my fate decide the rest.

A=
B=
11.

Reporting progress
A. I am here to do my work and not to gratify the ego of my boss. Unless asked to, I do not meet my boss to report progress or anything else. It is not for me but for my boss to find out the progress of work.

B. I always report back to my boss to inform when the given task is over. Otherwise also, I meet my boss at regular appropriately predetermined intervals to inform him of the progress, problems and my planning for the next day to check if we are on the same page.

A=
B=
12.

Problem identification
A. I am always looking for gaps between how the things should be and how the things are and bring these gaps out in the open for initiating a process for closing these gaps through discussion. If I can close these gaps on my own I begin to do so.

B. I know my seniors do not want to hear any bad news and I never bring it to them. Why throw a stone at the hornets' nest? Moreover, even if I can handle the observed gaps on my own I let them remain for I have enough to do already. Why increase my workload unnecessarily?

A=
B=
13.

Flow
A. When I am working I am lost in it and am usually not aware of surroundings and the flow of time.

B. I lack focus. I often realise very late that I could not accomplish much in the last few hours owing to having been distracted by internal thoughts or something external. I often wonder if the little amount of work I accomplished should have taken me a whole day.

A=
B=
14.
Values

If I were to have my way, I would never bribe any one or ask for it from any one for getting work done. But the way things are I often need to sacrifice my values and ethics at my work place. Do I have options?

I am in the habit of ceaselessly asking myself, "If every one begins to do what I am doing and the way I am doing it, will the world become a better and happier place or a worse one?"  I always choose to do my work in the most ethical way I can think of, i.e., the way it will make the world a better place.

A=
B=
B. For calculating your total work fulfilment score
, check the scores as given in the above exercise for each of the given twelve parameters and accordingly fill the scores of 'A' or 'B' as asked in the second column below and add all the scores to arrive at their total.
| | |
| --- | --- |
| For situation No. | The score you got in |
| 1 | A= |
| 2 | B= |
| 3 | A= |
| 4 | A= |
| 5 | B= |
| 6 | B= |
| 7 | B = |
| 8 | A= |
| 9 | B= |
| 10 | A= |
| 11 | B= |
| 12 | A= |
| 13 | A= |
| 14 | B= |
| Total | = |
C. For interpreting your integrity score
, see below. A score that falls between
• 1 to 14 is poor,
• 15 to 28 is below average,
• 29 to 42 is average.
• 43 to 56 is above average.
• 57 to 70 is excellent.
D. Drawing an action plan
Identify areas where you have scored lowest (i.e. or below 3). These are the attitudes that you need to introspect the reasons for and improve upon.
(
* This quiz is meant strictly for the personal use of readers only. No part of this quiz, or the ones published before or after this by the same author in this magazine are permitted to be reproduced in any form or to be used by anyone, in part or full, for any commercial purposes without the written permission of the author
).
Anil Bhatnagar, an IITian Corporate Trainer on behavioral skills to over 50 leading companies of the nation, is a motivational speaker, a personal growth coach, a Reiki teacher, a painter, a columnist with Times of India, and an ISTD award-winning author of five internationally acclaimed books. He features among the 19 international gurus picked up by Brenda Barnaby for her international bestseller, 'Beyond the Secret'. He also writes prolifically for some of the top Indian and International journals. www.anilbhatnagar.com
See more articles on Personal Growth :
http://www.lifepositive.com/Articles/PersonalGrowth