Personal Growth - Are you a Giver?
by Anil Bhatnagar
What kind of an attitude do you bring to a relationship?

Download PDF Format
The following quiz will help you discover how predisposed your habits and attitudes already are, towards initiating and cultivating empowering and deeply fulfilling relationships. The quiz will also help you draw a customised systematic action plan, to bring about the desired changes that could provide you with a lifetime of happy relationships. There are ten columns marked (1 to 10) sandwiched between the columns of 'The Favourables,' and 'The Unfavourables,' which respectively classify the desirable and undesirable behaviours. In the third part of the quiz, we are checking ourselves on the tendency to be cheerful, to refrain from participating in negativity, and to focus on willingly serving, instead of being served.

A. Scoring

• Read the first statement in the 'Unfavourables' column and then its 'desirable' version under the 'Favourables' Column.

• Depending on the extent to which the statement in the 'Favourables' column is true for you, rate yourself on a scale of 1 to 10 (i.e. if you never do what is written in the statement, mark yourself 1 under the sub-column marked 1 and if you always do it, give yourself 10 under the sub-column 10. Give yourself marks accordingly in between. For example, if you do it 50 per cent of the time, mark a 5 under the sub-column 5.

• Repeat step 1 and 2 above for each of the 10 statements.

B. Interpretation

Total up your marks and divide by 10. A score of 10. A score of

• 1 to 2 is poor
• 3 to 4 is below average
• 5 to 6 is average
• 7 to 8 is above average
• 9 to 10 is excellent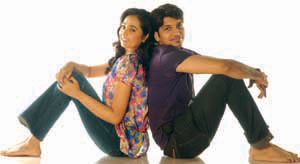 C. Action plan

• Identify areas where you have scored low (i.e. below 5). These are the habits which you need to improve. Now considering your relative scorings and importance, endorse each of these favourable habits with priority numbers from 1 to 10 (The habit where you have scored a 1, and which according to you, is more important than any others where you have earned a scoring of 1, should become your top priority).

• Use your will power to work on developing the top priority habit by doing it every day for consecutive 30 days against all inner resistance. If you miss a day, start all over again.

• Pick up the next habit in the priority and develop it as suggested in step 2.


Sr. No.
Unfavourables
Evaluation on ten points scale
Favourables
 
 
1
2
3
4
5
6
7
8
9
10
 
1
I am a person of serious nature. I do not like people who keep a smile pasted on their faces for no good reason.
 
 
 
 
 
 
 
 
 
 
I smile and I laugh very often. Moreover, I smile even when on the phone.
2
If someone taunts me or puts me down, I teach him a lesson as early as possible.
 
 
 
 
 
 
 
 
 
 
I do not process insults and as a policy, I never catch an insulting remark, even if meant for me. I deliberately let it drop, the way a fielder drops an easy catch in cricket. Insult becomes complete only when we co-operate with the sender by receiving it.
3
I continue with a toxic relationship. Sometimes it helps us work out our karma by enduring the suffering in it.
 
 
 
 
 
 
 
 
 
 
While I do not nurture ill feelings against any one, I give myself freedom to decide to discontinue with any relationship that has turned irreparably toxic.
4
I sometimes pay back in the same coin just to make the person realise what he is doing.
 
 
 
 
 
 
 
 
 
 
I have learnt to beat the temptation of repaying in the same coin, whether I need to keep the relationship or not.
5
I often feel unhappy with myself for not coming up to my own expectations and for having disempowering habits. I find it difficult to forgive myself and get stuck in negative emotions.
 
 
 
 
 
 
 
 
 
 
I love and respect myself a lot. I treat my body as a temple of living God and do not offer it any impure food, feelings, or thoughts. I seek to get out of any disempowering emotion as quickly as I can. I believe in reconciling the differences as early as possible and definitely, before I go to bed.
6
I believe the other person's words fully, especially, when they are unpleasant, and consider them valid for all times.
 
 
 
 
 
 
 
 
 
 
I do not take the words of others too seriously, especially when the other person is under
the influence of anger or other disempowering emotions.
7
By criticising a person who is not present, I show my solidarity and sense of oneness with the people who are criticising him/her. This is a good way to earn the friendship and support of people.
 
 
 
 
 
 
 
 
 
 
I do not do backbiting or join people over gossip while they criticise others behind their back. I either leave on some pretext, or convey to them the possibility of some misunderstanding, as I had a pleasantly different experience with the person being discussed. Even if what is being discussed is true, I tend to make them see it more empathetically from the person's perspective.
8
In relationships, I tend to see if others are fulfilling their duties towards me effectively or not. I do not tolerate parasites.
 
 
 
 
 
 
 
 
 
 
Things are for using, and people are for loving. The people who do not deserve our love need it the most. I see in relationships, the opportunity to feel and express our love by serving the other person. Not everyone gets the privilege to experience this beautiful feeling.
9
I know relationships demand time, and time is precious. I do not spend it on every Tom, Dick, and Harry, but on well-connected powerful people who can help me get business or support me in a crisis or an emergency. I am choosy in relationships.
 
 
 
 
 
 
 
 
 
 
I keep questioning the deeper, especially, the 'not-so-pleasant to know' motives of my responses, to the other person in a ruthlessly honest manner.
10
I ensure in each interaction with others that I hold a mirror in which people can see their ugly face.
 
 
 
 
 
 
 
 
 
 
I make others feel special. I ensure that others feel 'better than before' after meeting me.
Total
=
( This quiz is strictly for the personal use of readers only. No part of this quiz, or the ones published before by the same author in this magazine are permitted to be reproduced in any form or to be used by anyone, in part or full, for any commercial purposes without the written permission of the author).
Anil Bhatnagar, an IITian, apart from being a corporate trainer on behavioural skills to over 50 leading companies of the nation, is a motivational speaker, a personal growth coach, a reiki teacher, a painter, a columnist with The Times of India, and an ISTD award-winning author of five internationally acclaimed books. He also writes prolifically for some of the top Indian and International journals.