Personal Growth - Army life is spiritual
by Chitra Jha
The nomadic life in the army teaches you detachment, welcoming uncertainty, being happy with what is, giving and sharing. Isn't that what spirituality is all about?

Download PDF Format
I have been married to an army man for 25 years now. In these two-and-a-half decades we have moved house about 10 times. Now it is time to move once again. One of my 'civilian' friends recently asked me, "Don't you get sick of packing, unpacking, and packing yet again?" Her question got me thinking. It is true that I don't particularly enjoy this packing-unpacking business, but is that all there is to an army life? My thinking brought up huge spiritual lessons hidden in our nomadic life.

Whenever we think of packing our 'world' into boxes and cartons, invariably we run short of packing material and space. That is the time when most of us decide to take stock and discard/give away/sell what we don't really need. This ultimately brings in detachment to things. We also think twice before buying anything because the ghost of packing keeps peering down our shoulders at all times.

Our last posting was in Shimla. We loved the place, but for the first eight months we didn't get proper accommodation. So we made do with meagre stuff in our makeshift temporary home, and didn't really miss all that was kept packed in a godown somewhere. These days we are in Eastern Ladakh. It is a non-family station, though I have been living here along with my husband for most part of the year. All that we own, including our car, has been stashed away in borrowed spaces. We don't even want to think about what must be happening to all our electronic goods, and other stuff. I do miss my books at times but I am getting by without them. Most of our clothes are out there as well, but again we make do with two suitcases full that we got with us, most of it being winter clothing. And now we are expecting our move once again, to another part of this beautiful country.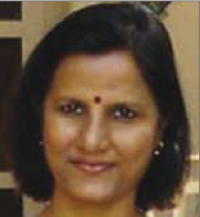 Chitra Jha is a life skills coach, past life
regression therapist, 'now consciousness'
teacher and writer. E-mail: chitrajhaa@gmail.com These frequent moves make us comfortable with change and uncertainty; something that the New Age has been asking us all to accept wholeheartedly. Well, it comes naturally to us 'faujis'. We have had ample practice and experience! We learn to accept people, places, neighbours, and colleagues as they are. Living with diversity all our lives, we learn to appreciate differences in eating habits, dressing styles and general outlook towards life.

Our children learn to adjust and prove themselves in the umpteen schools that they attend. This makes them grow into more agreeable adults. I have been told that defence kids do very well in fields where interpersonal skills are paramount to success. Well, tell me one field where interpersonal skills don't play a great role! So that takes care of their career needs and relieves us parents from unnecessary worry!

Until the Sixth Pay Commission, our pockets were quite empty most of the time, but we had perfected the art of living rather well, within our means, without cribbing. Now of course, we have become comparatively affluent! There is no scope for unnecessary and unhealthy competition amongst ourselves, as we all sail in the same boat. We don't need to show off, as everyone knows about everyone else's pay packet. We are a most co-operative lot. When we move house, we don't need to worry about our next meal. For the first and last few days in a station, we are extended invitations to breakfast, lunch, tea, and dinner every day. Where else can one find such camaraderie?

So, what are the spiritual lessons that an army life teaches? These are: detachment, welcoming uncertainty, being happy with what is, giving and sharing, being compassionate and loving, adjusting and accepting all under all circumstances. Well, that is the crux of living a spiritual life!

I hope this encourages more and more youngsters to join the forces as soldiers or as spouses! Join the army, and become spiritual! How's that for an ad line?

Chitra Jha is a life skills coach, past life regression therapist, 'now consciousness' teacher and writer.E-mail: chitrajhaa@gmail.com

Reader's Comments
Subject:
Congrats
- 20 October 2010
Truely amazing article. One learns the patience, perseverance,detechment and sacrifice by changing so many places and houses in a few years being in defence. can a civilian do it five times in ten years time as chitra Jha has done almost ten or more times.
by:
somveer singh
Chitra Jha replies: -20 October 2010
Thank you for your kind words Somveer..:-)