Personal Growth - Avijit learns to cook
Why it is imperative for the male sex to take over the kitchen says Suma Varughese

Download PDF Format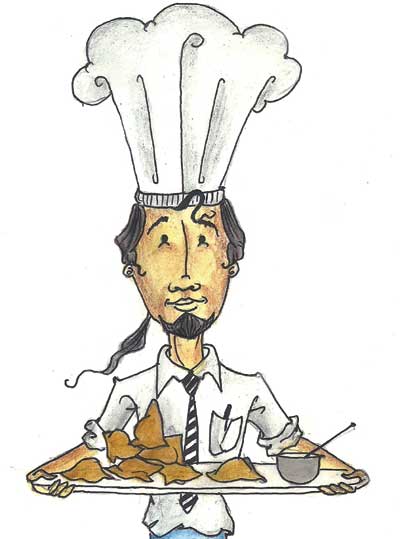 From the start Mom had insisted that Avijit help in the kitchen just as much as the girls; in fact, a little more because he was the eldest.

Avijit did not protest much. He had seen his father do the same. In fact every Wednesday, Dad cooked the dinner, so Mom had the evening free to do what she felt like, perhaps watch a movie on TV, settle down with a good book or even catch up with a pesky deadline. Mom cherished her weekly off and the family ensured that they did not tread on her space. If she wanted to watch a TV programme that evening, everyone else swallowed any alternative idea they had and either watched it with her or did their own thing. If she wanted to hog the sofa, the others found alternative seating space. They found little ways to make her feel special that day. Dad might bring over some flowers, the kids would give her a DVD they thought she might enjoy. When one of them felt particularly senti, they would even scribble out a note or a card, usually telling her how much they missed her cooking. Thanks to that, Mom happily cared for her large family for the rest of the week. Now she had decided that Avijit should cook at least once a month for the whole family, and that too, Sunday dinner.

Dad and Ajoba approved. Ajoba was not a great cook because he came from an era where men did not cook. But he could and did make tea for himself, and was all for men learning to cook.

Avijit had not been very co-operative. "Mom, that's too much. Not one of my friends helps as much in the kitchen. Now I have to cook a whole meal!" he roared.

Mom was firm. "Avijit, women are managing both working outside their home and within. They have evolved in amazing ways, but men, I am sorry to say, simply have not caught up. Few of them know what to do around the home and end up depending on their wives for everything. And their wives use that power over their heads. You are not going to be dependent on anybody. You are going to learn to be a great cook."

Dad agreed, "Yes, son, the movement forward is to balance our male and female energies. As a gender, we are lagging behind, because the patriarchal system has spoilt us."

Ajoba put in his two-penny bit. "I have always seen that the underdog struggles valiantly to come up on top while those on top inevitably become more complacent and are defeated. This is what has happened to the male sex. But the new generation must learn a new way of being. And Avijit, you are part of that generation."

That conversation had taken place quite some time back, and this Sunday night, Avijit was making his debut as the family cook.

It had been rather funny watching him poring over cook books that whole week and engaging in feverish consultations with Mom. Michaelangelo himself could not have made more ado about one of his sculptures than Avijit did over his dinner.

He had holed himself in the kitchen from 4 pm onward and would not let anyone in except Mom. What's more he had insisted that everyone dress for dinner. "It's a formal sit-down," he had announced grandly. Now here they all were in their best party wear waiting eagerly for the show to begin.

Avijit did not disappoint. For one thing he had managed to get hold of a waiter's uniform. Mom's best tableware was on display with knives and forks laid out neatly, and napkins arranged into dainty fans peeping out of crystal glasses.

The first course was what he was pleased to call a starter and consisted of red and yellow capsicums stuffed in a spicy paneer mixture and baked. "Amazing," cried everyone as they sliced into the melting soft paneer and capsicum.

"Ok, now for the main course," cried Avijit, bringing steaming platters out. The enterprising boy had made sizzlers for each one of them, making sure that he catered to each individual taste.
| | | |
| --- | --- | --- |
| | | |
| | Sathe family fact file: The Sathe family lives in Mumbai and consists of Ashwin Sathe, a trainer and counsellor and Abha Sathe, a writer of children's books. Ashwin's parents, known as Aji and Ajoba, stay with them. Ajoba is a retired college professor turned Vedanta teacher. Ashwin and Abha have three children: Avijit (20) an engineering student, Nisha (19) in her second year in college studying Eng Lit and Alka (16) in her class 10. The family meets every Sunday over dinner, where problems are thrashed out and solutions offered. | |
| | | |
It was a Mexican mixed veg sizzler served with coriander rice. "Better than anything Mom has ever made," exclaimed Nisha, astounded. "However did you get to be such a great cook?"
"Oh, I picked up some tips watching Mom cook, but fundamentally I got interested in seeing how alchemical the whole process was," said Avijit. "You start with a whole lot of unrelated ingredients and before you know it, something magical has emerged. It's marvellous."
"Well done," cried Mom. Dad got up after finishing up every last morsel and playfully tapped his head with a table knife. "I now dub thee chef," he grinned.
"Hey," I am not finished," cried Avijit. "There is still the dessert to be had."
The family waited in anticipation to see what fresh wonder would be laid before them. A collective "ooh" went around the room as he placed before each of them a generous slice of the Italian dessert, Panna cotta.
"Son, I can't tell you how good it feels to eat something I have not made. Thank you for giving me that pleasure," said Mom. "And yes, I think we can safely say that you are not likely to be dependent on your wife or cook."
"The male gender has evolved a notch thanks to your efforts, Avijit," said Dad.
"One small step for me, a giant step for mankind," smirked Avijit, taking off his apron and sliding into a chair to finally have his meal.
See more articles on
Personal Growth
:
http://www.lifepositive.com/Articles/PersonalGrowth