Personal Growth - Becoming Whole
Wherever we are, the journey of our lives is about taking the next step and in that next step lies not just our self-reliance, but our happiness, health and eventually spiritual progress, says Suma Varughese

Download PDF Format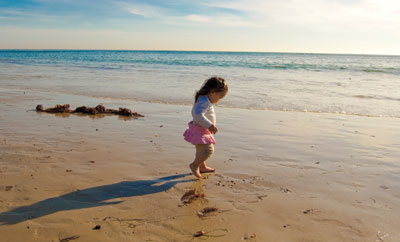 On a recent visit to Kerala, a couple of vignettes burnt strongly into my consciousness.

One was of an elderly gentleman, otherwise fit, left to fend for himself after his wife passed away a couple of years ago. Kerala patriarchs are not brought up to look after themselves and the old gentleman soon fell ill and was hospitalised. His four children all live abroad. The one closest to India came and after nursing him at the hospital, placed him in an old folks' home. Extremely unhappy there, he finally managed to get himself released and is now back at home, full of bitterness about his fate. "I have never harmed anyone, why did this happen to me?" he asked. His children, apparently, are unwilling to take care of him. And he, poor fellow, is unable to do so.

The other relates to the siblings of an old friend of mine. The brother and sister, both in their 60s, had never married, presently hold no jobs, and now live in the family home, cared for by an old retainer that their other family members pay to take care of them. Neither of them knows how to cook or to care for the house and spend their time in querulous jousts with each other. The brother, whose self-effacement is so extreme that he appears like a shadowy wisp in company, has now found in his self-deprecatory sister someone he can actually bully. He delights in ordering her about, stopping her from picking up fruit from the garden, and barking at her to cover up, when her pallav inadvertently slips. The poor lady, meanwhile, is so cowed down and crushed that even the maid lords over her with impunity. There is talk of her planning to buy herself a flat once the old home is sold and moving out of her brother's clutches, while taking the maid with her. The maid is willing to go along, for her beady eyes are upon the flat she intends to manipulate her mistress to leave behind for her.

Without self-reliance, my friends, life has us by our short hairs. It picks us up effortlessly and twirls us around like batons; and we have no option but to submit. For life's stern edict is this: progress or perish. We are here to grow and those of us who do not learn this, or despite knowing it cannot apply ourselves to it, set ourselves up for suffering.

The imperative of growth

Even the tiniest particle of life is governed by this dictum – one could say growth is the nature of life itself. Every blade of grass therefore knows that its job is to push up from its womb of soil and birth itself in the great outdoors regardless of the odds. Birth it does, often cracking apart mighty rocks or concrete slabs. How does this fragile wisp manage this humungous task? Simply by never giving up. This applies as much to the tiniest amoeba intent on its appointed task of multiplying itself as it does to nature's finest creation, man. Babies instinctively know their trajectories and energetically apply themselves to the next step, whether it is falling on their stomachs, crawling, and finally, oh, magical moment, taking that first unsteady step towards proud self reliance.

But somewhere along the way, many of us tend to lose that natural momentum. The psyche, ever fragile, picks up messages both from the outside world and its own self and fashions an identity for itself. That, combined with the baggage of karma it has brought with it, will greatly determine its progress in life. If self-doubt, lack of self-assurance, fear of failure, sloth and other impediments cripple it, the life force's natural impetus towards self-reliance is halted and the person's life path can stagnate. If however, despite the adversities that swarm around like flies, the psyche holds true to its instinct towards growth, it will increasingly enjoy the rewards of self-reliance. In the process it will also stumble upon the secrets of happiness, success, relationships, prosperity and every other goal of life.

Says Sharjah-based Asha Chandran Perincherry, "A bride at 22. A mother at 25. Then at 26, I was back home to my parents in a small, sleepy and rustic village in Palakkad, Kerala, with an adorable girl child aged just six months in my left hand and my PG degree certificate in my right hand. I started life afresh when my marriage failed.

"With the wonderful support of my parents and my five younger siblings, I began with baby steps like getting a B.Ed. Today, as an educator working in a girls' school, I am well employed. My daughter is married. My daughter, parents and siblings are proud that I have reached where I have. When I look back, I am grateful to every event that happened in my life. They challenged me. Tried me. Brought the best and at times the worst out of me. But being the fighter that I am, I never gave up. I spread this message of self-reliance to my pupils when I get a chance. I believe I gave roots and wings to my daughter who is a science journalist and wildlife biologist. To me, my life is synonymous with self-reliance."

There speaks a survivor. One who has been tested and tried in the school of life and emerged triumphant. One who has used the adversities of life as an instrument of growth. And who has used every challenge as a stepping stone to greater self-reliance and achievement. One whom life has expanded instead of contracting.

Like Asha, others too have used their life situation positively. Past-life regression therapist, Sharmila Shirish Dhabole, based in Aurangabad, Maharashtra, shares, "I got married to an Army officer, 23 years back. I had lots of expectations from my husband, including shopping for essentials. However, his professional commitments prevented him despite my cribbing about it. Then I decided to take control in my hands. I dropped all expectations from my husband and started doing everything on my own. I used to make my one-year-old stand in front on the scooter and the older one sit behind and go to even the hospital for vaccination. After that period, I never waited for anyone to do my work. I became confident, learnt a lot of things and life was never the same...I was proud of myself and always happy!"

Says Neeta Sharma, a Delhi-based founder of the holistic healing centre, Anjul Jyoti, "I learnt to be self-reliant at the age of six months when my sick mother suddenly stopped breast feeding. She could neither hold me nor take me in her lap due to her illness. I was taken care of by my granny, but I was told that I was so angry, and distraught that my whole body shook with the pain of seeing my mom, without being able to go to her. It took one whole year for my mother to get well and by then I had become a pro in the lesson of self-reliance. I refused to eat from the hands of another person. I drank milk from a glass from the age of six months directly."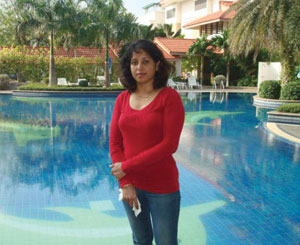 Sharmila Shirish Dhabole: Managing her life
and loving it Neeta even went on her own to get a laproscopy done for biopsy of her uterus. "I was given general anesthesia, and signed the declaration paper for surgery myself. I came back to my senses after three hours, took a rickshaw and went home."

There was a time when low self-esteem and a low-grade depression had frozen my potential and locked me in a state of near paralysis. I was under confident and unskilled in home management and cooking, and virtually any skill needed to keep body and soul together. So gawky had I been that I froze on social occasions and left it to my more capable sisters to manage the day, because I was sure I would goof up. Those days I stood on the periphery of life, hardly daring to take a step forward, because I was sure I would tie myself up in knots. I leaned heavily for support on my family, especially my sister Susan, who I lived with.

Since then I have come a long way, learning steadily all the skills I needed to stand on my own two feet. Today, my home management skills are pretty good for my house is impeccably kept, I enjoy entertaining and am a lauded cook! I manage my finances, though I am not great at it, and take care of my needs. Being unmarried, self-reliance is a way of life. Going to doctors alone, going on trips alone, and managing one's entertainment needs on one's own are more or less part of the territory.

My resolution for this year is to get competent on the technological front.Computers and almost all forms of technology baffle me. When dealing with them, am anxious and unsure, and need a lot of hand-holding. My compassionate colleagues supply this for me at the moment, but I look forward to the time when I can stand on my own two feet in this zone as well.

The call of the New Age

In the context of the New Age we have all stepped into, the imperative for self-reliance is even more absolute. For the call of the times is for each of us to be whole and complete. In the earlier era we got by with a little help from family and friends, and two halves got married to become one. In the New Age, we are meant to plug in our holes and heal ourselves of all our emotional, mental and physical needs. In the New Age, couples will marry not to complete themselves but to experience the love and joy that emerges when whole meets whole. In the New Age people will joyfully explore their potentials and work at becoming their own person in every way instead of being dependent on others for any need, be it financial, physical, emotional, mental or spiritual. For the truth is that any dependency gives rise to unhealthy relationships and unwholesome power play. This is particularly true when it comes to man-woman relationships.

All the imbalances, tyrannies, inequities and horrors of the previous patriarchal age can be blamed on the rigid demarcation of rules and roles that decreed that women should look after the home and take care of their young, while men should earn a living. To a large extent, women have managed to broaden and expand their roles, and have stepped out of domesticity to earn a place for themselves in the world. In many ways women are becoming whole, and there are thousands of women out there who run their lives independently, and have no apparent need for men. This gives them a huge advantage which men must learn to wipe out by doing their share of learning and growing. It seems to me that the next most important evolutionary step for the planet is for men to make themselves competent in home affairs, by learning to run a house and cook, and handle children.

Increasingly, younger men are learning to do this. One of my nieces is married to someone who is an excellent cook and who often assumes independent charge of his two charming little girls. When the older one, Noor, was less than four, he had an assignment in Mumbai (they live in Delhi), and he chose to bring along Noor, feeding, bathing and putting her to sleep with competence.

The war of the sexes will probably end when both sexes will seek to complete their shadow self. Women will learn to develop their masculine energies and become increasingly dynamic, capable and competent, able to handle finances, technology and the outside world. Perhaps they may even learn skills such as martial arts, to counteract the poorer physical strength that gave the masculine sex the advantage all these years, and take back their power. For men the tasks would include getting in touch with their feminine side by becoming more aware of their feelings, learning to become vulnerable, open and free of pretences and letting go of the need for control and dominance.

As this happens at a larger and larger scale, relationships will become more authentic and the friction and conflict that have marked male-female relationships in the last 50 years or so will finally evaporate and we will see the preceding years for what they were – the creative ferment that inevitably accompanies any process from falsity to truth.

Restoring relationships

Gender-specific relationships apart, almost all relationships are warped by the imbalances and power play that emanate when we depend on others for our needs. Whether it is between daughter-in-law and mother-in-law, children and parents, siblings, friends, or even maid and mistress, we forfeit our freedom and load the relationship with unbearable strain when dependency steps in, which inevitably results in one giving away power and the other abusing it. My neighbour, an elderly lady who has never learnt to cook, is inordinately dependent on her cook and is therefore unable to put her foot down when the cook demands more money or takes leave without notice.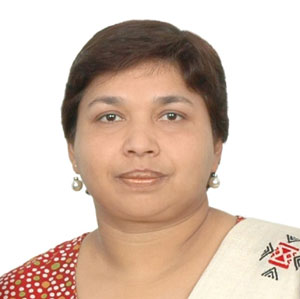 Neeta Sharma: Becoming self-reliant at six months! If we want to live with dignity and self-respect, and safeguard our relationships, then we must take the hard road that leads us to independence. If we have not learnt to hold down a job, let us strive to achieve some semblance of livelihood. Millions of women, even when uneducated, have learnt to fend for themselves and their families through domestic labour, cooking and so on. The self-esteem it generates is worth all the difficulty. In the same way, we need to work on identifying our areas of weakness – perhaps inability to get along with people, or an incapacity to handle finances, or technology, or organise events. We may never get to be as good as those to whom these comes naturally but it does not matter as long as we can manage our affairs sufficiently to retain our self-respect.

There will always be times and situations where we need help, such as when we are ill, getting married and so on. Self-reliance is not about leading a proudly isolated life. It is about being able to carry the burdens of our life ourselves so that others are not forced to carry them instead; and it is about enabling the cultivation of wholesome relationships based on mutual respect, love and care.

Rashida Jiwani, a Mumbai-based teacher and writer, says, "My mother often said, 'Apna haath, Jagannath', meaning that our own hand is like the hand of the lord. She taught me and my sister to do our personal jobs ourselves. We only had a part-time maid to do sweeping and swabbing, washing utensils and clothes. The rest of the housework was done by the three of us."

The early training stood her in good stead when she got married and had to take care of a family of seven, with two young kids and a job, without full -time domestic help. But she soon discovered that there were other facets to self-reliance of which she knew nothing. Such as managing her emotions. Differences with her husband or in laws would often create inner turmoil and at one point even drove her to attempt suicide. At some stage it occurred to her that she only must find the solution to the problem. She decided to get out of the house and develop a career. After doing her MA, she took up a job as a teacher. Meeting others, learning about their lives and engaging with students soon gave her the confidence she needed to manage her home situation.

Rashida touches upon a very important point. For self-reliance is also about managing one's emotional and psychological life. Instead of looking for approval outside or expecting others to adapt to our needs, we need to manage our own feelings, and be there for ourselves. Self-reliance is also the journey of increasing self-confidence and self-esteem and they peak when we can learn to be there for ourselves, to heal our own wounds, to forgive ourselves for any inadequacies and steadfastly engage in a loving relationship with oneself.

These areas form the core of my self-work, and while I still have a way to go, the space within me is increasingly benign rather than toxic. Where once I admonished myself for any goof-up, and looked wildly outside for comfort and counsel, today I am increasingly going within for love, for acceptance, for peace and for joy. Ever since my mother passed away I have lived alone, and a persistent health condition stopped me from travelling or having much of a social life. The enforced solitude, I instinctively knew, was necessary for me to develop the one undying and constant relationship which we all have, and that is with ourselves. Increasingly, I am a friend to myself and see in me the source of all the happiness, peace and health in the world.

Making choices

Another important aspect of self-reliance is to make one's own choices in life. In other words, to develop an independent value system. Major decisions about the work we will do, the person we will marry, the house we will buy or the friends we will make, need ideally to be taken by us.

A highly respected ayurvedic practitioner based in Dehra Dun called Harsh Sehgal recalled his own struggle to move along his chosen path of ayurveda in the mid-90s, much against his family's wishes for him to pursue allopathy. "When other guys went to movies, I stayed back in the hostel studying. When others would indulge, I voluntarily attended to more patients so as to get more clinical experience. It was my acid test.

"I wanted to own 100 per cent responsibility for my success or failure in that field. When I passed out in the year 2000, I had very little money. I did not want to take my parents' help financially as they lacked confidence in my choice. I converted my garage into a clinic, and purchased herbs with a paltry sum. Working on my strengths such as auto-immune, progressive and degenerative disorders, I started preparing my own formulations to ensure quality."

Today, he is highly respected for his work in areas allopathy has no solutions such as Alzheimer's, hepatitis, some cancers, cervical/ankylosing spondylosis, psoriasis, and eczema. His work has earned him plaudits such as the Uttarakhand Ratna Excellency Award and Uttarakhand Gaurav. He says, "I believe that if you make choices with conviction, and strive for excellence, success will come chasing you."

In this area, I must say I have always excelled. Even as a youngster I refused to be railroaded by my parents, who were keen for me to go into medicine, into taking any profession other than journalism. As I reached a marriageable age, my parents, like all parents, tried their best to get me married but I resisted steadfastly, convinced that marriage was not for me. Later in life, I underwent a spiritual awakening and that crystallised my entire value system for me. For the first time in my life, I knew what I wanted which was happiness, how to get it, what was right, what was wrong, what my priorities were and how I wanted to live life. Since then, I have stayed loyal to this inner compass, enabling it to guide me in all things, big and small. It guided me to make the big decision to leave mainstream journalism and move into spiritual journalism, to determine my friends, and my way of life.

In his famous essay on self-reliance, Ralph Waldo Emerson emphasised just this aspect of self-reliance. Says he, "Whoso would be a man must be a nonconformist. He who would gather immortal palms must not be hindered by the name of goodness, but must explore if it be goodness. Nothing is at last sacred but the integrity of your own mind..."
 
 
"If you make choices with conviction, and strive for excellence, success will come chasing you."
-Dr Harsh Sehgal
 
 
I remember an answer which when quite young I was prompted to make to a valued adviser, who was wont to importune me with the dear old doctrines of the church. On my saying, 'What have I to do with the sacredness of traditions, if I live wholly from within?' my friend suggested, — 'But these impulses may be from below, not from above.' I replied, 'They do not seem to me to be such; but if I am the Devil's child, I will live then from the Devil.' No law can be sacred to me but that of my nature. …the only right is what is after my constitution, the only wrong what is against it."
On my own
If we want to be truly self-reliant, we must be willing to go our own path, no matter how many are against it. Perhaps it is this that throws every seeker into the path of self-reliance for it is in his thirst to find the truth for himself that he moves away from societal instincts to settle for received wisdom. The Buddhas and Mahaviras of the world gave up great kingdoms under the impetus of this great inner drive.
 
 
"For the first time, I realised there was an inner potential within me. And the way to it was to do what the heart wanted."
-Susheel Nair
 
 
In our times, where the impulse of self-discovery is influencing more and more people, many have turned their backs on corporate lives or successful careers in order to craft a life aligned to their inner call.
Bangalore-based Susheel Nair, 38, was earlier a successful corporate executive working in an apparel exports group in Chennai as division head. In 2007, fate handed him a book by Brian Weiss, the noted past-life regression guru and it set him on a journey from which there was no looking back. Inspired, Susheel went for a three-day past-life regression workshop. There he had the startling experience of having been a pilot with KLM Airlines in one of his past lives. His last memory was of crashing his plane in the apartment of an 11-year-old boy in Munich. The look of terror in the boy's face as the plane tore into him was his last conscious memory in that life. To his astonishment, a search on the internet proved that there had indeed been a KLM plane crash in exactly the way he experienced it. The event changed his life. "It got through to my consciousness how disconnected I was from what I was doing. For the first time, I realised there was an inner potential within me. And the only way to find out that potential was to get out of what I was not in alignment with and do what the heart wanted."
Today, he and his wife, Kapila, run a small restaurant cum wellness place called Vriksh where employees are taught meditation every morning and are made stake holders in the business. The couple call it an enlightened enterprise – a blend of spiritual values and professional excellence.
This is the beauty of the self-reliance journey, for it brings us back profoundly to ourselves. It helps us unfold our own potential and build our own trust and love for ourselves. The more we come under our own jurisdiction, the more we orbit out of the hold of others and society. We become the person we were meant to be.
Where can such a journey end but in the ultimate purpose of the human journey itself? Self-reliance will take us step by step into the final experience of the Self, when we discover simultaneously that we are everything and nothing. Our journey ends within our deepest self, and at the same time it opens out our boundaries to the whole world. We become one with the other, but at the same time retain our own integrity completely.
Says J Krishnamurti, "True self-reliance…can come about only through understanding the process of craving, with its limiting values, fears and hopes; then self-reliance has great significance, for through one's own strenuous awareness, there is a wholeness, a completion."
See more articles on Personal Growth :
http://www.lifepositive.com/Articles/PersonalGrowth