Personal Growth - Depth
by Megha Bajaj
It is the depth of our thoughts and feelings that attracts our life situations, says Megha Bajaj

Download PDF Format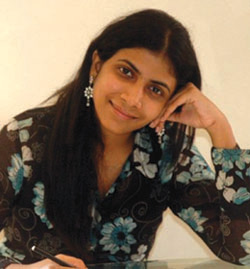 Megha is, above all, a seeker. These days she
is attempting to find herself in the role of a teacher
through the online writing course designed by her.
You can know more about her on
http://www.wonderofwords.org How, may you ask, does one attract situations and people into their lives?

The Law of Attraction has been spoken of time and again, and I think all of us now, to a great extent, realise that it is we who create, or at least, co-create our destinies… and yet – are we all living the dream? Are we all living lives which we believe we deserve? For most of us, me included, the answer will be a reluctant no.

It is only recently that I realised that just the right thoughts and feelings aren't enough. What is needed to make you into a potent magnet is: Depth. Yes, depth. Let's understand this with two phenomenal experiences I recently had.

One of those days, I just woke up feeling low. There was no particular reason to feel low – but I was just not feeling good. I guess we all have 'those' days. As I went through the day – I kept deepening this feeling of 'low'. As the depth of my feeling grew – so did negative experiences surrounding me. It began with getting a rude waiter at a restaurant for a business lunch. Continued to a growing, splitting head ache. And finally moved into receiving a nasty mail from a close friend. Whew! As I dropped wearily on the sofa – I felt exhausted physically and emotionally.

I closed my eyes and wondered what had gone so wrong. Yes, my thoughts and emotions weren't right – but what had gone drastically wrong was that I had gone on dwelling on the feeling. Imagine it this way – a stream of water keeps hitting the rock at a certain point – so much so that it creates a deep crevice… now even though the stream of water wants to flow ahead – it must do so only through the crevice.
| | | |
| --- | --- | --- |
| | | |
| | Right thoughts and feelings aren't enough. What is needed is: Depth. | |
| | | |
Now, replace the stream with energy and think of how negative energy which is deepened, and deepened further, creates a 'crevice' in the fabric of your subconscious. Now – even when you want to progress – the deepest layers of your subconscious ensure you keep experiencing that deep negative feeling – for which it keeps creating negative situations around you.
Before you begin to wonder about the negative 'crevices' you have made, the phenomenal news is – it can be changed… How? Simply by deepening the positive – and the result is almost miraculous. Here is what happened…
As I had this realisation that day – I immediately changed my thought process. I thought of the best day of my life – the beautiful people in my life – all my favourite memories… I didn't just think, or feel… I deepened the thought and feeling. So much so that by the end of it – I felt so light, loved and beautiful. As is my habit – I checked my mail before I went to sleep and there it was – a mail from the same friend, apologising and saying she had reacted on the spur of the moment. I giggled out aloud. It was such an exhilarating feeling to realise how one's magnet could be shifted.
Whenever you can, whenever you are free, when you wake up, before you sleep – don't just think and feel good – deepen that emotion. Imagine it vividly, feel it deeply, experience it for long. The more 'real' you can make the 'feel good' feel – the more likely is it to happen soon.
Let's not live our lives as if we are puppets – just doing what someone else is making us do. Blaming, feeling anxious about our future. Let's take things in our hand and create so many positive 'crevices' in our being that the stream of your life cannot help but gurgle and swish through, bringing wonderful experiences to you!
See more articles on Personal Growth :
http://www.lifepositive.com/Articles/PersonalGrowth