Personal Growth - Do the honours
by Purnima Yogi
What is the relationship between self-respect and respect for others; and can love exist without respect and vice versa? Purnima Yogi explores

Download PDF Format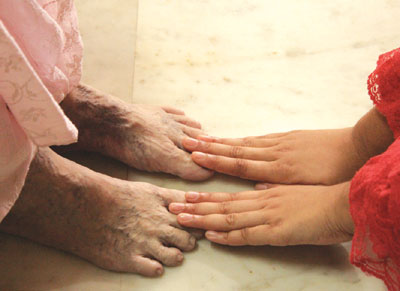 Mein phenke hue sikke nahin utatha..' Who can forget this dialogue from the 1970s movie Deewar starring Amitabh Bachchan, which went on to be one of the most defining moments in Hindi cinema and the birth of the angry young man? I remember my heart swelling with pride for this young shoeshine boy at Bandra station, who refuses to pick up the small change that the tycoon throws at him after having his shoes polished by the boy. It was a foregone conclusion that this kid would grow up to be a powerful tycoon himself and 'show them all'. He does, and how! Many such pauper-to-prince stories never fail to strike the right chord in people, because they play on that one basic sentiment – swaabhimaan, self-respect!

'Give respect and take respect', a concept so integral to the Indian ethos implies that respect cannot be just given away freely, one has to earn it! A labourer has as much self-respect as the developer in whose construction plot he carries bricks; the underlined sentiment is, "Don't expect me to respect you just because you are the maalik around here; I shall treat you well only if you do the same to me."

This sentiment was also effectively captured in a recent advertisement aired on national television for a detergent powder: a man in a car looks contemptuously at a school boy on a cycle when he stops alongside him at a traffic signal and the boy says, with great self-respect: 'Sirf do payyonka ka farak hai – mil jaayega!', (meaning it's a matter of time before I get a car) and off he rides with great confidence ahead of the car in his white shirt, washed, of course, with the said detergent!

Fierce self-respect does that to people, not just in movies but in real life too. A close friend of mine, an experienced language teacher in an international school in Bangalore, was on one occasion ticked off publicly (and according to her, unfairly) by the principal, who was a new entrant to the school. The teacher threw in her resignation the next day, and over the
| | | |
| --- | --- | --- |
|   | |   |
| | Self-respect, it appears, is a great motivator to earn more, save more, learn more and generally put in whatever effort it takes to move up the social ladder and achieve success | |
|   | |   |
next few years, did her masters in history and went to get a doctorate too and now she heads another international school in Bangalore as its principal. That one insult was enough to propel a hitherto content school teacher to take up the challenge of rising up to the level of principal herself, only so she could talk to the other principal on an equal footing!
Self-respect, it appears, is a great motivator to earn more, save more, learn more and generally put in whatever effort it takes to move up the social ladder and achieve success.
Respecting others
While self-respect seems to be spontaneous, respect for others does not come so easily! Every auto-rickshaw is a Mercedes Benz waiting to happen, and that is why you never see the former give way to a car on the fast lane in apna Bharath! This is where we need to learn from the West, where civic sense stems from respecting others, which allows orderliness and discipline to prevail in all aspects of their life, making for a simplified and peaceful existence on a day-to-day basis. Imagine starting the day without having to curse the neighbour for dumping garbage in the backyard or for playing loud music late into the night. No wonder people who have lived abroad for long find most things about India intolerable, though some feel that 'respect for the other' is stretched a bit too far in the West!
Respect for elders is ingrained in the Indian psyche. The Vedas ordain that parents, teachers and guests be treated on par with God himself! A generation ago this meant implicit obedience to their commands. One never went against them, irrespective of whether one wanted to, or whether there was any merit in what was ordered. A case of respect being commanded, not necessarily earned, which bordered more on fear and doing one's duty! "I don't remember ever talking to my father directly," says Narendra Babu, a small-scale industrialist, now father of a 22-year-old himself. "When I look back I didn't agree with many of the decisions he took on our behalf affecting our life, but we dared not tell him that."

Love and respect – a must for all seasons and reasons
Did he love his father? "I have never even thought about it. It was never really needed to be expressed," says Babu.
The tables have turned, and how, in recent times! "I, however, consult my son on every little thing that impacts our and his life, while it is entirely his prerogative whether he may or may not!" And ask his son Varun – who just passed out of engineering college with distinction, whether he respects his father, and he says, "I do respect his experience and age, but my old man is outdated." Does he love him? "Oh yes, I insisted he buy himself a good mobile phone with the latest features on Father's Day. I picked it for him myself!"
Respect v/s love
Looks like respect and love between parents and children do a seesaw from generation to generation. Sometimes respect comes to the fore, sometimes love. Latent and present, but with changing dimensions. Earlier, respect just meant implicit obedience to elders with love taken for granted. In present times, respect means giving one 'space', the right to choose, right to have opinions, even if it's a toddler! Expressing love, of course, is mandatory, what with all the hype created for Father's, Mother's, Friendship and Valentine's Days!
But does exchanging gifts and greetings on these hyped days compensate for a more real respect and concern that one expects of loved ones? Far too many parents of NRIs living away from their grown children, loaded with all of life's comforts but lonely, force one to believe that love and respect have been traded for convenience. Indian mothers are derogatorily referred to as the IAS brigade – Indian Ayah Service, as they are always at hand to tend to their pregnant daughters and daughters-in-law on foreign shores so that their grandchildren can be born as world citizens! Whither love, whither respect, the cynic may well ask.
And I would say, they are most certainly around, hovering somewhere in the background as we tend to take our loved ones for granted in the hustle bustle of daily life. This 'nugget of wisdom' hit me in the face when my mother, in her mid 70s, underwent a knee operation last year, and lost her physical and mental
| | | |
| --- | --- | --- |
|   | |   |
| | The lives of all four are ultimately like sugarcane waste with all the juice sapped out, dry, tasteless, indigestible, utterly uninteresting and meaningless | |
|   | |   |
health alarmingly fast due to drug allergy. Perfectly healthy when she was wheeled into the operation theatre, she was rapidly reduced to a vegetable over the next few days, confined to a wheelchair and bordering on dementia. I realised then that I loved and respected my mother so much that my heart broke at the sight of her dignity lying in tatters, with the nurses and ayahs tending to her casually and sometimes rudely, and shouting at her as if she had always been demented. Mother recovered completely and now we are back at taking each other for granted, misunderstanding and grumbling about one another, for which I am very grateful to God indeed! But it has left me with a valuable insight; that love and respect between children, parents and siblings are inbuilt by default, though they choose to surface or lie low depending on a need basis!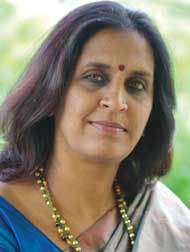 Purnima Yogi is a writer,
editor, translator and Mass
Communications professional from
Bangalore, now a full-time seeker.
Can love and respect be mutually exclusive? Sure they can. I know of a professor in an engineering college, extremely erudite, popular and successful. But Professor Mani's childhood was spent in trips to the local police station to get his father released for being arrested for drunken brawls. Says Mani, "He would even encourage me to drink along with him; what sort of father would do that? I had lost all respect for him even as a kid." But Mani certainly loved him, which is why he put his father in rehab and gave his family the first decent home they had known since years.
Love without respect might just work, but respect without love in intimate relationships is ugly. In the movie Silsila, the hero loves his mistress but respects his wife! The mistress too respects her husband but loves her lover! Both impossible situations; the lovers are constantly in tension, tortured by separation and finding pleasure in secretly snatched moments of togetherness. But at home, they live with their respective spouses, talking respectfully to each other, addressing each other as 'aap' and generally avoiding treading on toes. The spurned husband and wife of the lovers have no respect for their spouses because of their clandestine relationships, but love them nevertheless, and so cannot let go of them! Phew! No prizes for guessing how it is all resolved in the end; the married couples choose to stay with each other in true Indian style. But the lives of all four are ultimately like sugarcane waste with all the juice sapped out, dry, tasteless, indigestible, utterly uninteresting and meaningless.
Unconditional respect
The most beautiful relationship is one in which love and respect are unconditional, a love that has no expectations, makes no demands, puts no pressures. Just graceful, glorious, whole-hearted acceptance of the other the way he or she is! It could even be
| | | |
| --- | --- | --- |
|   | |   |
| | Love and respect between children, parents, siblings are inbuilt by default. | |
|   | |   |
one way, but it will not matter, because true love will be as pure and selfless as God's love. It wants for the other what he would want for himself. That's what God says in the movie, Bruce Almighty, starring Jim Carrey and Jennifer Anniston. Carrey gets a chance to play God, and is enamoured by his own powers of granting the wishes of people left, right and centre. But when he tries to impose his own wish on the woman he loves, he manages to drive her away. God then advises Carrey to let her go, to allow her to choose her life partner. As he takes God's advice, Carrey suddenly feels a lightness settle upon him. He lets go, and makes a heartfelt wish that Jennifer may find the man who can make her happy, which need not necessarily be him.
Is it possible for a human to feel this kind of love? Well, aren't we all striving to become better human beings? Says Lord Krishna in the Bhagavad Gita ...Yo maam pashyati sarvatra, sarvatra mayi pashyati- 'One who can see Me in everybody, and everybody in me, is very dear to Me'. If only we can recognise divinity and only divinity in each and every particle of God's creation, we cannot but ooze with unconditional love towards all. That vision can come only when we become totally selfless, when we are able to put the other before ourselves, always the other.
See more articles on Personal Growth :
http://www.lifepositive.com/Articles/PersonalGrowth