Personal Growth - Do you love yourself
by Anil Bhatnagar
Find out to what extent you find harmony and inner worth within you

Download PDF Format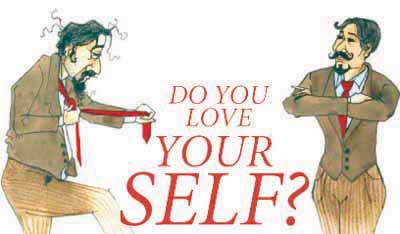 Self-esteem is also an index of harmony and inner worth and depends upon a number of parameters. We measured some of these in the last issue. We are measuring some of the remaining ones in the present quiz. Respond to this questionnaire quickly, choosing the first answer that comes to your mind, or the one that seems to be valid for you most of the time. This test is not scientific but may give you an idea of your own preferences. Divide a score of 5 among A and B in each of the 11 sets depending on the extent to which each is true for you.



Depending on the extent A and B may be true for you, share 5 marks among them for the following sets:
Marks (A+B=5)
 1.
A.  I secretly feel jealous, if I ever see anything good in the other person.
B.  I appreciate anything good in others and tend to emulate it myself if I can.
A=
B=
 2.
A.  I often catch myself distorting the facts and ridiculing the same people at their back whom I praise on their face. I do it only to give company to others and keep good relations with those who are doing so.
B.  I have the courage to speak good of a person who is being criticised and ridiculed at his/her back by others.
A=
B=
3.
A.   World is quite a safe place to live in.
B.   World is an unsafe and hostile place to live in. You cannot trust it.
A=
B=
4.
A.  I find responsibilities too many to be finished in time. I fear to begin when I begin to fear that the goal is too big or too high to be achieved.
B.   In order to achieve a difficult thing I split it in many manageable and easy baby steps and then go on taking these steps one at a time. If I fail, I split what I failed at into further smaller parts. I go on doing it until I succeed
A=
B=
5.
A.   I find it very easy to analyse and solve problems logically and provide solutions to them.
B.   I often can very quickly see problems in the solutions that others provide. I think most of the problems in our lives both at home and office cannot be solved. Had it not been so, someone would have solved them already.
A=
B=
6.
A.   Failures and setbacks take me very long to get back to life.
B.   I recover from setbacks and failures fairly quickly.
A=
B=
7.
A.   I am happy with the kind of work I do at the office.
B.   I often spend the major part of the day in a joyless striving – doing things mechanically and absent-mindedly – without enjoying them.
A=
B=
8.
A.   I sometimes wonder why I feel inferior in spite of having so many superior qualities in me. Maybe I have never learnt to be an arrogant person. Perhaps with more money, more promotions, more knowledge, more public recognition and acceptance, powerful connections in high places and a more beautiful/handsome face I would have been able to respect myself more.
B.   Despite my shortcomings, circumstances, educational, financial, and social status, and irrespective of how people perceive me, I have unconditional love and respect for myself.
  A=
B=
9.
A.   I am aware of my values and the hierarchy in which I hold them in importance while making my decisions.
B.   Deep in my heart, I feel sad that I do not consciously hold a set of infallible guiding principles, which enable me to resolve my inner dilemmas, conflicts, and confusions. Moreover, whatever values, principles, and convictions I consciously hold important to myself, I know that I have been compromising with them every now and then.
  A=
  B=
10.
A.  I am mature enough to realise that I am a puppet in the hands of fate. I cannot make things happen; they always happen to me. I patiently wait for good days to arrive, when there are bad days. Despite my being so good, all the undesirable things, nevertheless, have been happening in my life because of others, and some external circumstances over which I wield little or no control.
B.   I hold myself, and no one else responsible for everything that I dislike in my life.
A=
B=
11.
A.   I have a habit of asking myself whether what I am doing and how I am doing is what and how I would still be doing had I been in absolute control of my life and if I were to give my best to myself and to the world.
B.   I am usually neither aware of nor do I question what and how I am doing in life.
A=
B=
The interpretation:
To know your scores, enter in the third column of box on left, the marks for 'A' or 'B' as directed therein and total up. Each of the 11 sets below measures a different aspect of your self-esteem, which is mentioned in the second column.
What your score means:
A total score of 13 or less: Unsatisfactory
A total score of 14 to 27: Satisfactory
A total score of 28 to 40: Good
41 to 55: Excellent
(You need to think and deliberately recall your achievements and focus on inculcating qualities that will fetch you more marks. Especially pay attention to sets where your scores are the lowest among the 11 parameters listed).
Anil Bhatnagar, an IITian, apart from being a corporate trainer on behavioural skills to over fifty leading companies of the nation, is a motivational speaker, a personal growth coach, a reiki teacher, a painter, a columnist with Times of India, and an ISTD award-winning author of five internationally acclaimed books. He also writes prolifically for some of the top Indian and international journals.
www.anilbhatnagar.com
See more articles on Personal Growth at:
http://www.lifepositive.com/articles/Personalgrowth