Personal Growth - Do you love yourself?
by Chitra Jha
Only when we love ourselves can we love others

Download PDF Format
Test your self-love quotient
When something goes wrong do you
• automatically assume it is your fault?
• stay steady, and inquire into the source of the problem?
When people pay you a
More >>
---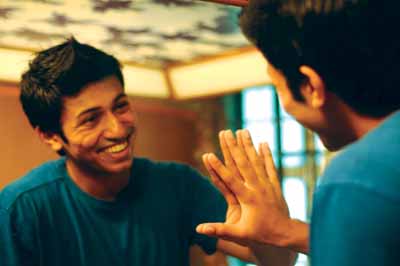 In her best-selling book, You can heal your life, author Louise Hay has said that loving yourself is the answer to all the ills plaguing a human life. She implores readers to use the mantra, "I love and approve of myself" at least 300 times a day in order to witness miracles and lead a magical life. I am one of Louise Hay's ardent admirers as this mantra has literally changed my life. I am also a witness to scores of other lives that have been changed thanks to this philosophy of 'loving thyself'.

The question 'Do you love yourself?' often takes people by surprise. What about you? Does this question surprise you? Have you ever questioned yourself? What is your answer?

If your answer is in the affirmative, you are a blessed soul; but if the answer is 'no', 'maybe', 'I don't know' or anything other than a resounding 'yes', your life is not as hunky-dory as you would like it to be. Am I right? I have known people who feel that they are unworthy of love. They feel that if people knew the 'real' them, no one would love them. Some feel that it is all right to love others but inappropriate to love themselves. They find the whole idea narcissistic.

The truth of the matter is that each of us is a unique combination of good, bad, and the ugly. We all carry positive, negative, and neutral attributes. We all have qualities that we are proud of and tendencies that we could do without. After all we are human beings, playing our various roles in this dimension of duality where good and bad must co-exist. How can we be any different?

Perhaps you can't love all aspects of yourself, but you can surely find at least one good quality in you. Pick just one such characteristic that makes you feel happy about yourself and start loving yourself for possessing that attribute. Once you start focusing on your good qualities, you will discover several of them that you can truly admire. Can you love yourself for all these qualities? Sure, you can.

Now approach a close friend/relative/colleague and ask them what they like about you the most. In return you too can tell them what you like about them. That will balance the scale! You may already know what it is that they like about you or their answer may come as a surprise but you can surely add that point to your growing list of 'things I love myself for'.

Loving ourselves is important because we can genuinely love others only when we learn to love ourselves, and the vibration of love is something that the planet needs the most in this time of its history. Loving ourselves raises our energies to a new level. It suffuses us with love and compassion for others. This overflow of love gets absorbed by the dirt of the earth and affects the future generations that come out of this dirt. Can you imagine the profoundness of this action of yours? Don't you think it is worth loving yourself?

If your answer is 'yes', pat your back, for you have managed to raise the vibration of Planet Earth! Gaia is sure to convey her gratitude to you!

See more articles on Personal Growth at : http://www.lifepositive.com/articles/PersonalGrowt