Personal Growth - Embrace abundance
by Chitra Jha
Scarcity-consciousness has created a culture of greed and corruption that has plunged us into a global crisis. Only recognising and living in the abundance of the Universe will save our civilisation, feels Chitra Jha

Download PDF Format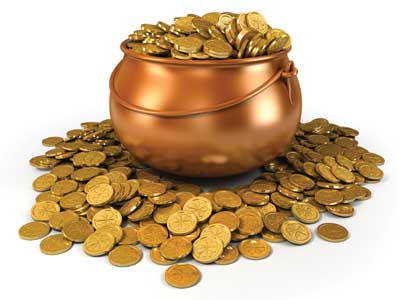 Money, money, money, must be funny, in the rich man's world. Ahhha-aha. All the things I could do, if I had a little money; it's a rich man's world.' The lines of the famous ABBA song from the '70s seemed so right, but one is not too sure anymore. The current financial crisis has made us think some more about this so-called all-important aspect of our existence. Human beings have been in existence for millions of years, but when did money arrive on the scene? It is a relatively recent phenomenon. People lived quite happily bartering their goods and services, before money was invented as a means of exchange. When did money assume this all-important role? Who empowered it? Nature has provided us the most important ingredients for our survival, the sun, fresh air, water, fruits, grains, materials to build shelters, and clothing, all free. Yes, we were given all of it for free, so that we could pay attention to using our gift of free will, and create beauty and joy on Earth. Did God want his most fascinating creation – man – to struggle from morning until night, doing mundane jobs that he was not even enthusiastic about, just to bring food home? Was this the divine plan for children of God?

Lack and limitation

We have become what we have become, because somewhere during our growth, we started believing that we are only our physical bodies, and this physical plane is the only reality that exists. What a distorted perception! With this distorted perception, we started believing in lack and limitations of all sorts. We forgot that our belief is creative, and hence we kept creating more of what we did not want, lack and limitation.
| | | |
| --- | --- | --- |
| | | |
| | We lost faith in the infi nite abundance of God, and became fearful of survival | |
| | | |
We lost faith in the infinite abundance of God, and became fearful of survival. In fact, survival became the key word. Darwin's Theory of Survival of the Fittest, made us believe in the 'survival of the mightiest, smartest, and richest.' Somewhere along the line, we were convinced that there was not enough to go around for everyone, and then started the rat race for everything, right from educational opportunities, to jobs, money, and leisurely lifestyles. Money became the operating software of our planet.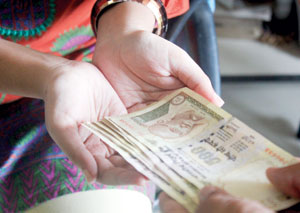 The exchange of money is the exchange of energy.
Allowing it to flow freely increases its supply in our lives.
Soon we started hoarding things, including money. This mentality further blocked God's abundance from reaching us. Since our thoughts create our reality, our fear-based, scarcity-based thoughts, created exactly that. So much so that we influenced the planet we inhabited in an adverse manner. We created inclement weather conditions, droughts, famines, and plagues. We created all of it, with our constant thoughts of lack and hoarding. Soon we fell into a vicious cycle of our own making. The more we hoarded, the less there was to go around, and the more afraid we became, leading us to hoard more. Belief in 'saving for a rainy day,' brought more rain into our lives.
Greed and selfishness became humanity's buzzwords. We were convinced that these traits were essential for survival. This mindset led to wars over food, water, land, and natural resources, which nature had intended to give free to all its partners. We started 'buying' things that were meant to be free. This resulted in confusion and chaos. Our egos convinced us that in order to survive we could lie, steal, cheat, and kill. All was fair in this game of one-upmanship over others.
Crisis time
Therefore, now when we look at the global economy, or what remains of it, we see the handiwork of our fear and greed-based consciousness. Our belief in shortage and limitation has led to widespread corruption, violence, and moral ineptitude. No area of our lives, no institution made by man has been spared. Look around you, this malaise has taken over our government, military, police, financial institutions, corporate world, insurance companies, medical services, pharmaceuticals, religious organisations, educational institutions, NGOs, and of course, the backbone of any society – the individual. Where do we go from here? Whom do we trust? To get out of this mess, we need to strike at the root of the problem. Our belief system based on fear, greed, lack, and limitation, needs to change. We need to move away from poverty and consciousness of shortage. We need to take back our power from the hands of our ego. We need to reclaim our inheritance of abundance. It is critical for our survival to do so. The good news is that the current global crisis is making us think about it. The total collapse of our current corruption- and greed-based systems is the darkness before the dawn. It is part of the cleansing, the healing. The old systems are disintegrating, so that we can build new systems based on new consciousness.
New consciousness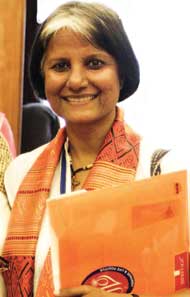 Chitra Jha is a healer, writer and
self-transformation coach. She has
authored the best-seller, Achieve
Achieve your Highest Potential Be the
Best You Can be published by Penguin
India."
We need to create a new consciousness through our new thoughts, words, feelings, beliefs, and actions. We need to understand that there is infinite supply of all that we need. Once we understand and internalise this truth, we are connected with the limitless flow of God's abundance. It is our birthright to claim this abundance. However, before we do that, we need to understand the role of money in our lives. First of all, we need to eliminate all the negativity, all the fear, and all the greed, which we associate with money. Money is just a source of energy, and we need to respect it for that. That is all. We cannot let it rule our lives. The moment we stop fearing for our survival, money will lose its hold on us.
We need to change our focus. We need to stop worrying about not enough money. Instead, we must start being grateful for the money (and all of energy), which we have in our lives. Gratitude works like a magnet. Try it. It brings more of what you are grateful for in your life. Do an experiment with money. Every time you spend any money to buy anything, bless it with love and gratefulness, for letting you buy it. Spend it without any fear or attachment. Know that it is just a source of energy. Let it go easily and freely. You will soon discover that money goes out, expands, and returns to you.
On the other hand, if you spend it grudgingly, cursing the high cost of everything, fearing the loss of it, you will get back more of these energies. You will simply block the current of the currency. You are familiar with such a situation, and it is what you have been doing all along. Now try the other method. Let the energy of money energise your life.
See more articles on Personal Growth :
http://www.lifepositive.com/Articles/PersonalGrowth