Personal Growth - Enlightening the mirror
The process of teaching concludes in illumination for the teacher, says Jamuna Rangachari

Download PDF Format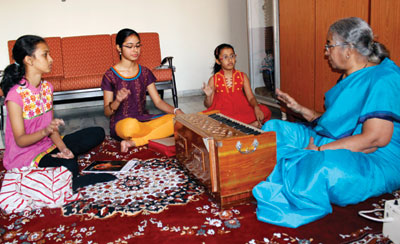 A good teacher is, above all, a lifelong learner. It is, after all, the ones that are curious and open to insight who are able to communicate most effectively the magical experience of learning. Years ago, when my teenager Siddart was but a child, I learnt an important lesson in the art of teaching. Before I read out a story to him like Puss in Boots, I made it a point to show him pictures of the characters. "Amma," he told me. "I will only see the characters if I like them. Please tell me the story before you share the characters with me." My kid was telling me that characters made no sense to him unless he knew the context in which they appeared – the story! The story was of paramount importance, the explanations were not!

This is not the only time I saw the teacher, who is supposedly superior to the student, being taught by the student.

Mrs Shivaprasad, my music teacher from Mumbai, was excellent at bhajans and classical music, and many mothers approached her to teach their offspring. One little girl, though, decided that she would not sing the songs that were taught in rote to others at her level. She would listen to all the songs and choose the ones that appealed the most to her.

The teacher found the request rather unusual but decided to let the girl begin her musical training as she pleased under her supervision. The child turned out to be a natural who surprised the teacher with the depth and speed of her learning.

The method made sense to Mrs Shivprasad, who went on to pay more attention to listening and less to notes. "It makes sense to listen carefully. Moreover, learning as well as teaching music should always be joyful," she explained.

Uday Acharya, a Vedanta teacher from Mumbai, says, "When I was a young student of Vedanta, I would only discuss my doubts with my friends because I could not muster the courage to talk to my teachers. When I wondered how I could overcome this hurdle, a good friend and colleague gave me a valuable piece of advice. She advised me not to attempt to prove my point but instead to simply present my questions as they were."

The friend's advice changed his approach to learning and to teaching as well. In Swami Chinmayananda's words, the idea is to tell, and not teach, a story. "This approach has helped me relax and present the subject in simple ways, using examples to make my point and using hand symbols and gestures in an effective way. Now, as a teacher, I always encourage discussion," says Uday Acharya.

Face it!

Once, a student of Acharya asked him why he used the second person plural (In sentences like 'we did this' or 'our college days') when he really should use the first person singular 'I' (As in 'I did this' or 'My college days'). She pointed out that it was not appropriate to include others in situations when talking only about oneself.

He pondered over the matter and realised that he only needed to include others in examples when the experience being referred to was a shared one. "It made me aware how habituated I had become to unconscious ways of thinking and behaviour. The experience taught me a more assertive way of communication. I began to take responsibility for my experiences and actions and stopped hiding behind group identities."

Thus yet again did the teacher become the taught.

Seamless connections

Shameem Akhtar, a yoga teacher from Mumbai, acknowledges that her learning, practice and teaching are deeply connected. "When I teach, I learn again and I am spurred into practising more. This connection keeps my personal practice strong. I believe that it would be near impossible for me at least to imagine I can teach yoga unless my practice keeps moving ahead and growing.
The task of teaching another compels one towards mastery of the chosen subject. Not only must you understand the subject, you have to be so good at it that you are able to simplify it so others understand.
Harvinder Kaur, director, ICIE, Sri Aurobindo Society, Pondicherry
For instance, the poorna cobra is a pose I still cannot do simply because I learnt it late in life. However, I find that if I practice it to the best of my ability, I can still teach it to kids who have never tried it, but are flexible and young. I discover that they can do it perfectly."
KG Chari, professor of management and
technology
at Mumbai, says he has learnt a lot about the Indian economy and processes like customer
relationship
management thanks to his students. Once a student entered into a debate with him and was able to conclusively prove his point of view. "This taught me not just that my students could teach me by
sharing
their points of view but that I should prepare before a class."
True learning is not possible unless one sets the ego aside.
The fact is that the student is as important, if not more important to the teacher, than the teacher is to the student. Learning especially happens when one discards the ego. Humility is paramount for those who wish to drink from the fountain of knowledge.
Shameem says the only way she can remain relevant to her students is by learning, learning, learning. "It is what helps me to teach in a manner that makes my students do better than me. Some of my students can execute asanas to classical perfection even though my own lift is small due to my late entry into yoga. I believe I am able to communicate some poses to my students simply by keeping on attempting them."
Psychology speak
Ameeta Shah, a psychologist from Mumbai, says, "There is no doubt that teaching is the best way to learn. When you are teaching you need to organise your own thoughts and understanding and search for ways to present it to the other in a way that is easy and clear. Listening closely to the person you are coaching or facilitating seems the key to one's own learning."
Shah recalls a session where a participant discovered that tact would improve her relationships but feared that being tactful would make others ride roughshod over her.
"As we probed on, to my amazement and to others in the group, she discovered that in the two role plays she enacted in her mind, her forthrightness was the cause for breakdown in many of her relationships and it was tact that enabled her to express her feelings and thoughts freely in good humour and without offending the other!" says Shah, who says the session gave her insights that helped her achieve breakthroughs in her own life.
Uday Acharya says his student, Lalita's, single-pointed devotion to complex Vedantic subjects like ishta siddhi inspired him to give more time, attention and energy to the study of advanced texts that he would have ignored otherwise.
"The task of teaching another compels one towards mastery of the chosen subject – at least to a reasonable degree. Not only must you understand the subject, you have to be so good at it that you are able to simplify it so others understand. Truly, only a master can simplify," says Harvinder Kaur, director, India Council for Integral Education,
Sri Aurobindo
Society, Pondicherry. "When I take workshops, even though the facilitator is often seen as the 'giver' in a sense, yet with every such experience I have found myself incredibly enriched," adds Kaur, who shares that she has transitioned from a bookish, academic stance. "While doing my M.Ed in epistemology my approach was bookish and cerebral, under the pressure of deadlines laid by the university. Years later, when I had to teach epistemology in simple terms to teenagers and to teachers, I had to come up with a variety of ways that would make it accessible to the teenage mind. That was a challenge and in meeting it, came the opportunity for huge growth and clarity," Kaur explains.
It follows then that the teacher who is also a student will always be a better teacher. Partaking in the pool of knowledge between teacher and taught ensures not just that the teacher learns too, but that the students teach too. An atmosphere of mutual respect and collaboration is thus cultivated which is surely a potent space for learning. When the teacher lets go of her position, she becomes a better teacher. Something to think about, surely?
See more articles on
Personal Growth
:
http://www.lifepositive.com/Articles/PersonalGrowth