Personal Growth - Enough, already
Contentment is the peace we earn if we excel in the school of life; it is the cup that life's victors hold. What stops this sublime quality from seeping into our lives and how can we attain it?

Download PDF Format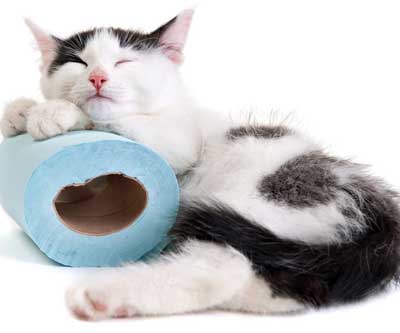 Francis Carvalho is my medical insurance agent. In all my years of dealing with him, I have never seen him lose his cool even when I have raved and ranted about the steep rise in the cost of medical insurance. Instead, his response is that despite having to fork out a steep sum for his policy, he has always breathed a silent prayer of gratitude to God every year because he did not have occasion to use it.

Contentment. It is all about perspective. It is about seeing the silver lining in the dark clouds. It is about gratitude for what one has been given. It is about trust that one will be taken care of. It is about stanching the bottomless thirst for more and more, and resting in the moment. It is an important constituent of happiness, for without it, there is no lasting joy.

Contentment can seem like a milk and water quality but anyone who has striven for it will know how hard won it is. It is the quiet harbour that we slip into if we have triumphed over the storms of our life. It is the peace we earn if we excel in the school of life.


"Contentment means being equally happy with the chicken I ate on Sunday and with the karela (bitter gourd) I will eat today (Monday)."
Francis Carvalho, medical insurance agent
Francis, a bespectacled 50-something, usually dressed formally in full sleeves and trousers, puts it succinctly. "Contentment means being equally happy with the chicken I ate on Sunday and with the karela (bitter gourd) I will eat today (Monday)." Chicken and karela – culinary polar opposites – brought together by the sauce of contentment.
Ankur Gupta, who describes himself as a maverick techie, defines contentment as a dynamic state of balance that is attuned to the vagaries of life. "It is an unconditional state of happiness," he says. For Ankur, growing freedom from material desires is spiking his contentment quotient. "I started my career with Johnson and Johnson," says this BITS Pilani-IIM alumni. "I have had tea costing Rs 400 at the Hotel Taj Mahal and tea costing Rs 4 at an Irani place. At the end of the day, I prefer the four-rupee tea!"
After three years of working in an MNC, Ankur found he could not
work
under anyone and "chose to be a free bird."
The loss of income or status has never caused him a moment of regret. "The biggest advantage of being my own boss comes from the width and depth of the areas I have explored," says Ankur, who, apart from holding management training workshops, has written several books including interactive electronic story books, specialises in fractal art and is passionate about multiple intelligence.
To the manner born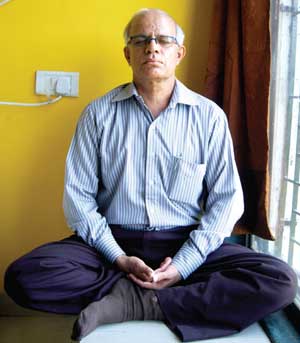 Francis Carvalho gets in touch with his source of bottomless
contentment
Rachna Bhatt, a housewife based in Gandhinagar, is one of the lucky few who appear to have been to the manner born.
"Even as a child of four or five years I never threw tantrums nor hankered after toys or chocolates like other children. Instead,
sharing
and giving away things to people who needed them more than I did, gave me untold joy even at that tender age." She attributes it to having been born near the world-renowned dargah of Ajmer Sharif, and says that she sometimes feels like a 1000-year-old Sufi.
Jatin Shah, a 50-something businessman drives a high-end SUV and occupies a three-bedroom apartment in upscale Lokhandwala, in Mumbai's suburb of Andheri. Yet he too exudes that same soothing tincture of contentment that Francis does. An amiable smile on his face, he emanates alertness with deep relaxation, a quality that provoked his neighbour to remark as we were going down his building lift together. "You are the happiest of men", to which Mr Shah tranquilly agreed.
"It does not make sense to be discontented because no matter how much you crave, you will only get what is written in your destiny. So it is better to be rational and balanced."
Jatin Shah, businessman
What makes him so contented? With admirable common sense, he retorts, "It does not make sense to be discontented because no matter how much you crave, you will only get what is written in your destiny. So it is better to be rational and balanced."
He has arrived at a unique mathematical equation to enable us to awaken to the reality of how much we actually need as opposed to how much we want. He says, "A 56-year-old friend of mine was depressed because he had lost some Rs four or five crores in the stock market. I asked him how many crores he had left, to which he responded that he had Rs 15 crores. When I found that his monthly expenditure was Rs 50, 000, I made him see that even if he lived for 33 years on the same expenditure, he would not spend more than Rs 2 crores. He cheered up when I pointed this out to him."
Wah wah, you want to say. How come this logic eludes the vast majority of humanity as we struggle, strive, flip flop, struggle some more, or skydive into despair?
Inner lack
There are, of course, many reasons why contentment eludes most of us but the root cause of the malaise is spiritual.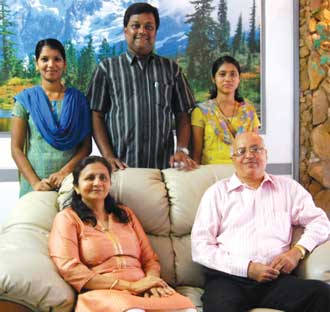 Jatin Shah and his wife Pragna with their two maids, Shila and Deepa,
and driver Farookh
Discontentment is a symptom of our alienation from Source, and consequently, with our own true self. Lacking the knowledge that we are part of the Creator and therefore whole, perfect and complete, we suffer from a dreadful sense of inner lack. Like the musk deer that looks in vain for the fragrance that is his own nature, we are programmed to search frantically outside for what will fill our emptiness, our craving, our sense of something missing, never dreaming that these things lie within. We look for them in fame, power, fortune; in
love
and in relationships. Through achievements and honours. Our emptiness gets filled temporarily when we achieve these things. But fears and worries about whether they will last poison our
happiness
and we are back in the same situation, riven with want, biting our finger nails with anxiety; longing, longing for the elusive something that will appease us.
The sense of inner lack gets even more accentuated when we suffer from poor self-esteem. Not being able to love, accept or trust yourself makes you dreadfully dependent on the outside world for your happiness.
As someone whose self-esteem has been very low, I desperately looked outside at my family and friends to give me the positive strokes I needed to feel good about myself. For instance, in order to give of my best as a writer, I needed plenty of praise.
| | | |
| --- | --- | --- |
| | | |
| | When we are contented we are dynamically at rest, motivated to live gloriously but driven by nothing. | |
| | | |
I got that from my editors but when I myself became an editor, there was no one to tell me that I wrote well. As a consequence, I went through bouts of severe self-doubt which only began receding when I began my inner
work
of
healing
and repairing my sense of self-worth.
Depending on the outside world for our
happiness
is one of our chief causes of discontentment because there is no guarantee that the world will give it to us; or once given, it will not take it back. For impermanence is the
nature
of the material world and any
peace
based on externalities is founded on an uncertain foundation.
Insecurity
Another consequence of being out of touch with our true self is insecurity. Without the knowledge that we are whole and perfect, or lacking the perfect certainty of surrender, we have no power to counteract against the awful uncertainties of life. Therefore we try and appease our fear by stockpiling
money
and possessions, hedging our bets and refusing to engage with the unknown. Fear of the future drives all our action, and fills us with anxiety, and restlessness. It compels us to amass more and more. Nothing is ever enough because insecurity is a state of mind not open to reason.
A close friend who is getting on in years finds herself getting increasingly fretful every summer when water shortage reduces the water supply to her flat to an hour in the morning and half-an-hour in the evening. With anxiety writ on her face she scuttles about filling every possible container even though she and her daughter are not in need of much water.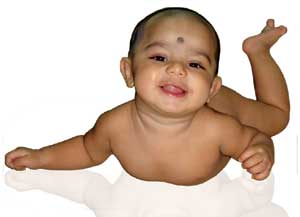 Babies are natural containers of contentment
The same friend has been left comfortably off by her late husband but leads a most straitened existence. Why? "I don't know what the future will bring," she says worriedly. I too, have been a great victim to financial and every other form of insecurity. However, that did not stop me from letting go of a secure job in a mainstream magazine to join
Life
Positive when it was a start-up. I had also decided, rather daringly, to buy a house around the same time as I joined the magazine. Almost half my income went towards paying my EMI. My mother and I went through hard times but I never had to renege on my EMI for even a month.
Money
came from the most unexpected of sources.
Two years ago my mother suffered from a stroke and became paralysed. Among the many issues it threw up was financial anxiety. Caring for a bedridden invalid is an expensive affair and I was not making the sort of
money
that would enable me to afford it. In the most amazing way Providence stepped in and members of my family, including uncles, aunts, even nephews and nieces, chipped in and helped me sail through the first year without my having to ask anyone for anything at all. All these experiences have taught me how miraculously one is looked after and that it is safe to trust the Universe. I may not yet be in the zone of contentment, but faith is gradually leaching away my insecurity.
Tune in
So how can our sense of inner lack and existential insecurity be stanched? Only by tuning within.
Says Francis, "When I was young, I too was driven by the need to make money. It made me change several jobs and I even went to the Gulf. I was not happy there for I had to
work
from nine to nine and undergo severe
stress
at work. I returned to India in 1997.
"I started my career with Johnson and Johnson, I have had tea costing Rs 400 at the Hotel Taj Mahal and tea costing Rs 4 at an Irani place. At the end of the day, I prefer the four-rupee tea!"
Ankur Gupta, maverick techie
In 2000, I attended a
meditation
session at a Catholic retreat centre called Atma Darshan. In the stillness of the mind and body, I realised that I could be happy with whatever I had. I did not need to compare myself with others."
Says CV Subhash, a banker based in the Middle East, "My meeting with Sathya Sai Baba transformed me from a rationalist/communist to someone who has been striving to live up to his two greatest teachings: Help ever, hurt never; and
Love
all, serve all. And through this I have learnt to become more and more content."
Moving into our inner world through meditation, chanting,
yoga
or self-inquiry, we become intimately aware of the psychological and emotional blocks that drive our needs and desires. The more we become aware of this inner world of ours and the more we come to terms with it, the more mastery we gain over it. Awareness and acceptance of ourselves helps us to heal our self-esteem too and we stop deriving our self-worth from achievements or status.
Neelam Sethi, a follower of Nirmala Devi's Sahaj Marg, admits to have been born into a contented family but her advent into spirituality speeded up her contentment quotient. She says, "When I come across people who have more than me I feel genuinely happy for them. Very rarely have I been racked by feelings of envy or jealousy. We all come into this material existence with a karmic baggage and each has his or her share to
work
off."
Ankur, a follower of Osho, says that spirituality is helping him to hone his needs to the essential. He adds, "Suddenly, one day I realised that I had too many shirts and trousers. I have now kept only five to seven shirts and
"One day I realised that I had too many shirts and trousers. I have now kept only five to seven shirts and an equal number of trousers for everyday use. This simple thing has made me so contented."
Ankur Gupta, maverick techie
an equal number of trousers for everyday usage. I mean to wear the rest only when these are worn out. This simple thing has made me so very contented."
He adds, "I am a great Apple fan and I used to own three or four Macintosh computers at a time. Now I wait for the old one to wear out to replace it. All my friends own a plasma TV but I do not intend to replace my TV because it is working fine."
Through the spiritual perspective we can overcome one of the greatest obstacles to contentment which is the urge to compare. "Chasing what you don't have causes comparison," says Ankur.
Suggests Rachna, "Eliminating the feeling of competition with others will put our agitated mind to rest. When we compete only with ourselves, we can relax."
What ads do
Perhaps in this context it might be worth mentioning that the single most important reason for the widespread discontent in society today is the existence of advertisements whose sole purpose appears to be to create an inner lack so that we are vulnerable to buying their products. Like the serpent whispering to Eve, they insidiously suggest how inadequate we are without the latest model of car or mobile or brand of clothing and so on. They compel us to look at what we do not have and therefore have us by our short hairs.
It follows then that in order to be contented, we must look at what we have instead of what we do not.
Ankur agrees, "Gratitude is key to contentment. It is better to want what you have rather than chase what you don't have."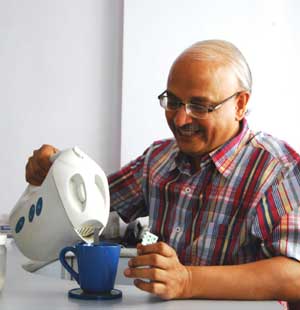 Ankur Gupta brews himself a contented cup of green tea
Rachna appears to have taken this learning to heart. Says she, "When my husband had a
heart
attack my first reaction was, 'Why me? But then I realised, why not me? I am not above the natural law. And it could have been worse! At least we were given a warning and let off. So many did not survive them or suffered from worse incurable diseases such as cancer or AIDS!
Rachna's buoyancy helped her confront even death. "When my mother passed away, I just could not accept it for a year. I thought of
seeking
a shrink's help but I realised that he wasn't going to tell me anything that I already did not know. I realised that
death
is inevitable and non-negotiable for mortals! And here I am as cheerful as ever!"
Adds Osho, "Contentment includes gratitude: God, Your will is wonderful. How much You have given me… It is attained only by glorious victors; it is worthy of heroes. Mahavir says that only jinas, those who have conquered everything, can attain contentment."
Perhaps another key realisation on the journey to contentment is the futility of desire. Swami Sivananda the founder of the Divine
Life
Society, Rishikesh, puts his finger on the nail of the problem, "There is no end of craving. Hence contentment alone is the best way to happiness. Therefore, acquire contentment."
I used to once think I would not want to die until I had read all the great books in the world and seen all the wonderful films as well. Now I realise, as Swami Sivananda says, that there is no end to craving and have started addressing myself to letting go of desires rather than attempting to fulfil them.
Jaya Row, the well-known
Vedanta
teacher, gives a talk addressed Desire: Friend or Foe? In this she observes that the number of desires fulfilled divided by the number of desires harboured will give us the sum total of our
happiness
or contentment. Which means we can either increase the number of desires fulfilled or reduce the number of desires harboured. The less the desires, the higher our
happiness
quotient.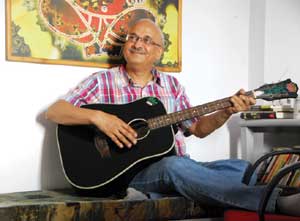 Rishi Prabhakar, the founder of Sidhi Samadhi Yoga, once gave a telling example to illustrate the point. He asked us to consider the experience of eating a laddoo. The first is delicious and so is the second and perhaps the third. But if we were to continue eating the laddoos we would soon find that far from enjoying them, we would be facing a distinct sense of discomfort and even nausea. If
happiness
lies in having more and more, would it not be logical to expect that the more the laddoos, the greater the happiness? However, he points out, the reverse is true. What holds true for laddoos holds true for everything in the material realm.
But does contentment breed complacency? Are we simply tempted to sink into the vast bog of inactivity?
Not at all. Without the restlessness that drives us and stops us from really giving ourselves fully to any project, the quiet stability of contentment provides the perfect anchor to launch us into higher and higher realms of achievement.
Says Francis, "I
work
to the very best of my capacity. I spend one hour bonding with the client before collecting the cheque. Earlier, I would collect the cheque and run." He adds, "I am getting more and more business because my clients refer me to their friends. Despite reducing my workload by 50 per cent, my income has increased by 25 per cent."
With the true freedom of the contented man, Francis uses his free time to pursue his passion for spiritual and
personal growth
as well as take frequent breaks to his native Goa.
"We cannot forget that our comfort is obtained by their labour. Without them how much running around we would have to do! They all deserve a greater part of your wealth."
Jatin Shah
"I
work
for the first half of the day and the second half I go to Help library (a medical library based in South Mumbai) and attend their courses on alternative
healing
therapies and other subjects," says Francis. "And again, I
work
for the first half of the month and participate in retreats for the second half."
Clearly, contentment frees you to pursue your own authentic agendas rather than be consumed with trying to fulfil society's or our family's.
Ankur too has reinvented his
life
into a unique pattern. His inner contentment has enabled him to drop the need to keep up appearances or project an image. Despite having a 1000-sq ft office, he keeps no staff. Says he, "I clean up my own office and keep an electric kettle in which I brew endless cups of my favourite green tea. My banking is online so I don't need a peon, and there is always the courier service."
With contentment also comes generosity. When you no longer need to hold on, you become willing to give. Jatin Shah and his wife, Pragna, embody this. Says he, "Whoever you come across in
life
is because of destiny. If
God
gives you money, why not share with them also instead of keeping it all for your children?" Mr Shah never sells any of his old gadgets even though they are well-maintained. He gives them away to his office or domestic staff. His housemaids are given a bonus of Rs 50,000 when they complete five years of service. Recently, his wife flew both their pretty young maids to Ahmedabad for a day to give them the experience of flying. "I gave them a thali lunch, took them to the zoo, went for a hot balloon ride, saw the musical fountains and rode the mini train," she smiles.
The girls are denied nothing, be it sweets, chocolates, or pricey alphonso mangoes. Mrs Shah happily takes them to see movies or for a mall crawl. After the photo session, the couple treated us to a wonderful repast of Gujju delicacies and their driver, who has been with them for years, was invited to join us.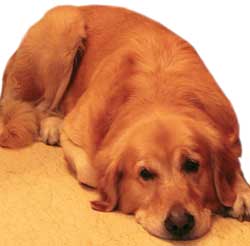 Movingly, Mr Shah observes, "We cannot forget that our comfort is obtained by their labour. Without them how much running around we would have to do! Even your own son and daughter cannot give you as much as comfort as they do. They all deserve a greater part of your wealth."
What a wonderful point of view. And could it ever have been arrived at without a contented heart?
Francis too believes in reserving 10 per cent of his income for God, which he interprets also to mean auto drivers, taxi drivers and so on. He says, "I once travelled with a taxi driver who was very upset because he had jumped the signal and the traffic policeman had taken Rs 50 from him. I heard him out patiently and when I alighted I gave him Rs 25 in addition to my fare. He was so happy." He adds, "When I am taking an auto and someone asks if they can share it with me, I happily oblige".
Shah too, relaxed thought he is, stays alert for new business opportunities. His mind is presently on a
New Age
health
resort he wants to set up somewhere in the outskirts of Mumbai.
When we are contented we are dynamically at rest, motivated to live gloriously but driven by nothing. Contentment gives us the reins to our lives and helps us to forge our own passage through
life
unhindered or hampered by societal directives or needs. It enables us to lead authentic and deeply fulfilling lives that are a blessing to us and to those around us.
See more articles on
Personal Growth
:
http://www.lifepositive.com/Articles/PersonalGrowth
Reader's Comments


Subject: contenment is the key to happiness. - 16 October 2011
If I am contented with what I posses, I'll be happy; otherwise there will be more pain around our heart- this teaching I have found here. Thanks for this article. It has been highly motivational.
by: Nurul Islam Lablu

Subject: enough, already - 28 September 2011
so simple and so true. there is always much to be grateful for.
by: lalitha

Subject: Enough, Already - 7 September 2011
Very relevant topic in today's situation... we need to move from external sources of happiness to internal-contentment. thanks to Live Positive
by: C V Subash

Subject: Enough - 28 August 2011
This is an excellent article. I realised the importance of contenment and now I am truly contended.
by: Sridharan Krishnamurthy