Personal Growth - "Everything is perfect, Everything can be improved"
by Neelam Mehta
The Tao of facilitation programme opens doors to the realisation – what we see in our life is what we are.

Download PDF Format
Books, resources to look for
- Tao of Leadership by John Heider
- Tao of Healing by Haven Trevino
- A Thousand Names for Joy by Byron Katie
- The Open Secret by Tony Parsons
- The Breakthrough Experience
More >>
---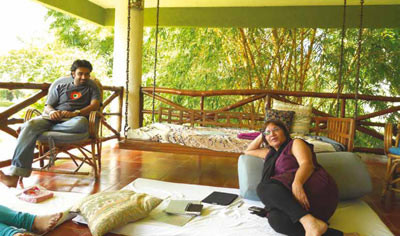 I had enrolled for a programme that went by the title 'Tao of Facilitation' and I had no clue what that meant or what to expect. I Googled 'Tao' and learnt that Tao (pronounced dao) translates as 'the way' or 'the path' and comes from the classic Chinese treatise, Tao Te Ching (pronounced dao de jing) or the path of virtue. "Why 'facilitation'," I asked Kiran Gulrajani, founder of CoEvolve (www.CoEvolve.in) and the facilitator of the programme over the phone, "Is it a trainers' training?" "Well," he replied, "first off, training is a paradigm very different from facilitation – while the former is top-down, the latter is a co-creation. Even though the programme is directed at leaders, facilitation, in the widest sense of the term, is the basis for every interaction – parent-child; husband-wife; teacher-student – every relationship is a mutual facilitation."

Makes perfect sense, I thought and proceeded to pack my bag for destination Pune.

The venue took my breath away – a beautiful farmhouse nestled amidst the low rolling Sahyadari hills! Our block had a large verandah furnished with a swing-divan and floor mattresses, overlooking a lovely garden that seamlessly blended with the banks of a meandering river. This was to be our working space for the next four days.

The group consisted of a soft-spoken HR professional, a soul-worker based out of Goa, a young professional who had recently quit an IT job because he felt 'called' to inspire learning through the medium of theatre; a 21-year-old business-graduate-turned-facilitator; me, a writer, trainer-on-sabbatical, a cancer warrior; and of course Kiran, the democratic captain of the voyage of self-discovery and facilitation we were about to embark upon.

I create my destiny

One of the key takeaways of the TOF (Tao of Facilitation) is the experiential realisation of being the creator of one's own destiny and therefore being the only one responsible for one's happiness. For me, the big 'aha!' came on Day One itself. It was a segment based on Byron Katie's The Work. We were all asked to write on the issue that we wanted to work on. Through a series of questions and exercises, I was able to clearly see that my long-held grouse about my dad's strict upbringing was a fixed viewpoint and that there were several other points that I could view it from. The realisation that a 'problem' is really not a situation but a thought in the head, opened up the possibility of choice in the way I see situations. Rohit, a co-participant, summed up his 'aha' at the end of the session, "I am now able to see that all of life is a reflection of who I am and in many ways, a consequence of what I have attracted towards myself." For the first time, through this exercise, I experienced what I knew – we don't see things as they are, we see them as we are. Taking responsibility is the only way to respond creatively and to operate from an inner freedom. By being proactive instead of reactive, we shift from being the victim of circumstances to creators of our own destiny. Like they say, you are the only problem you will ever have; and you are the only solution.

Deep listening

Listening is the cornerstone of not just communication but also of relationships. A striking new dimension of the segment on listening was 'listening for positive intention'. What this amounts to is getting to the very source of where the other is coming from. Venenkata Shashank, a participant, shares his experience, "The deep listening piece was particularly transforming for me and is quite a key enabler in my professional management consulting career. Being able to hear the deepest positive intention and being able to appreciate one for that is a great skill to acquire. Beginning an enabling conversation from there has proved very effective for me." Keen listening means completely getting the concern of the other person – not just the statement made. "It was in these four days that I learnt and understood what it is to listen," says Shikha. "As a corporate trainer, I obviously knew what listening skills were but not the way it happened here.I realised the gifts I had and how we human beings don't want to explore our own beauty." TOF indeed takes listening to level next – from the domain of communication skill to the realm of relating.

Be eco-logical

Another key segment of Tao of Facilitation dealt with the emerging new world order where a leader is a facilitator. Facilitation is about letting go of the 'ego-logical' view and embracing an 'eco-logical' view of the world. In sync with this line of thinking, participants were invited to view organisations as organic ecologies as opposed to rigid,
''We are so busy trying to prove we are okay that we forget we are magnificent."
– Gay Hendricks
regimental powerhouses. It was made clear that leadership is no longer about hierarchy where the person at the top has all the power – it is about being connected. In the new paradigm, the person who is most connected to other people has maximum impact. The Industrial Age, which was followed by the Information Age is fast giving way to the Network Age. Integrity, intuition and co-creation are the new rules.
Firms of Endearment
by Raj Sisodia speaks of this shift. Organisations that see themselves as ecologies and take care of all stakeholders instead of excessively focusing only on shareholder wealth have outperformed business-as-usual by 900 per cent. They practice 'conscious leadership' and have a higher purpose.
A new improved me
One leitmotif of the programme had been a quote by Nithya Shanti 'Everything is perfect. Everything can be improved.' The flow of universe is indeed an ever-evolving perfection. It fitted in very well with how I felt about myself at the end of the four days. As one participant very eloquently put it, "There was a certain dance we had all been choreographing and the music for this dance was also composed by us. Some patterns just broke off instantly while others, I knew, would take time."
As John Heider says in Tao of Leadership:
'When you let go of what you have, you receive what you need
When you let go of who you are, you become who you might be.'
See more articles on Personal Growth :
http://www.lifepositive.com/Articles/PersonalGrowth