Personal Growth - Facebook philosopher
by Vijaylakshmi Nadar
Meet Sudhir Krishnan, an unassuming software professional from California turned spiritual messenger, whose Facebook page of inspirational quotes has over a lakh and quarter followers

Download PDF Format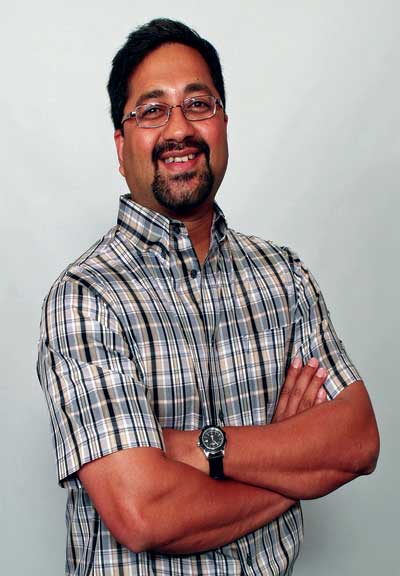 These are just a few of the gems that pop up on Sudhir Krishnan's page every day. Sudhir Krishnan – who? Amazingly, he is no New Age guru, but a bespectacled 30-something software techie based in California, who seems to have stumbled on the spiritual path. And now not only is he enjoying his ride, but motivating others to join him as well, in a rather effortless and fluid manner.

Re-christened as Inspirations by Sudhir Krishnan, his Facebook page has already been liked by a lakh and a quarter Facebookers, less than 11 months after it made an appearance on September 1, 2010. It is, however, way off his target of a million admirers, "out of a whopping 6,697 billion people," on the face of this planet.

Though a lot of Facebookers have an occasional inspirational quote on their wall, Sudhir's page has a quote every single day, which his admirers lap up enthusiastically. On an average, each comment generates about 200 comments, with four times the number pressing the `like' option. Hundreds are signing up every day for their daily dose of inspiration, touching an all-time high of 2000 members just on January 25, reflecting indeed that positivity rules.

Sudhir relies on all kinds of genres for spreading positivity/spirituality on his page, including quotes, comments, stories, videos and songs. To maintain the momentum, he draws inspiration from the works of a 100 plus masters, comprising of Eastern gurus like Ramana Maharishi, Sri Sri Ravi Shankar, Sadhguru Jaggi Vasudev, Meher Baba,
| | | |
| --- | --- | --- |
| | | |
| | Do you go to a lousy movie again and again? Perhaps you left the movie half way through in the first place. Then why play over life's bad experiences over and over again? … Just as you can instantly feel bad by always focussing on bad experiences, you can also instantly feel energised by intentionally focussing on your happiness and success. | |
| | | |
and Western motivational coaches like Jack Canfield, Wayne Dyer, Abraham Hicks, and others. Sudhir started off by quoting them liberally, then graduated to commenting on them, and finally gave wing to his musings.
Interestingly, his journey on the path is not very old. It began as it does for most people with a yen for fitness and self-improvement. "In 2008/2009, when a colleague of mine introduced me to yoga, I assumed I would be doing physical exercises or postures. Little did I realise that physical yoga was only a small part of the course."
The course introduced him to meditation and breathing techniques and also to basic life wisdom. "This was my first introduction to spirituality, less than two and a half years back. I did not consciously get into
| | | |
| --- | --- | --- |
| | | |
| | The people around you are only messengers who deliver your karma to you. Knowingly or unknowingly, it is you who placed the order for your karma – the messengers are merely doing their delivery job. If unhappy with the products (life experience) they delivered, wisdom lies in looking inwards and consciously ordering better products in future | |
| | | |
spirituality to seek freedom from suffering or experience more peace," says the man who has never missed a day of meditation after that. And it set him off on the proverbial path. Not only did this unassuming Tam Brahm from Mumbai voraciously consume all possible sources of wisdom, he also applied them consciously to his life, which is what makes the commentary come alive on his page.
Soon the knowledge distilled into an insight – perhaps the central insight of the spiritual domain. He realised that he himself was responsible for his life. The knowledge helped him sail through the economic meltdown, a taxing time for all software professionals in USA. "I felt no stress relating to the possibility of losing my job. I was naturally grateful for every day I got to work, and felt that even if today were my last day of work, I would feel thankful. I finally knew through my own experience that happiness is about the environment inside, and not about outside situations."
Despite being on the path for such a relatively short period of time, Sudhir was an apt student and his life transformed dramatically. "Life turned more positive and I found much more happiness than before.
| | | |
| --- | --- | --- |
| | | |
| | "A consistently happy and successful life is never a matter of chance. There are patterns of thoughts, beliefs, and actions that successful people do all the time, which less successful people do not. Success leaves clues – if you learn and apply the methods that a successful person employed, you can create the same success in your life as well." | |
| | | |
It made me realise that all these years, I was keeping myself from being happy. My awareness of situations, and of my own thoughts, emotions and actions increased. Now I am able to remain centred in situations which earlier disturbed me," he says.
From someone who habitually used logic to convince and score over others, he learnt to be more empathetic and sympathetic, which helped him to connect better not only with his family but also his colleagues.Compliments flooded his way: "You look happy", "You seem very peaceful", "There is something different about you."
Nine months ago, he brought his personal journey to a public platform when he started writing on the Facebook page. "I literally grew with the page. I learnt what selfless service really means. I learnt what it means to be following one's life purpose. I learnt how ordinary people develop extraordinary strengths. I learnt what following one's heart means. I learnt how we have all been bestowed with unique skills, and need to stop listening to our fears and take action in order to grow. We develop wings only as we learn to fly," says this young man passionately.
With this in mind, he began writing, even though he had never hitherto considered himself possessed of writing skills. "After a few months of writing on my personal Facebook page, I thought
| | | |
| --- | --- | --- |
| | | |
| | "It is way easier and more enjoyable if you go with the flow. In the river of life, row your boat downstream. Whenever you are feeling less than good, you are going upstream – you are pushing hard against the current. Naturally it is a struggle. Know that you can always release the resistance, revert back and have more fun." | |
| | | |
it would be great to create a public Facebook page where I could share spiritual and self-help knowledge, and more like-minded people could join and share their thoughts. Thus the Inspirations page got created in September last year."
The reason for the phenomenal growth of this page has been that instead of long passages of wisdom, all it has are a few lines of inspiration derived from many sources and condensed in a palatable form; a message or two on a daily basis to be mulled over and imbibed.
"Readers' queries help
| | | |
| --- | --- | --- |
| | | |
| | Readers' queries help me contemplate and increase my own understanding of the subject | |
| | | |
me contemplate and increase my own understanding of the subject," he says.
The fact that he is making an impact can be gauged by my own example. I was intrigued when a friend clicked `like' on one of his messages. I opened it out of curiosity and now it has become a daily habit to check on his messages, a quick refresher for what I myself have learnt on the path, plus some more.
See more articles on Personal Growth :
http://www.lifepositive.com/Articles/PersonalGrowth
Reader's Comments


Subject: apreciation. - 14 March 2012
Today-after many days od knowing sudheerji in facebook found his real life journey.its interesting too.each one is unique story if one analyses their life.
by: shobha