Personal Growth - Family bonds
by Aparna Sharma
Our life is a reflection of all that that we have gained in the most primal relation of our lives – our birth family, says Aparna Sharma

Download PDF Format
I grew up in a close knit, warm campus environment. My earliest memories of my childhood are about boasting to schoolmates that I had 13 brothers and nine sisters (counting all the kids in the campus) Being a single child till then, it was, somehow a matter of pride for me to have those imaginary 'bhaiyas' and 'didis'.

Our fondest memories are often of those first years. Author Erma Bombeck recalls: "The family. We were a strange little band of characters trudging through life sharing diseases and toothpaste, coveting one another's desserts, hiding shampoo, borrowing money, locking each other out of our rooms, inflicting pain and kissing to heal it in the same instant, loving, laughing, defending, and trying to figure out the common thread that bound us all together."

For me, personally, my first family is the only place where I am most 'me', without any pretenses, without any images to keep up. I'd say, that this is one unit which allows you to be your best while looking your worst. Want to know what I mean? Look at yourself in any old family portrait!

Family defines us

Our family is the primary determinant of the people we will become. Very often, the relationships forged within a family will be replicated in our life outside. A child who grows up seeing his father scream at his mother, will imbibe the idea that it is okay to scream. In some cases, he may even start relating verbal abuse to marriage or love. Ankita Gupta 23, fashion designer, faced this agonising situation when her boyfriend would shout at her at the slightest provocation one day and act perfectly normal the next. On being asked, he remarked, "Well, we are a couple, aren't we?"

All too often, our relationship with our parents, which constitutes our primal relationship, can have a profound impact on our health, happiness and success. Take the case of Viren Mehrotra 46, a struggling physician based in Mumbai. Viren is from a very well-to-do family, the son of an extremely successful businessman and a very talented physician himself, yet he was unable to make money. On deeper analysis, it was discovered that he had a strained relationship with his father, who, incidentally, personified 'professional success' for Viren. Therefore he subconsciously created a strained relationship with success in his own life.
| | | |
| --- | --- | --- |
|   | |   |
| | People who have lived through a disaster never say, "All I could think about during the earthquake was my bank account." They almost always say, "All I could think about was my wife and children." | |
|   | |   |
After consciously trying to spend more time with his father and making amends, as well as forgiving, Viren eventually developed a whole and complete relationship before his father passed away. Having healed this relationship, for the first time, his mental association with 'success' was also healed. Today, he is a successful physician who also conducts wellness workshops, and is making enough money.
An aspiring actress lost her father at an early age. Her relationship with her mother wasn't very pleasant. She felt that the mother was partial towards her two siblings and resented her for being a girl. She came to Mumbai to try her hand in the glamour industry and lived-in with her boyfriend for five years. The relationship was going nowhere, and every time the topic of marriage came up, they would end up fighting.
When the fights became too frequent, she started working on healing herself, and felt the need to disconnect from him. Having no place to go, she returned home to her mother after many years. Using affirmations and positive thinking, she overcame her initial apprehensions and started to assimilate to the life back home, bonding with her mother as a friend, rather than as a mother. As this bonding gained strength, she received a call from her boyfriend pleading with her to come back. Now the duo are back together, looking forward to their forthcoming marriage this year.
Like it or not, "we all grow up with the weight of history on us. Our ancestors dwell in the attics of our brains as they do in the spiralling chains of knowledge hidden in every cell of our bodies." (Shirley Abbot) In the same way, a healthy family helps us grow right, develop a healthy relationship with ourselves and others and provides a sanctuary for our sadder moments.
Seventh haven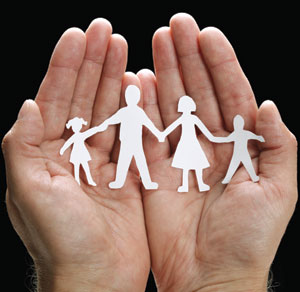 Our birth family is that rock over which the edifice of our lives
is built
For many of us, our family is the safe haven in a world of shifting sands. A family is what will always be there, always watching out for us. Brother will forever be a brother, a mother will forever be a mother, while friends, lovers and even partners can come and go. A home remains a home no matter how long back we left it. Robert Frost says "Home is the place where, when you have to go there, they have to take you in" Lillie D. Shockney, RN Associate Professor, Johns Hopkins School of Medicine, says, "The last sense we lose before dying is our sense of hearing. Many patients have told me that they could hear their mother, spouse, sister telling them to keep fighting and to hold on and that it did inspire them to fight the fight needed to recover. They couldn't open their eyes or communicate to the family member but were thankful for their presence and expressions of love."
Safety net
For us in India the family is the safety net that supports us all when destiny sends us on a free fall. Bankrupt and bereft of a home? Someone in your family will take you in, clothe and feed you until you get back on your feet. Want to leave your village or home town and make a life in the big city? The family will enfold you in its bosom and even if it is a distant cousin or uncle, you may be sure of finding a place. They may do with ill grace; they may secretly grumble but they will do it. Ill and need someone to take care of you? Well, what is the family for? Some family member or other will be there to soothe that fevered brow.
Says Shalini Deshpande, an erstwhile corporate executive (name changed), "When recession hit India in 2008, my company downsized and I was left without a job. I went spinning into a depression and needed hospitalization. I was unable to look after myself. My parents lovingly took me in and my younger sister took me from doctor to doctor until I finally healed. If my family had not come to my aid, I would have perhaps not lived through this episode." In India, thank goodness, you can bank on your family for life.
This too is family
My fondest memories are those of dinners at my Bua's place. Being an only child till then, that 'three kids family' was like magic to me. By the time dinner ended, I would pretend to be asleep, hoping that my parents would leave me there. After they left, we cousins would sit up all night, sharing 'ghost stories' and other magical stuff that only children know of. They were 'family'.
The other time when I again had such all-night nocturnal vigils was with my two flat-mates (Kavita and Ranita) in Delhi, when I was a working woman. When Kavita got engaged, Ranita and I were so distressed, we decided to make the most of the remaining time. What followed was one of the best times of my life, where the three of us would sit up all night, sharing a midnight 'Maggi' on the terrace, under the night sky, chatting and laughing loudly through the night. When Kavita got married, Ranita and I couldn't bear to live in the same house. Both of us left. And once again, I lost a family.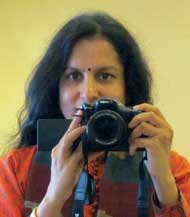 Aparrna Sharma is a writer, amateur
photographer, and above all, a seeker.
An educational consultant by profession,
she is based in Chandigarh, India.
mail:aparnasharmachd@yahoo.com
The warmth of family ties remains with us when all else fails. People who have lived through a disaster never say, "All I could think about during the earthquake was my bank account." They almost always say, "All I could think about was my wife and children.".
Energy healer, Rashmi Menon, 36, says: "Basically all relationship templates in our mind are made in the initial years of our interaction with our parents, or caretakers. The relationship with the primary caretaker (in most cases mother) reflects in our romantic relationships, while that with the secondary caretaker (in most cases father) is reflected in our relationship with money/career. By making amendments to those templates which are no longer working – either via therapy or via practical effort, huge changes can be reflected in the present-day scenario."
So let us give thanks to the family. Yes, some members can be maddening; yes, they can be dominating and rule our lives. But they belong to us and we belong to them. And in this world of separation, where each of us is alone, it is the family that bridges the aloneness and makes us one.
See more articles on Personal Growth :
http://www.lifepositive.com/Articles/PersonalGrowth