Personal Growth - Five secrets of fulfilling relationships
by Sri Sri Ravi Shankar
World guru Sri Sri Ravi Shankar unravels the secrets of nurturing and maintaining a relationship

Download PDF Format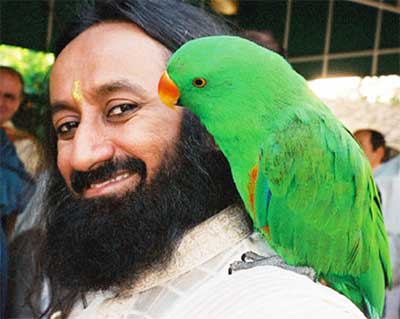 What are the secrets of a relationship? How does a relationship develop? First is the attraction. But, if you get what you are attracted to too easily, the charm goes away. However, if it becomes just a little bit difficult to have what you are attracted to, then you develop love for it. What happens when you fall in love? When you love someone, you give yourself to that relationship, and start making demands on that relationship. The moment you start demanding, love diminishes. Then you say, "Oh! I have made a mistake." Now there is struggle and pain to get out of it. And after you have got out of it, you get into one more, another one, and the story repeats.

The golden three

The way to make relationships long-lasting is through the right perception, the right observation, and the right expression. Often people say that nobody understands them. Instead, you can say that you have not expressed yourself properly. To express yourself properly, you need proper perception, and that can happen only when you put yourself in the shoes of the other person. Then you need the right observation. The way you react when you perceive something is important. Observe your sensation, tendencies, and patterns. Life is a lesson of just three things – perception, observation, and expression. Every mistake you make is really not a mistake; it is a learning process of the three vital aspects of life.

So, the first secret of relationships is to widen our lens of perception and accommodate others' behaviour, instead of blaming them. If someone is grumpy or a little finicky in his or her relationships, we just hold him or her responsible for the behaviour. But if we see from a wider perspective, many aspects will come together. When people are working for nine to ten hours, they may be upset with something that happened, and they come home to find solace. At that time, you should see the circumstance, situation, and allow them the space to express their frustration or anger.
| | | |
| --- | --- | --- |
|   | |   |
| | Life is a lesson of just these three things: perception, observation, and expression. | |
|   | |   |
When someone is undergoing labour pain, and if you say, 'Don't deliver, keep it, keep it, keep the baby inside.' What can they do? How long can they keep it inside? So allow them to express and offload. Try to understand why they are upset or unhappy. If you expect them not to say anything, be nice to you 24 hours every day, and 365 days in a year, or if you find fault with them saying, 'You are useless, you are hopeless', what will they do? They find that they have no support, and they get depressed. Therefore, you should interact with others, not only through their words and actions, but also from a broader perspective.
Give with a smile
The second thing in a relationship is to give. Relationship means giving, but at the same time leaving some room for the other partner to give. Love involves an exchange. And that can happen only when you give the partner an opportunity also to do something to you. This needs a little skill – to make the other also contribute without demanding. If you demand, the relationship is not going to last long. Demand and blame destroy love. Then, if your partner does not do something that you want to do, then you will get into the self-pitying mode "I do everything. I have been used." The feeling "I am being used" should be taken out of our consciousness. For love to blossom, self-worth is essential. You should only know how to praise others and uplift a situation instead of finding fault. Any problem in life should be handled with style and a smile.
Advice for women:
Never step on the ego of your man or say he is good for nothing. If you do so, he will become one. Always praise and shower him with compliments.
Advice for men:
Never step on a woman's emotions, or insult her family. She may complain about them, but you should be quiet.
Advice for both:
Never ask for proof of someone's love for you. Do not ask each other, "Do you really love me? Even if you find something lacking just say, "Why do you love me so much?" Take it for granted. Even if the spring has died out, it will start again.
Spaces in togetherness
The third aspect of relationships is to give them space. When you do not give people any breathing space, they will suffocate. And suffocation destroys love. The ancient people knew this. So they had a tradition of sending the wife to her parental home once every year. This separation creates longing. If there is no longing in your relationship then love will not grow.
The fourth aspect in a relationship is that it should be treated as a dessert, not as a main course. If your life is based on some goal, then relationship will move along. If all your focus is just on the relationship, it will not work. You cannot have a dessert for your main course, can you?
The fifth aspect is to understand your own self, your own mind, and to be calm, not feverish. Only then, your charm becomes long-lasting. Take some time off and go within your silence, and you will see the strength that comes from within you. From that, your charm becomes eternal, and your love becomes unconditional. If you meditate even for half an hour in a week, you can eliminate these negative emotions and make your presence come alive. The nearer a person comes to you, the more charm there is. That is the nature of our consciousness.
A relationship is like two wheels moving together. It needs attention and effort. We should not allow our love to grow old. The highest mortality rate in our society today is that of love. The strength of a relationship lies in the ability to accommodate rough patches. How well you handle it, gives you skills. See the situation as an opportunity on how to adapt, be accommodating, understanding, and considerate. Excel in exhibiting your character rather than changing the other person. If the relationship comes from the space of giving rather than need, it is a good quality relationship.
Follow Sri Sri @SriSriSpeaks on twitter
See more articles on Personal Growth :
http://www.lifepositive.com/Articles/PersonalGrowth
Reader's Comments


Subject: love relation - 14 May 2013
I read this even in my worst patch but it was my fate that i have to accept separation to whom i planned for future.. May be this is life.. But what is life ??
by: Abhinaba Paul

Subject: Thanks - 30 July 2012
Thanks
by: nitya