Personal Growth - Flow with the flow
by Megha Bajaj
Instead of fire-fighting problems, can we invest our energies in achieving ongoing success in all aspects of our lives, asks Megha Bajaj

Download PDF Format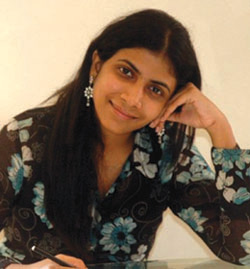 Megha is, above all, a seeker. These days she
is attempting to find herself in the role of a teacher
through the online writing course designed by her.
You can know more about her on
http://www.wonderofwords.org There is a lot of emphasis given on how one should deal with loss, the challenging times – basically the dark wintry nights of life. There are books, there are teachers and many more aids available for those who are experiencing the 'dumps' – and a helping hand through numerous means is available. However, in this overwhelming focus on the coping mechanism – what gets completely ignored is the concept of extending the great period of your life to such a degree that challenges retreat into the corner, and good times become the norm. So many of us know how to deal with failures – and yet, we simply do not know how to handle success.

I used to be the finest example of this. Throw an insult at me and I know exactly how to deal with it. Give me a compliment and I may mutter, stutter and look away. I had become such a professional at problem solving that once the issue was over – I simply didn't know what to do with myself and my subconscious mind would keep creating further issues – so I always had something to 'do', something that gave me a false sense of 'purpose'.

It is through the help of my guru that I realised this deep negative pattern. I realised that I kept attracting challenges into my life because I had become a compulsive 'problem-solver'. What was the solution? He simply summed it up into four words, "Flow with the flow."

At that time, it seemed like words – but now, it has become my reality. Flow with the flow is simply the ability to accept beautiful times in our lives – and believing we deserve more and more of it. Here are some of the ways in which I have used it in my life…

When my health was not okay – I used to do everything I could to get it back on track. Regular visits to my homeopath, eating right, working out and what not. However, after I understood the concept of flow with the flow – even when my health is great, I continue to ensure that I do all of the above.
| | | |
| --- | --- | --- |
| | | |
| | Flow with the flow is simply the ability to accept beautiful times in our lives believing we deserve more of it | |
| | | |
Instead of slackening, I remind myself that it is when my health is right that I need to make all the investments. The very thought process has become, "Day by day, in every way, I am becoming healthier and healthier…" Instead of an ultimate goal – health has become an ongoing goal. No wonder my energy levels are high most times. Earlier, when a relationship was going through troubled times – I would invest a lot of time, love, energy and communication into it. However, the minute things would fall into place, I would become my aloof self and busy myself with professional goals. Although I have still not aced this aspect – the striving now has become to constantly and consistently put a lot of energy into relationships that matter. I now try to deepen all those intimate moments with my loved ones, and don't wait for something to go wrong to start making amends.
The same has been the case with wealth and professional goals. Instead of constantly going through ups and downs, I have been trying to find ways to cherish and give so much energy to the achievements that by default the opposite end of the stick, failures, are repelled from my life. For the first time in my life I feel a sense of effortlessness. I feel I am floating in the river – and not fighting it. There is no need to create issues. There is no need to solve them. There is peace. And yes, I am simply flowing with the flow.
See more articles on Personal Growth :
http://www.lifepositive.com/Articles/PersonalGrowth
Reader's Comments


Subject: Great start - 11 November 2013
If we go with flow, then we wont find any resistance. It will ease our physical and mental health. Never react to anything in life, Just be a thoughtful observer, witnessing everything that happening around you. A new dimension to life. Great start !
by: shanthi