Personal Growth - Follow your star
by Suma Varughese and Shivi Verma
When you find your vision, your life will be infused with meaning and purpose and you will realise your highest potential, say Suma Varughese and Shivi Verma

Download PDF Format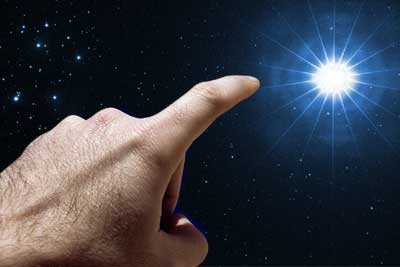 The power of conviction that rings through Martin Luther King's words cannot fail to bring tears to the eyes. And we understand why these words were so prophetic, so world-changing. In the wake of these words, the US Government passed the Civil Rights Act and Voting Rights for African-Americans in the mid 60s. At least in law, if not fully in spirit, Martin Luther King's dream has come true.

Visionaries are dreamers of dreams. With narrowed eyes they look into the distant shore and see things that others cannot. Then like divers who bring up pearls for our delectation, they show us what they see. And by doing so, they take us to the next step.

We too can look into the distant future of our lives and see the final shape we would most desire. The great ones say that for any dream to come true we need to see it in our mind's eye first. Having a vision for our lives is the first step to realising it and living it.

Gautama Buddha, for instance, had the vision of enlightenment. After spending gruelling years in austerities in the hope of finding his way out of suffering, he finally intuited that the answer lay in perfect balance – the Middle Path. Freshly bathed and having partaken of food, he sat down under the Bodhi tree determined not to budge until he had dissolved his sense of self, or as he put it, dismantled his house of being. Despite innumerable distractions and temptations Gautama sat unflinching until finally the last vestiges of ego dissolved and he became the Buddha (the awakened one).


Anyone who has achieved anything truly worthwhile in their lives, be it Mother Teresa, Mahatma Gandhi, Mountaineer Edmund Hillary, Christopher Columbus, the great composer, Beethoven, or the Russian writer Tolstoy, or Karl Marx, the father of communism, was driven by a powerful vision.

A vision therefore is a compound of one's highest capabilities and one's highest ideals and values. Because it is born within ourselves, it is completely original, uninfluenced by reigning values, goals and ambitions. That is the source of its power. It is this which enables many to willingly surrender their lives or undergo all kinds of privations in its pursuit without complain. Victor Frankl, psychologist and author of Man's Search for Meaning, was arrested by Hitler's soldiers and sent to a concentration camp just around the time when he had written a book explaining logotherapy, a technique he founded. So intense was his desire to have the book published and make a difference to mankind that he suffered innumerable torments without perishing.

It follows then that to be able to create a vision we must have some amount of maturity. We must detach ourselves from the influence of others, and discover or find our own value system. Only then will we find a vision that rings true for us.

The power of vision

Amita Shah, a Mumbai-based psychotherapist and healer, has the vision of wanting peace and harmony in the world, and is practical enough to know that this can come from each person living a wholistic life. She harnesses her vision in her work by enabling her clients to recognise the love behind what may appear to be control or domination. She says, "When people realise that even when the other is perceivably wrong, he is still driven by love, they become patient and tolerant, and peace and harmony is restored."

She says, "When I connected the dots between psychology with spirituality, I was able to see the underlying love in all action.
I have a dream that one day this nation will rise up and live out the true meaning of its creed: "We hold these truths to be self-evident, that all men are created equal." I have a dream that one day on the red hills of Georgia, the sons of former slaves and the sons of former slave owners will be able to sit down together at the table of brotherhood… …I have a dream that my four little children will one day live in a nation where they will not be judged by the color of their skin but by the content of their character. I have a dream today!
Martin Luther King
I feel so happy to help people see that negativity is only an illusion. My own positivity has increased manifold."
Hyderabad-based VSP Tenneti, who teaches
healing
techniques based on planetary sciences, was so perturbed by the chaos of modern
life
that he decided to look for the possibility of order behind the disorder and proceeded to study astrology and spirituality. "I saw that that the cause of conflict arose from our habitual tendency to look for solutions outside ourselves."
Through this inner exploration, Tenneti arrived at his own vision. He says, "My vision is to see that human beings become introspective and look for answers within themselves. Unfortunately, 96 per cent of human energy stays untapped because people look outward for solutions."
Anil Bhatnagar, 54, a
reiki
teacher, corporate trainer and author, says that mindfulness is his only vision for life. He explains, "I was checking the body temperature of a person and could not feel it even though the temperature showed high fever. Later, I realised I was touching him while wearing gloves. I decided then that my mission of
life
henceforth is to be mindful."
He adds, "No matter how much a person achieves unmindfully, his achievements are valueless. Giving an unmindful person a Nobel Prize is like garlanding a dead man. If I stay mindful, I am not capable of any wrong action and I can do no harm to the world."
After BK Chandrashekhar, 46, Sigfa healer, recovered miraculously from cancer, his mission became to awaken everyone to the invisible doctor within us all. He says, "When I lay dying of cancer in the hospital, I saw a divine light appear before me, whispering, 'You will get well'. I want everyone to know that we have an inner healer."
Abhishek Thakore, 29, a writer and anchor of the Blue Ribbon movement which works for nurturing social leadership, says that he stumbled upon his vision in the process of wanting to change the world and attain Nirvana. "I discovered that Oneness is the grand truth of life. Now I feel that my consciousness has merged with the larger consciousness." The understanding is leading him to approach social change wholistically.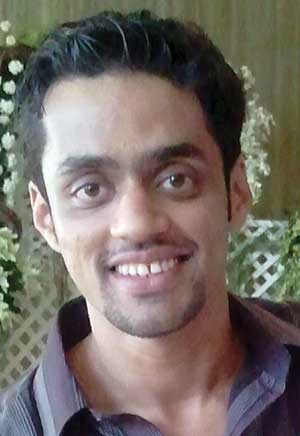 Abhishek Thakore
Nadim Asrar, 34, editor, IBN Live, is driven by an urge to free society of its cruel economic disparities. "I find it difficult to buy an expensive shirt or eat out at a posh restaurant, because it is unfair for one person to be so privileged while another has to starve. No matter what their cultural or religious background, everyone is entitled to his fair share in the national income. What has happened to the manifesto of bridging poverty in our electoral system? This is an ideal which must be striven for religiously. Internationally too, the rich and the powerful nations walk away with the booty while weak and needy countries make do with leftovers. Though I am not sure how this can be brought about, yet I am committed to this goal."
He explains, "I've had a tough childhood and know the
pain
that comes from being deprived. This has made me sensitive to injustice, discrimination and biases."
Hemant Morparia, radiologist and a cartoonist with a national daily in Mumbai, says, "Currently my vision is to integrate life. Everything is divided, between
work
and play, job and vacation, production and consumption. Whereas a job can be fun, and a holiday may involve a lot of work. Therefore I have stopped living in the mind. I choose to live in the body and be ever present to any truth that comes my way. When divisive thinking falls apart, a vision is the natural outcome."
Each of the above who have been lucky enough to intuit their vision (with the exception of Nadim), are in the process of realising it. The vision has given them a sense of purpose and meaning. It has unfolded for each of them their true contribution to
life
and aligned them with the larger universe. It has guided their path unerringly towards the ultimate purpose of life, self-realisation.
Thus obtaining a vision is both the consequence of a spiritual search as well as the cause of one. It can help the seeker travel with greater clarity and sureness along the path it reveals. The reason for this is simple. Because a vision comes from within, it has the flavour of truth. It therefore unfolds further truths to the traveller on the path.
It is here that a vision differs from a goal. Getting a good score, studying in a desirable college, obtaining a well-paid job, crafting a career of distinction, buying a house, getting married and so on are all worthy goals that hold us in good stead.
"I discovered that Oneness is the grand truth of life. Now I feel that my consciousness has merged with the larger consciousness"
- Abhishek Thakore
But they cannot be called a vision for the simple reason that they are drawn from the standards of society. We inherit them as members of the human race, It is not drawn from the
heart
and soul of an inspired individual.
The woman who raises her children to become successful careerists is not a visionary, but a woman who considers motherhood to be a sacred trust to help support the realisation of the highest potential of her children is a visionary.
Creating a vision
Prahasitha, spiritual guide, Oneness Academy, Andhra Pradesh, says that a person sees a vision when he develops a sense of connection with the world. From this place of connection a new meaning to
life
emerges and a visionary is born. Some are born with greater capacity for such wisdom and
love
than others, some cultivate it through life. However, the path they choose to serve and express their
love
and
compassion
depends on several factors, circumstances being one of them. One visionary may choose politics as his/her field of service; another might choose spirituality and yet another business.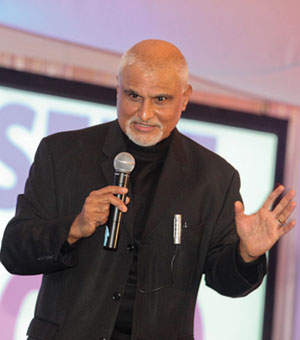 "Visionaries feel for humanity and the greater this feeling the more is the passion for their vision. And if this feeling is born out of
love
then their vision becomes powerful," she adds. Azim Jamal, best-selling author of the
Corporate Sufi
and a visionary himself who aims to infuse spiritual values in today's business models, believes that a visionary is a product of several coincidences coming together.
"A visionary is a mixture of nature, nurturing and beliefs. Our genes play a part, so do our upbringing and our thoughts," he says. Contrary to Prahasitha who believes that the world and the visionary are mutually interdependent, Azim is of the opinion that the world is a result of the great visions and mobilising power of the visionary. But both agree that it is possible for a person to cultivate a vision.
Develop your own vision
"To develop a vision, one must first address his/her thinking. Our thinking is at the root of all our decisions and actions. If our thinking is inclusive, if we awaken to the interconnectedness of all life, if we see the futility of the division and conflict we have created, out of that thinking will arise the wisdom to develop a vision," says Prahasitha.
Azim says, "A visionary develops a world vision by having a cause larger than the self, followed by a burning desire and great display of leadership. To cultivate a vision one must start by asking oneself a question. If you could do anything in your
life
and know for sure you will not fail, what will you dare to attempt? Or if
God
came down and said, 'I grant you one wish' which would you choose?"
Such an exercise can help make conscious our deepest longings and ideals and perhaps bring us face to face with a vision for life. The greatest benefit of having a vision is that not only does it help us achieve universal goals, it also throws light on how to conduct ourselves in our daily lives. The larger the vision, the more selfless and egoless one has to be.
Saumya Sircar, 42, a Mumbai-based writer, says that her
life
goal is fused with her vision. "I am committed to voiding my ego so that I can focus on the other completely, and my vision is to help bring about a world that lives this way."
In his book,
The 7 Habits if Highly Effective Families
, Stephen Covey refers to the vision statement as a flight plan. Most planes rarely keep to the exact flight plan, he says, but its existence always brings then back, again and again, and eventually they do land at the right place. Similarly, when we know which direction we want to head, then even if we do stumble and fall, we will be able to pick ourselves up and continue along the way.
Many before Mahatma Gandhi dreamt of a free India but it was Gandhi who had the vision and the ideals to dream of winning a non-violent freedom for India. He dreamt of crafting a strategy that was in alignment with the highest ideals of Indian spirituality. This gave rise to a number of unique concepts – satyagraha or soul force, sarvodaya (the good of all, or the larger good) and so on.
"A visionary develops a world vision by having a cause larger than the self, followed by a burning desire and great display of leadership"
- Azim Jamal
The vision gave rise to the strategy, and the strategy obtained a unique and noble freedom for this country that made it the inspiration for many thinkers and visionaries thereafter, including Martin Luther King, Nelson Mandela and Burma's Aung San Suu Kyi.
Such is the power of vision that Paramahamsa
Yogananda
says that this world is the condensed thought of
God
and thoughts automatically create a vision. If that is so then each of us who has a vision is an agent of God's creativity. This is because we align our thought process with that of the Divine and thus open the floodgates of enormous possibilities before man.
The larger and more inclusive the vision, the greater the scale of achievements. The man who wants
peace
and harmony within the family has a marvellous mission, but the sage or seer who wants to bring
peace
and harmony to the whole world will naturally achieve more because his vision will drive him to do so.
How do these great ones arrive at their vision?
Gyalwang Drukpa, a Buddhist spiritual teacher, says, "A visionary develops his views through his interpretation of social, political and economic justice. His quest for solutions to existing social and political problems shapes his vision of the world. Ancient philosophies influence their thinking and world view. For example, Swami Vivekananda's views are influenced by the ancient Vedic philosophy of India while Gandhi was influenced by both Hindu and Buddhist philosophy of non-violence as well as Theosophy."
He adds, "Great visionaries like Gandhi, Martin Luther King, and Vivekananda are born with special leadership qualities and at the same time are the products of circumstances. I would call it the combination of karma and conditions. One may have the karma or the qualities or personality to be a great visionary; however there may be no condition for his or her great vision to be materialised during his or her life. Conditions are very important for a karma to ripen. For example, if you plant a coconut seed in a desert, it will not grow, but if you plant a cactus seed there, it will grow."
On the other hand, we could infer that perhaps the time calls forth the man. Visionaries are born to certain times when they are most needed, when an idea or a truth is aching to be born through them.
The big picture
Soumya Sircar says, "Visionaries see the big picture. And they have a strong grasp of the foundational laws of life. It is this that enables them to extrapolate and deduce the next step for mankind." She adds, "The two principles Gandhi tested all hypotheses against were truth and non-violence. He rejected anything that militated against these principles, such as vivisection, communism or, in fact, western civilisation itself since it was based on external conquest and control. Hence Gandhiji's visions are based on spiritual laws which is why they will eventually come true."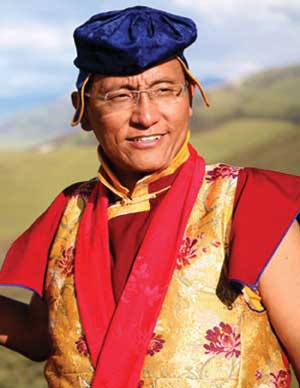 The visionary's first allegiance is to the truth he envisions. He or she grasps at truths that are still not visible to the rest of his ilk and introduces them to the world. No matter how severely he is tested or chastised, he will never surrender this truth, unless, of course, he intuits a higher truth. Whether it is Socrates preaching to the youth of Athens, Galileo proclaiming that the earth revolved around the sun, Archimedes crying Eureka, or Jesus Christ spreading his gospel, each of them stood by his truths and except for Archimedes, died for them.
That is the cross the visionary must bear. He is so far ahead of his times that he often excites the censure, anger and active hatred of vested interests unwilling to have the status quo disturbed. But even when he is crucified, poisoned, burnt or hung, the visionary's truths still sear the consciousness of man and eventually become the received truth, until another visionary comes forth to show what lies yet ahead.
Thus mankind's tortuous progress is often made on the blood of its wayshowers and gentle seers.
As the world evolves, each of us has the capacity to see bigger and bigger visions that far outreach the purview of one's own life. In our present times, for instance, more and more of us are awakening from the separatist view that created our present world and its systems and recognising the ultimate truth of oneness.
Thousands and thousands of spiritual teachers, crusaders and change agents are arising from all parts of the world with only one vision – to help birth a
New Age
where the recognition of our oneness will create a world of love, order, joy, harmony and brotherhood. An end to hatred, violence, discord and exploitation? Can nations live in
peace
with each other? Can the suffering of the environment come to an end? Is Utopia at hand? Can Ram Rajya finally prevail?
The visionaries will confidently tell you that the answer is yes.
Says Saumya Sircar, "Oneness is the ultimate truth of
life
and a civilisation based on the principle of oneness will be free of conflict, oppression or exploitation. All will
work
towards the larger good for they will realise that their own good lies in that. Hurting, killing or exploiting another will therefore be unthinkable."
Visionaries in time
Because of their bird's eye view, and their capacity to see possibilities, visionaries have high ideals and a lofty perspective.
Sri Aurobindo, for instance, has intuited a higher evolutionary pattern for mankind "Man is a transitional being. The step from man to Superman is the next approaching achievement in the earth's evolution. It is inevitable because it is at once the intention of the inner spirit and the logic of nature's process."
The Dalai Lama, our present day's tallest visionary, continues to lead a non-violent protest against Tibet's subjugation by imperialist China. He says, "Brute force can never subdue the basic human desire for freedom...Freedom is the very source of
creativity
and human development. It is not enough, as communist systems assume to provide people with food, shelter and clothing. If we have these things, but lack the precious air of liberty to sustain our deeper nature, we remain only half human."
India owes her resurgence to visionary Swami Vivekananda's fiery conviction in the global spirit of oneness propounded by the inherent philosophy of the Vedas.
It was Vivekananda only who envisioned the seemingly impossible: "India shall be liberated not by the power of wealth but by the power of the begging bowl, the garb of a sanyasin," he said. He had the unique advantage of knowing the East as well as the West. He was raised in Western education, trained at the feet of Ramakrishna Paramahamsa, the embodiment of God-realisation, and had admiringly witnessed the giant products of the tireless industry of the Western man.
"A visionary develops his views through his interpretation of social, political and economic justice. His quest for solutions to existing social and political problems shapes his vision of the world."
- Gyalwang Drukpa
Thus, while introducing the message of oneness, and the ultimate goal of self-realisation to the West, he introduced the West's clear pragmatic thinking, bold reasoning and indefatigable enterprise to the East.
He established the Ramakrishna Mission on return to India to mobilise this confluence of East with West and frequently sent Indian monks to America and imported diligent disciples from the West to India to
work
together for each other's upliftment. Vivekananda also envisioned the founding of a special monastic order for women in India but could not realise it during his own time.
Achieve your vision
Now that you have a vision, how do you go about achieving it?
The first rule of the game is to stay true to it. Many have unwisely tried to achieve their ends with the wrong means. Revolutionaries have often overthrown despotic governments through violent means that took the lives of hundreds and thousands. All too often though, they too get embroiled in struggles for power and are dethroned or assassinated. When we use the wrong means to achieve our vision, we corrupt it. It does not remain the same.
Peace
attained through war, cannot be true
peace
– the disquiet only waits to burst into flame again. Therefore if we truly subscribe to our vision, we will do nothing to subvert it even if it means that we must struggle for a longer time. If the CEO of the company truly wishes to bring
love
and co-operation within his company, he must ensure that he leads the way rather than resort to an autocratic leadership style.
Secondly, avoid the temptation to plan out every step of the journey. You are on God's
work
here and you want to give space for guidance and support from the Higher Power. Only then will you access miracles, inspiration and support from the wider world. As Paulo Coelho said, "When you want something, all the universe conspires in helping you to achieve it."
Thirdly, be content to take just one step at a time. If you put your full effort and sincerity into it, the next step will be shown to you. This is what the great visionaries know and therefore they tread their path with confidence knowing that the
work
they do today will reveal the next step tomorrow.
And finally, listen to your inner voice, your intuition. Remember that you are trying to birth a vision that has been born from within you, hence answers to the problems that come in its way will also come from within. So when in doubt, hunker down and get still and allow your inner wisdom to whisper into your ears. Many of Gandhiji's strategies including the masterful Dandi March were told him by the inner voice.
For those entrusted with a vision, perhaps there is no greater joy than the quiet satisfaction of having achieved it. As the song,
To dream the impossible dream
, so vividly puts it,
And I know if I'll only be true
To this glorious quest
That my heart will lie peaceful and calm
When I'm laid to my rest
Find your vision, achieve your vision, and your work here is done!
See more articles on
Personal Growth
:
http://www.lifepositive.com/Articles/PersonalGrowth