Personal Growth - From good to great
by Megha Bajaj
Does every high need a resultant low, or is that just a belief we nurse, asks Megha Bajaj

Download PDF Format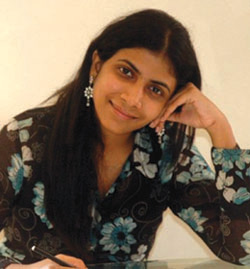 Megha is, above all, a seeker. These days she
is attempting to find herself in the role of a teacher
through the online writing course designed by her.
You can know more about her on
http://www.wonderofwords.org Ever since I was a child, it had been ingrained into me that life is a series of ups and downs. I clearly remember my grandmother chide me every time I laughed too loudly, "Be aware, little girl, soon you will cry just as hard." I remember reading endless books as an adolescent, and attending various satsangs that spoke about the ebb and flow, the tides of life, which always went high, low, high, low – smiles and frowns – nights and days. Yes, the pendulum of life kept swinging between extremes.

Life follows beliefs

It was only recently that I realised something quite phenomenal. My life follows my deepest beliefs. Since it had been my belief that after a great period in my life, I must immediately face hardships, so they had always been there. Without fail, life brought a challenge to me after a victory, and a victory after a challenge. While I enjoyed the ups to the hilt, I also began to feel a little weary about this ceaseless trajectory, and for the first time began to wonder, after good, did bad have to follow? Could good not be followed by great?

A breakthrough in thoughts is all that one needs for a breakthrough in life. The beauty of life, in fact, is that it is so full of possibilities. What was yesterday, need not be today. What is today, need not be tomorrow.

For the first time, as I tasted success in my profession, instead of thinking of what challenges would follow, I kept affirming to myself, "This beautiful phase of my life, will be followed by an even more beautiful phase, good shall become great, and great shall become greater." Years of conditioning did try to bully me into believing that something dark was lurking around the corner, but a few tools helped me along the way. The first important step was 'feeling affirmation.'
| | | |
| --- | --- | --- |
| | | |
| | A breakthrough in thoughts is all that one needs for a breakthrough in life | |
| | | |
What I was feeling from within mattered, not what I was saying to myself. I constantly worked on myself and made myself feel excited about the 'great' to come, rather than nervous about the challenges. Consciously, I never allowed myself to get into a fear mode, but remained excited. Another important step was to grow in
love
with myself. I reminded myself time and again, that I didn't deserve to constantly fail, I didn't need to take one step back to move two steps forward. The more I grew in respect for myself, the easier it became to believe that I deserved the 'great' coming my way. Instead of a bashful resistance, there was a graceful acceptance.
Finally, what helped was gratitude. Celebrating the little
success
so much that it became a deep
life
pattern for me. Thanking
life
for bringing something so wonderful into my
life
helped me get more of the same into my life.
The paradigm shift in the world within, led to a phenomenal
transformation
in the world outside. Good did start becoming better. Better is growing better with each day. Thrilled, I am wondering what more is in store for me.
None of us needs to settle for a mediocre life. None of us needs to believe that good is followed by bad, be it in health, wealth, or relationships. Let us re-write the script of our life, one day, one page at a time. Let us not stand under Niagara Falls with just a teaspoon, let us own it. Let us expand, let us drown ourselves into the best that
life
has to offer. After all, we are worth it!
See more articles on
Personal Growth
:
http://www.lifepositive.com/Articles/PersonalGrowth
Reader's Comments
Subject:
Awesome.
- 3 January 2013
Your articles are awesome indeed and I really look forward to all your articles. Such simple thoughts can be a great learning experience. It is so very true that it is our conditioning which leads us to believe that good will be followed by bad but we need to change our thought process.
More...
by:
Neha Jain